36 years of music and fun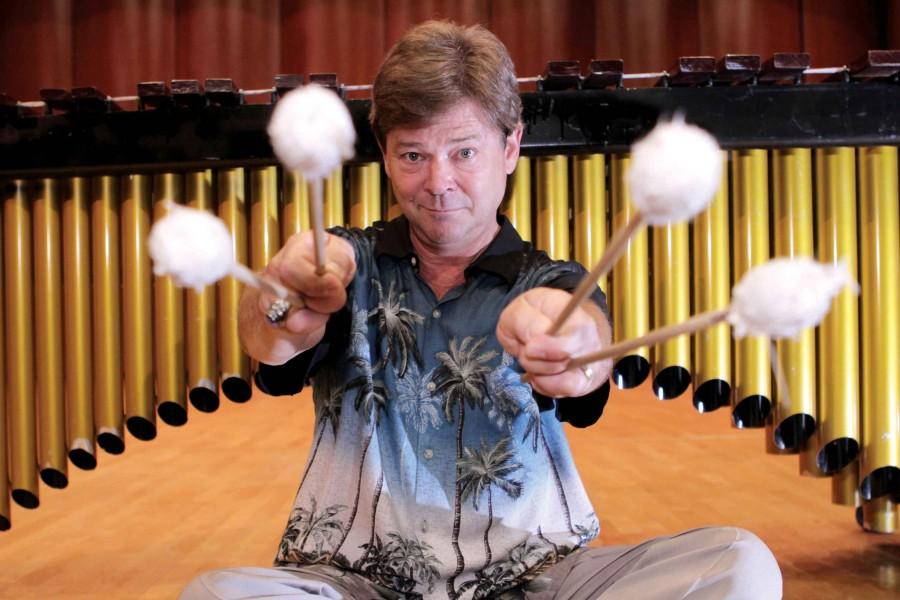 In music professor Larry White's office a giant pair of orange-and-blue yarn mallets hang from the ceiling accompanied by drum sets, posters, pictures and news clippings that line the wall, all of which symbolize the memories collected after 36 years of teaching at UTEP.
After this semester, all of that will come to an end, as White retires next month.
He gave his last percussion ensemble concert on April 18 after a career of influencing percussionists in El Paso.
The concert was an emotional experience for White. He was directing his last group of students, and many members of the audience were former students who presented him with a plaque.
"I had about 50 to 60 of my former students show up that are all teaching now, some are from LA, some are from Mexico, they all came back and I didn't know that," White said. "Emotionally I held it together until they gave me that, and the fact that it was my former students, (one) that was my first student."
White has been a professor of music and the director of percussion studies since 1980, and has created a lasting impression on percussionists in the region. He directed two ensembles at the university, which were both successful: the UTEP Percussion Ensemble, which he has directed since 1980, and Pandemonium, which was formed in 1996. The UTEP Percussion Ensemble performs music from all eras featuring compositions that were written in the past 50 years, and Pandemonium, which is a steel drum ensemble that plays Caribbean-inspired music. His dedication to the ensembles has led them to travel to cities across the nation such as Indiana, California, Tennessee, and even internationally to Cancun, Mexico.
Many of his students have played with the El Paso Symphony Orchestra and some have gone on to win both national and international competitions. White's teachings live on through his students, who have gone on to teach at high schools across El Paso such as Eastwood, Hanks, Riverside and other schools throughout the area.
Junior music major, Victor Anchondo, teaches students at Bel Air High School and said that he uses White's teaching style when in the classroom. "I try to teach the way he teaches. I try to make it fun, but at the same time get things done," Anchondo said. "I get what he's been teaching and transfer it to somebody else."
White said he wants all of his students to succeed, but he also wants them to have fun. In the classroom he strives to create a fun environment.
He teaches every student individually, and creates personal lessons for each one based on their own background and skills. "I'm going to miss the students, the one-on-one interaction with them," White said. "Every student is different, has their own game plan, their own talent level."
Lowell Graham, director of orchestral activities, said that White's dedication as a teacher brought UTEP to a higher standard.
"Whoever follows is going to be standing on the shoulders of what he has built for the last 36 years of work, which is significant," Graham said. "He has established a pedagogy, a relationship with the area that the person who is going to follow him, we hope is going to continue to develop."
White has been a part of the university's growth from a small college to one that is internationally recognized. From bringing departments together—such as the metallurgical, materials and biomedical engineering and physics departments to collaborate in creating steel drums for Pandemonium—to bringing the El Paso music community together through his teachings, White has made his mark.
"The phrase when I first got here was UTEP was the high school on the hill," White said. "Through Dr. Natalicio's guidance and professors like myself, who stress excellence, it's no longer just a place you go to because you can't get in somewhere else." After his time at UTEP comes to a close, White doesn't plan on taking a break.
He plans to continue teaching part time at the El Paso Conservatory Museum beginning in September, playing as timpanist with the El Paso Symphony and he will be judging orchestra and band competitions in different cities throughout the nation.
Christian Vasquez may be reached at [email protected]