Defense shines while offense stumbles in spring game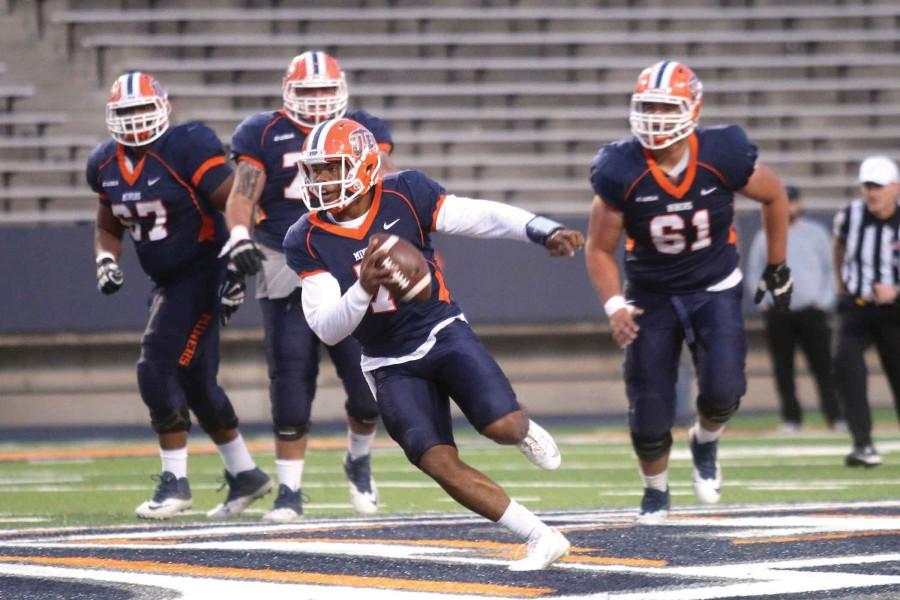 The Miners' football team finished their spring training season on Friday, April 16, with their annual spring game. This game may have left more questions than answers for the UTEP offense that struggled to move the ball against a revamped defense.
The Miners' offense was headlined by the quarterback battle that spilled over from last year. With quarterback Mack Leftwich ruled out for the season, all eyes were on the quarterback battle between Kavika Johnson and Ryan Metz. The quarterbacks really struggled to move the ball with the new 3-4 defense that has been implemented.
"Well the defense had our number. There were a lot of miscues on my part. I don't think we clicked the way we wanted," Metz said. "A lot of guys did some good things, and there's a lot to clean up—especially on my part."
Metz and Johnson were both able to decipher the defense with the goal line drill. That was when the offense looked its best. 
Johnson has improved as a quarterback in the off-season, and he proved it during the spring game. He finished the game, completing 10-of-22 for 66 yards and one interception. Johnson, who is notorious for being a running quarterback, showed that he could also play in the pocket and throw when he has to. However, Johnson always brings with him the ability to run.
"I just use my ability as best I can," Johnson said. "Coach always told me if I see two high safeties, I have to take off and run because there were some holes, but I definitely have to do a better job at stepping up into the pocket and delivering the ball down the field."
While both quarterbacks did well in the red zone play, Metz finished 4-of-11 for just 19 yards.
The quarterbacks were not the only ones who struggled during the spring; the wide receivers may have struggled more. All of the wide receivers struggled to get open and dropped too many passes.
"Offensively pretty spotty as far as the receiving play," Kugler said. "Too many drops, not running through routes—those types of things¬. Those are things we have to clear up."
If there was a positive to take from the spring game on the offensive side of the ball, it is the running backs. UTEP started Trayvon Hughes at running back—since day one of spring football he has been hailed as the eventual back up to Aaron Jones.
Hughes ran the ball well and caught a lot of passes. Most of the time he got the ball, he advanced it, and it always took the team to bring him down.
"I think Trayvon Hughes ran really well," Kugler said.  "I think he kind of established himself as the number two back. TK did a lot of nice things too."
Defensive standouts included Kalon Beverly, who recorded three tackles and three pass break-ups, Brandon Moss, who had a pair of tackles, one tackle for a loss and one interception, and Brendan Royal, who finished with three tackles and a sack.
"I think we played real fast and real hard," Royal said. "We've been making improvements all spring, so I think we played good today."
Kugler was extremely impressed with Royal's progression from the start of spring ball until now. Although he was not projected to start, Kugler believes that he has taken a big step this spring.
"All spring, Royal has established himself as a part-time starter," Kugler said. "He's going to be an impact player on the defense."
UTEP lost a lot of their identity on defense last year after the graduations of playmakers like Jimmy Musgrave and defensive captain Roy Robertson-Harris. Those positions are being filled by Cooper Foster and Brian Madunezim.
"It was a great day," Madunezim said. "We all executed, we all played fast, we played hard, we played physical, we executed on every end, we did everything coach asked of us— it was a great way to end spring ball and head into the summer and put in the grind."
Under new defensive coordinator Theron Aych, the Miners' defense put on an impressive showing in the spring game. Players who used to be in different positions have adjusted to new spots, which Kugler admits is becoming a solid transition.
"That's back-to-back scrimmages they have come out and lit it up all phases—short yardage," Coach Kugler said. "I'm really pleased with the defense—more excited about the guys we are going to get back after the spring."
The Miners will continue their off-season when they head for camp later this year. Overall the spring game will give younger players a chance to play and a way to gauge where the team is.
"We got a lot of progress to do between now and training camp—it starts in the weight room, it starts in the classroom," Kugler said. "This gives us a starting point of where we need to be."
UTEP football will start their season in the fall against New Mexico State on Sept. 3 in the Sun Bowl.
Juan Carlos Navarrette  may be reached at [email protected]
About the Contributors
Adrian Broaddus, Sports Editor
Adrian Broaddus is the sports editor for The Prospector. He is a junior multimedia journalism major with a minor in political science.



Adrian...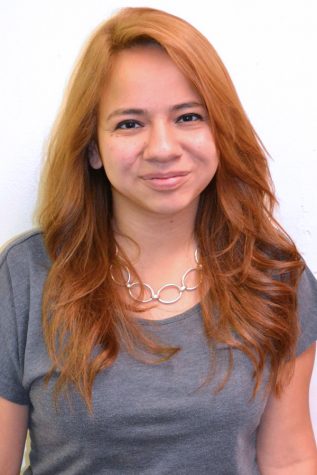 Michaela Román, Editor-in-Chief
Michaela is a Senior Digital Media Production major at The University of Texas at El Paso. As the Editor-in-Chief, and former Photo Editor of The Prospector,...