McCutchen and Chihuahuas rally to defeat Aces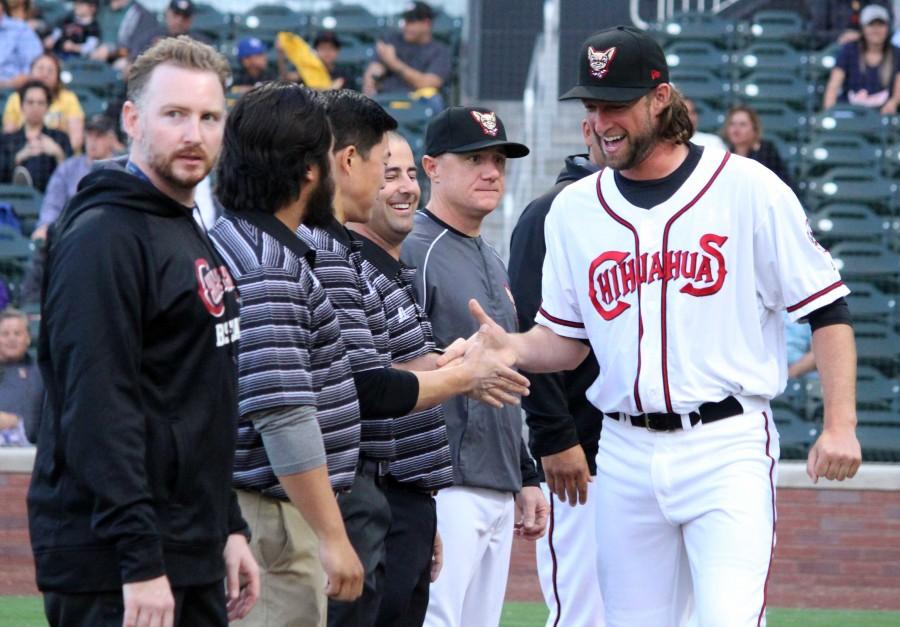 After allowing three runs and four hits in the first inning, pitcher Daniel McCutchen led a come-from-behind rally and allowed only four more hits for the six innings he pitched as the Chihuahuas defeated the Reno Aces 10-3.
The Chihuahuas (2-5) snapped their four-game losing streak in front of a sellout, 9,635 blaring fans at Southwest University Park on Friday, April 15.
"Little scary start at the beginning giving up three in the first, but McCutchen is a competitor, I knew he was going to go out there and try to make some adjustments," manager Rod Barajas said. "He did a great job, not just on the mound, but also gets the base hit. He did a lot of great things today, well deserved to get that 'w'."
In the first inning, strong hitting by the Aces rattled Daniel McCutchen. Peter O'Brien of the Aces hit a RBI line drive to right field that drove Jason Bourgeois home to score first. Then, Kyle Jensen brought two Aces home with a double. The Chihuahuas could not retaliate on offense at the bottom of the first and went three and out.
"I felt like I had made some good pitches, but they hit them," McCutchen said. "It's tough to bounce back from anything like that, but I just had to pound the strike zone and keep us in the game."
In the bottom of the second inning, the home team had some success hitting sparked by right fielder Hunter Renfroe's single to right field. First baseman Jason Hagerty hit a sacrifice single, which drove Renfroe home. Then, shortstop Nick Noonan hit a RBI single that chipped away at Reno's lead, 3-2 going into the third inning.
"[Schimpf] is a strong hitter," Barajas said. "He's small, but the guy's got something behind it. I think it was nice for him to get that first home run."
Both pitchers traded off heat in the third inning as both teams went hitless.
Second baseman Ryan Schimpf hit a two-run homer in the fifth inning that was the go-ahead run for the Chihuahuas (4-3).
The fifth inning was all McCutchen—he escaped the top of the inning without a score, hit a single, stole a base (the first stolen base by a pitcher in the Chihuahuas' three-year history) and ran home on a wild pitch.
"I played with McCutchen in Pittsburg and I know he is a tremendous athlete," Barajas said. "He wanted to bet me earlier that he was the fastest guy on the team, he wanted to race everybody. He's a good athlete, I didn't give him the red light [to steal the base]."
After the error by the Aces, Renfroe hit a RBI double to extend the lead to 6-3. Renfroe finished the game hitting 3-for-5 with four RBI's and two runs.
"I've been seeing the ball well right now—seeing the ball well this whole season," Renfroe said. "I swung really well, missed some pitches early, but that's all I can ask for."
Noonan and pinch hitter Alex Dickerson hit back-to-back RBI's in the eighth inning. Then, left fielder Jose Pirela sent two runners home with a RBI double, extending the lead 10-3.
McCutchen was credited the win (2-0, 7.36 ERA), while closer Derek Eitel finished with his first save of the season.
"We had a couple rainouts, I wasn't supposed to start opening night," McCutchen said. "But when I heard I was, I was excited. Coming back from last year, I know we have great fans here. After the first inning, at least I had max effort."
Among the other top batters of the day, Noonan went 2-for-4 with two RBI's.
"He had some great at-bats for me," Barajas said. "He came up big today. It's nice to have a guy who might not play every day, you put him in there and he helps you win ball games."
This was the first of the four game series against the Aces at home. The Chihuahuas will take their first pitch at 7:05 on Saturday, April 16, and then 1:05 on Sunday, April 17. Last series against the Aces, the Chihuahuas fell 2-1.
Adrian Broaddus may be reached at [email protected]
About the Contributor
Adrian Broaddus, Sports Editor
Adrian Broaddus is the sports editor for The Prospector. He is a junior multimedia journalism major with a minor in political science.



Adrian...