Quotes from the first spring football scrimmage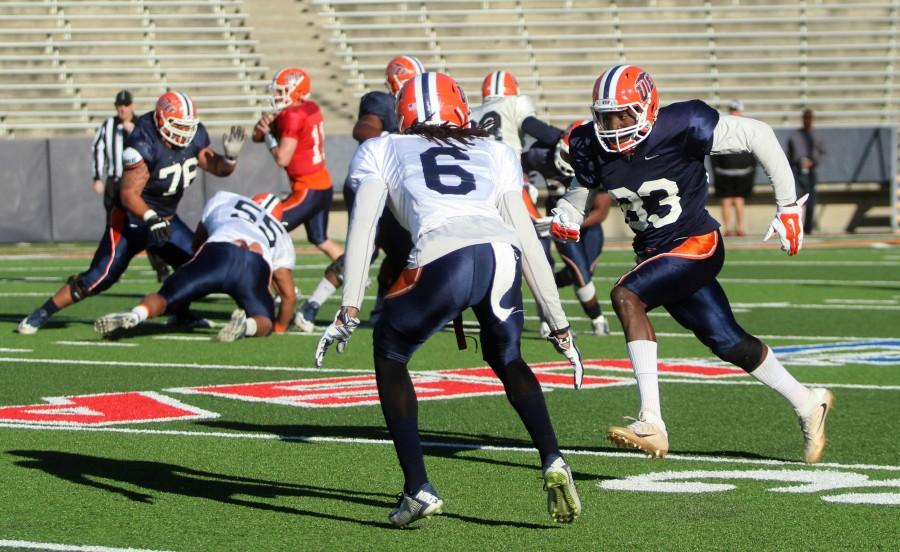 With approximately 50 plays ran from the line of scrimmage and various individual drills, the Miners football team concluded their second week of spring practice with an offense versus defense scrimmage. The practice modeled an actual game at points and featured refs, counted all downs and yards gained.
Although no points were recorded, there were significant points of the scrimmage and individuals who stood out. Below are the post game quotes from head coach Sean Kugler and players.
Head coach Sean Kugler:
"It was a good, physical scrimmage," coach Sean Kugler said.  "I thought there was really a lot of good give and take."
"In the move the ball segment, I thought it went both ways," Kugler said.  "I thought the offense moved the ball well, they only punched it in once.  Kavika [Johnson] had a touchdown there.  In the red zone, Kavika had a nice ball for a touchdown.  Treyvon Hughes had a touchdown.  Treyvon did a nice job today running and catching.  He had three touchdowns on the day, two of them receiving."
"In the two-minute [drill], offense won one of the segments and defense won one of the segments," Kugler said.  "Metz had a touchdown to Hughes in a tough situation, there was only 59 seconds with one timeout and he had to go 70 yards.  Short yardage, offense won the segments three to one with the ones and the twos and goal line, offense won the segment.  It was a tough situation for the defense there, being in fourth and one each time.  In the run pods, defense won that segment, and then the quarterback/receiver pods, defense won that segment.  So again, a lot of great competition."
"We are looking at a lot of guys at different spots," Kugler said.  "We have some depth issues at some positions, obviously linebacker we are very well aware of that, but I think the guys that are stepping in there are competing well.  I have been very pleased with the line play on both sides of the ball, and I thought all three quarterbacks did some good things today."
"I don't know yet [about the extent of the injury for safety Devin Cockrell]," Kugler said.  "I'll have to wait to see.  I'm frustrated for that young man because he worked hard to come back from his knee injury last year.  Hopefully it's nothing major."
"I thought they were very solid today," Kugler said.  "We had a period there in the red zone period where we had some snap issues, but that was due more to a young center that hasn't done it before.  I thought they handled everything — the huddle, the communication for the first time, and [they] handled the two-minute red zone things very well, so I was very pleased with the quarterbacks and I have been pleased with their progress throughout the spring."
Ryan Metz – Quarterback:
­
"It was a blast," Metz said. "I'm loving getting comfortable with the new system and with coach [Brent] Pease – his attention to detail, he wants everything perfect. With the up tempo, I'm having a blast out there."
"It did feel a bit different [playing in the Sun Bowl]," Metz said. "I was thinking that before practice – it's been a while since we've played in the Sun Bowl. I love the atmosphere and I can't wait until we have the whole stadium packed."
"I thought I did pretty good, there's still some things I need to clean up – mostly footwork," Metz said. "I'm excited for what's to come, and I have to be more consistent."
"We have a lot of guys stepping up," Metz said. "I think we're just gelling really well and people are becoming play makers."
"Treyvon [Hughes] is a great player," Metz said. "He was plagued with injuries last year and it didn't allow him to show what he can do as a player. Now that we're in spring ball and he's healthy, he can show what he can do. He's a big back and he can run – the guy's explosive."
Treyvon Hughes – Running Back 
"[Receiving] is where I struggled last year, so this year coach has been working with me and I'm doing the best I can," Hughes said. "[Playing in the Sun Bowl] is like a game-like situation and we do the best we can."
"I like them all (the quarterbacks)," Hughes said. "May the best man win."
"When we started, I thought I did pretty bad – I was disappointed in myself," Hughes said. "In the end I had to pick it up and towards the end I did the best I could."
Jaquan White – Wide Receiver 
"[The offense] is great," White said. "It's a lot of moving parts, a lot of confusing the defense. Right now, it's just a great offense to be in."
"Everybody [the quarterbacks] are adjusting right now very well," White said. "Everyone's making their throws on time and I love the battle – they're all out there battling and competing."
"We try to keep the defense on their toes and any run-pass option causes confusion with the defense," White said.
Lawrence Montegut – Outside Linebacker
"We still have a lot of things to clean up but the defense is coming along great," Montegut said. "Everyone is starting to learn the defense. Everyone is starting to work as one, as a team."
"I feel like we did good for us just getting everything in," Montegut said. "My skillset as outside linebacker is speed. Coming off the edge, getting around blocks, getting off blocks and getting to the quarterback – I feel I can fit in really well with this outside linebacker position. I can get off the ball quicker, I can get to the ball faster."
"It's been a smooth transition [from lineman to outside linebacker]," Montegut said. "I do like standing up because my vision is better. Me with my speed and my agility, I think I can fit in with that."
Brian "Mad Dog" Madunezim – Defensive Lineman
"I think we're progressing every day," Madunezim said. "I'm excited for what we have planned for the future. We have a lot of things to install – a lot more new plays. All we have to do is execute, make plays, have good ball awareness – I think I would be very disappointed if we lose one game this year."
"I feel like we had a lot of energy starting off – it trickled down from the one's, two's and three's," Madunezim said. "All executed, made plays and some minor errors, but that's what a scrimmage is for. We can just adjust on Monday and continue to get better and better as we go."
"It's challenging at times [facing three different quarterbacks]," Madunezim said. "We take coaching – we're pretty good at getting pressure on them. Any quarterback you get pressure on, they're going to throw interceptions and make assignment errors."
"We're just touching on the basics right now," Madunezim said. "There's a lot more packages coming in and that's why I'm so excited for this defense. It allows us to play free, fast and physical at all times."
Adrian Broaddus may be reached at [email protected]