Shoes are a lifelong obsession for guard Omega Harris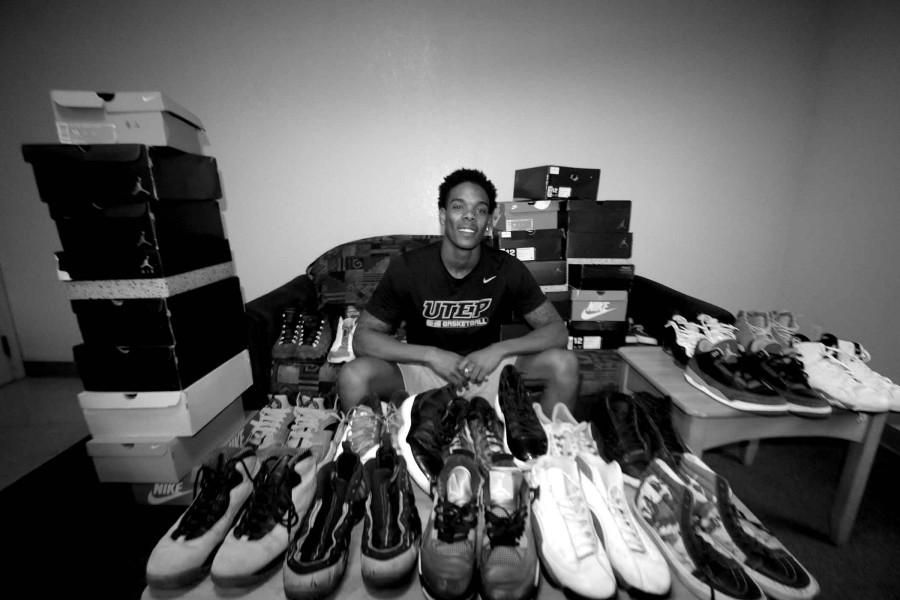 In his humble closet at the dorms, Omega Harris, shooting guard for the men's basketball team, carries a stash of shoes that engulf his closet.
According to the 6-foot-2 player, "It ain't like it used to be, but it's something."
Boxes are stacked five-feet high, and Harris easily holds more than 50 different pairs of shoes in his room. Even with his diverse collection, Harris' shoes are all in prime condition.
"He's got an amazing shoe game," fellow teammate and guard Lee Moore said. "Every day he comes in with a new pair. He really likes Jordan and Nike."
In fact, Nike and Jordan are Harris' favorite brands, and he has quite the collection of them. Throughout his childhood in Oklahoma City, Harris was raised on sneakers.
"My mom spoiled me–what she put me into before, like Nikes and Jordans, I'm still into," Harris said. "Being an only child and the youngest (in his family), I pretty much got everything. I've seen a couple pictures of my mom and me with Jordans, where I was like 2 years old."
Also, in his hometown, release dates were very important. Often when there is a rare sneaker that will hit the market, there will be set release dates that certain stores will carry these in. These rare shoes, like retro Jordans, sell out within an hour.
"Back home, we had to line up across the street at the mall at seven o'clock in the morning. And they say, 'go,' then you would have to run across the street, through the parking lot to the mall," Harris said. "Whoever knows about the shoes will be there. Picture a bunch of kids your age waiting for the same shoes–you just have to run and beat them to the mall. When I did that, there wasn't a time I didn't get a shoe because I could give someone at the front my money to get the shoe, or I would beat everyone and be first in line."
Jordans can run anywhere from $100 to $1,000-plus a pair, depending on how rare the shoe is, and according to Harris, he is a big spender when it comes to shoes.
"Shoes run from $200 a pair to–the most I've ever spent on shoes–$500," he said. "Last year, I spent probably $4,000 on shoes. I've given away about $2,000 worth of shoes to my family and friends. There are shoes I forgot I even had.
In the end, it was not different tops or stylish bottoms, but shoes that became the infatuation of Harris.
"The shoes put an outfit together," Harris explained. "You can put any type of outfit together, and you can have five different shoes to go with it. Then you always have that one pair of shoes that make everything work. I don't buy shoes just to buy them, I buy shoes for clothes that I know I'm going to wear."
On a day-to-day basis, the basketball player has different shoes for separate occasions. Whether he is walking to class or shooting buckets on the court, Harris claims he needs to be on point with his shoe game.
"I like all type of shoes, it just depends on how I'm feeling that day," Harris said. "On a chill day, I use my Nike flip-flops. If I go to class, I might put on some J's so I don't get any rocks in my feet while walking around campus. In basketball, I like the hoopin' Js–everyone sees that on the court."
It is normal for a team to coordinate with the same shoes. For example, the Miners usually alternate between their grey-and-orange Kyrie Irving shoes. However, Harris does not like to be like everyone else; instead, he wants to stand out amongst everyone and chooses to wear his own Jordans instead of the team shoes.
"There isn't a difference playing in Jordans, it's just something to be different," Harris said. "I like hoopin' in Nikes–the team's official shoes. They're comfortable, but I like keeping those because they're different. I'd rather play in shoes I have already played in because when you get new shoes, you have to take the process of breaking them in on the court and getting them ready on your feet. I just like playing what I've been playing in so I can already be adapted and get my feet ready. It's for the comfort."
Coincidently, those Jordans, the 72-10s, are his favorite shoes to date. Instead of receiving criticism for not coordinating with his team, Harris has been given praise for wearing those Jordans on the court.
"I've gotten a couple compliments on the court before, like 'hey bro, nice shoes,'" Harris said.
Moore, who also joins Harris in wearing Jordans on the court, claims the duo wear the shoes for a fashion statement.
"It's style–people like to hoop in their Jordans," Moore said. "It looks cool."
Although he has more shoes than he can count, Harris is still on the hunt for more kicks to add to his collection.
"I just missed the all-black Master Jordan 12s. I was going to get them to hoop in the conference tournament," he said. "We were out of town and they sold out. If I go online and I found the right price, I would do it. But right now they're like $750 for one pair."
Despite having extensive knowledge of different shoes, Harris does not judge individuals based on their shoes.
"I've heard the saying, 'what are those?' It's funny when you see some shoes that are different, but I appreciate the shoes more than judging them," Harris said.
Adrian Broaddus  may be reached at [email protected]
About the Writer
Adrian Broaddus, Sports Editor
Adrian Broaddus is the sports editor for The Prospector. He is a junior multimedia journalism major with a minor in political science.



Adrian...