Staudt to be honored at Women's History Conference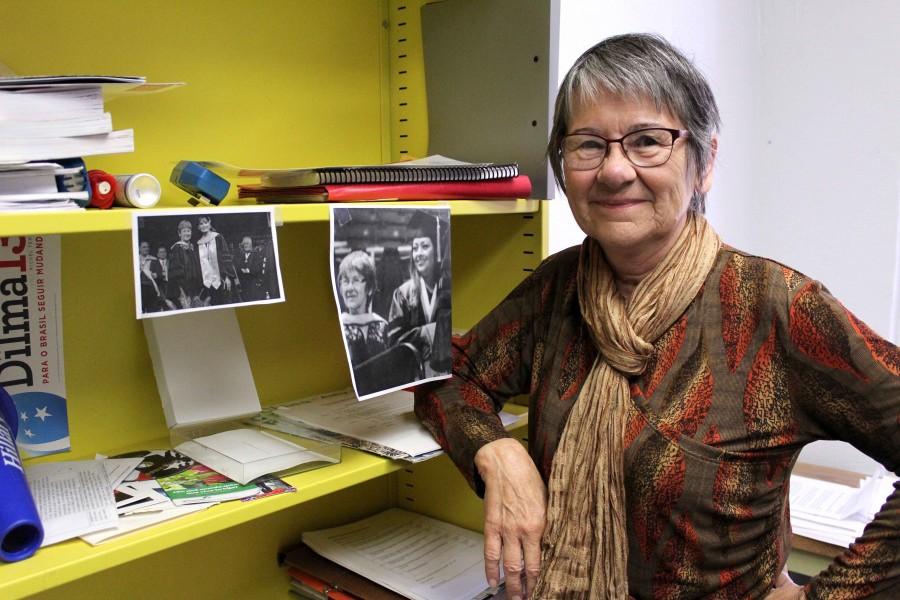 Close to 2,000 miles away from where she was born, Kathleen Staudt, professor of political science, has found a place where she can call home.
Staudt was born in Milwaukee, Wis., and arrived at UTEP in 1977 after obtaining her first job at Grinnell College for a one-year replacement position.
"I came here and I fell in love with the place," Staudt said. "I was able to do the kind of teaching and research that I wanted to do, and I ended up specializing in border studies and of course this is the ideal place to do that."
On April 6 she will be honored at the sixth-annual Women's History Conference, which will be held at UTEP and is open to the public.
Staudt researches topics that demonstrate the reality of the El Paso and Ciudad Juárez border. In 1979 Staudt worked in Washington D.C. for a year. She proposed projects and worked in teams to evaluate projects that help out with international development.
"Everything I learn, I bring it in to my classes," Staudt said. "Students are not just looking to what the textbook says. They are looking on how the real world works and they need to know."
Staudt has traveled to various parts of the world. She has visited the Philippines, where she served as a Peace Corps volunteer, Western Kenya, South Asia, Europe and the Eastern Caribbean. She said taking trips around the world is essential for learning.
"It (traveling) is very important for learning because one learns through experience, observation, talking to people," Staudt said. "When I write about places, I like to be able to have a sense of how the place is like. It gives me a deeper sense of place and space."
Staudt also encourages all of her students to be part of service-learning opportunities. In the past Staudt has helped mold 15 UTEP students into scholars by finding them employment as research assistants. Today she continues to find places where students can learn through real-life experiences.
"We have students involved and working at Nazareth Hall. It's a place which receives the refugees from Central American countries. They are often mothers and children escaping the violence," Staudt said. "My students are not only reading about developing countries, they are actually interacting with people and serving people."
Students who do service learning with Staudt said it's rewarding because it motivates them to do more to help others.
Valentina Herrera, junior communication studies major, is one of Staudt's students and is volunteering at Nazareth Hall this semester.
"You think it wouldn't teach you anything, but when you are there with (undocumented) immigrants, I learned about the way they come to the United States and what they suffer. I even learned about some legal stuff they have to go through–the permissions they need to stay at Nazareth Hall," Herrera said. "Professor Staudt is very sweet, she really cares about people. I admire her. Now I think I want to do something for my community­—like some type of activism."
Faculty who work with Staudt said she is a leader at the university, and she is able to change the perspective of students and other members at UTEP.
"She is very passionate, extremely intelligent, inclusive and an amazing teacher. Without a doubt she inspires students to think about what happens in the outside world," said Azuri Gonzales, director of UTEP's Center for Civic Engagement. "She teaches them how to think and have their own ideas."
Staudt's most recent book, which was published in 2015, is titled "Courage, Resistance, and Women in Ciudad Juárez."
"They were people involved in social movements in Ciudad Juárez. They were challenging President Calderon by saying 'you claim you are going to make everything more secure, yet the murder rates keep going up,'" Staudt said. "We wanted to make sure to document what was going on, and document what role women played in the whole process. Because women have always done things to help out, but people don't write about them."
Staudt said she is working on the manuscript of her newest book, called "Border Politics in a Global Era."  She said that some of the chapters on the book will include themes such as migration, trade, the U.S./Mexico border and security.
Staudt's love for El Paso has made her feel connected with problems concerning the border. She said it's unacceptable that citizens of Ciudad Juárez earn 73 pesos per day (4-5 U.S. dollars) while people of El Paso earn a minimum hourly wage of 7.25 dollars.
"The U.S./Mexico border is one of the most unequal borders in the entire world and I wish more people would realize that, and incorporate that into how they think about improving our region," Staudt said. "If we are truly going to be a metropolitan region with more prosperity for all, we've got to make sure that working people on the Mexico side of the border are getting a decent minimum wage."
In the end, Staudt hopes to leave her own mark at the university.
"I hope that UTEP students become skilled in analyzing problems and then in organizing to change those problems on both sides of the border," Staudt said. "And in order to do that they need to acquire leadership skills. They need to define their own passions and find what is meaningful for them and pursue those dreams."
Rene Delgadillo may be reached at [email protected]