Sleep, Never seeks to empower local art scene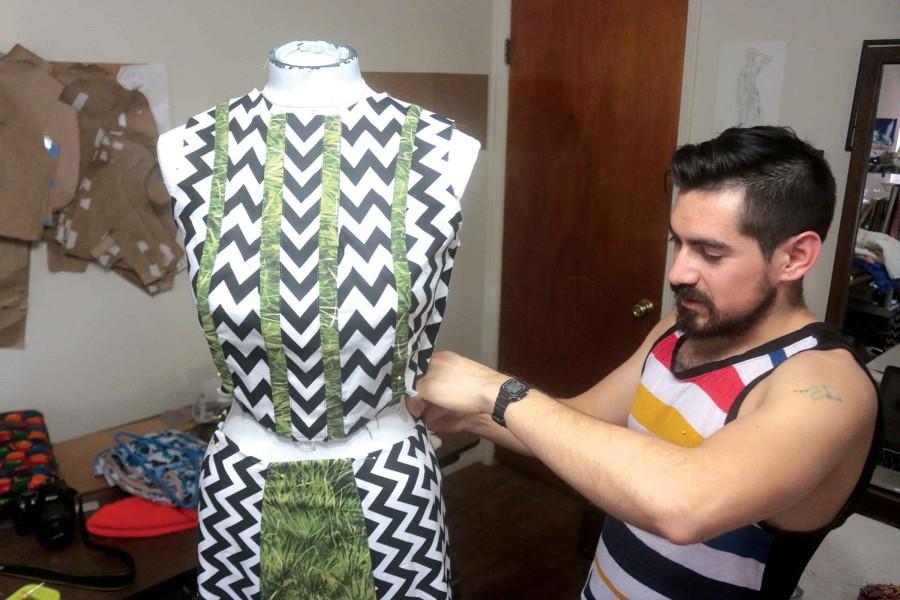 Jose Soto, Entertainment Editor
March 15, 2016
A local fashion designer and his clothing line are taking a different approach in the fashion industry. While many high-end fashion companies might not take into account their social impact on the environment and laborers, Sleep, Never is socially conscious about how the brand will be perceived. By empowering people to embrace their passion for art while using the technique of "up-cycling," the local fashion line is making its impact on El Paso's art scene.
Aaron Torres, designer and owner of Sleep, Never, is a local artist and designs all of his clothes—or "gifts," as he calls them—from recyclable material and fabrics, which gives them an eccentric and distinctive aesthetic.
"I consider myself a good person and I do things with a high level of connection with the people I surround myself with," Torres said. "That is something I want Sleep, Never to reflect. It's about connection with the community that is supporting you. I want the brand to bring a different vibe and culture to the city, one that will bring opportunity to other artists and art enthusiasts."
Torres initially went to school at the Art Institute in Dallas with a focus in digital film. It was while working at Urban Outfitters that Torres reacquainted himself with his passion for fashion design, having sewn and re-designed his own clothes before.
He won the Urban Renewal contest with the company by re-designing 50 cardigans. Torres dropped out of film school and moved to Austin, where he continued his tailoring craft by participating in fashion shows and working as a tailor at a store then called Cream Vintage, which has since closed down. There, Torres said, is where he mastered most of his "up-cycle" skills, which means altering existing clothing articles into something new. He went on to work at Nordstrom and with Mr. and Mrs. Sew It All. During these years, Torres crafted his artisan's vision.
"That period was like a training period for technicality and becoming confident in what I was doing," Torres said.
As he expanded his skills and traveled, particularly to New Orleans where he fell in love with the local art scene, Torres embarked on his solo journey into the world of creative, re-imagined fashion. He visited El Paso for what was to be a short summer stay and eventually fell in love with his hometown.
"It had an element of a relationship," Torres said. "It was like that person had changed into someone else, someone better. I kept meeting amazing people and having amazing experiences."
Torres created Sleep, Never two years ago while in Austin and introduced it locally last September during El Paso Fashion Week. Torres said the local fashion sense is extremely different from other cities because it isn't a product of the big fashion brands.
"People in El Paso express themselves artistically," Torres said. "We are sort of isolated, and that creates its own culture. It's about flare and personal style here."
Torres said that aspect has helped Sleep, Never craft its niche.
"The designs have an anthropological theme. I love using different prints and geometric designs," he said. "Nature always finds its way into what I craft, but it's not a preconceived notion. They have an eclectic and vivid influence. My mind is a very psychedelic mind."
Torres said his designs are a way for people to be non-conventional and act as an "extra skeleton" to foster self-expression. He also said the clothing line is somewhat of a "war against the fashion industry."
Although he is enthralled in the fashion industry, Torres said Sleep, Never is different than most fashion companies. He said the high-end fashion industry can be a "greedy, malicious industry."
"It is not benefiting anyone," Torres said. "Not even themselves. The small community that makes money doesn't even benefit all that much either. Financially, yes perhaps, but the fast-fashion industry is clearly only in it to make money. And they're entirely oblivious to the impact they have on the environment."
Sleep, Never, Torres said, prefers to incorporate recycled material to make their designs sustainable. "Besides, it gives the 'gifts' character and uniqueness," Torres said.
When it comes to its impact on society, Torres said he plans to employ at-risk youth to empower their artistic expansion.
He also plans to continue using recycled material for all of the line's products.
"It's always been a movement," Torres said. "It's rooted in the local underground street art and music scene, which  is why it's inviting for people who love art. It's about empowering art."
Torres plans to expand Sleep, Never to the Austin and New Orleans fashion markets, while keeping El Paso as its main hub.
"El Paso will always be its established home base," Torres said. "It's something I want El Paso to be proud of."
Sleep, Never's next exhibit, "Transparent," will be presented at the Dream Chasers Club, located at 200 S. Santa Fe St., on March 25 at 7 p.m. For more information on Sleep, Never, visit sleepneverlife.com. Follow Sleep, Never on their official Instagram account, @Sleep.Never.
Jose Soto may be reached at [email protected]
About the Writer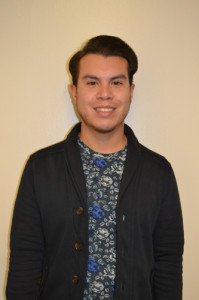 Jose Soto, Staff Reporter
Jose Soto is a multimedia journalism major with a minor in creative writing. He joined The Prospector team in November of 2013 as an entertainment reporter....