Local boutiques on the rise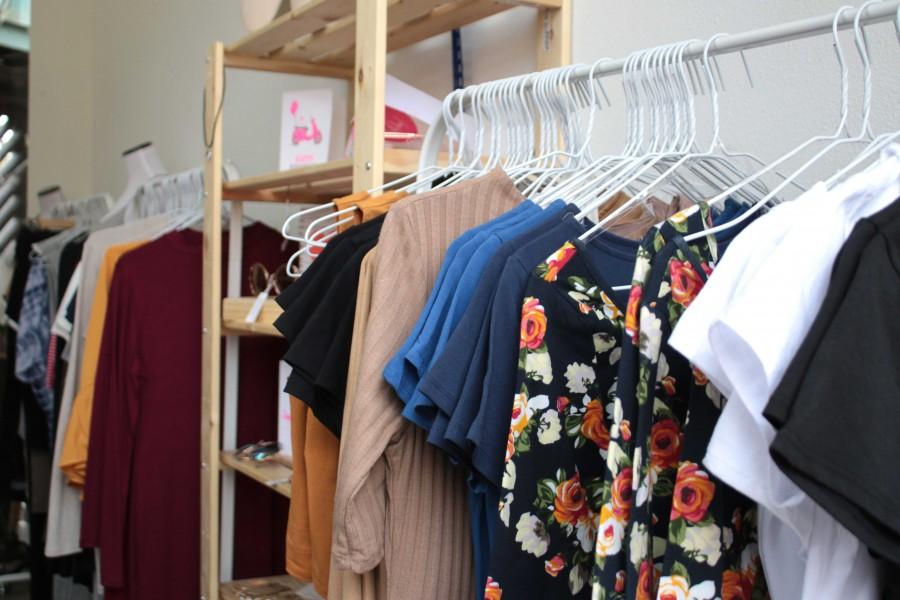 Local boutiques in El Paso have been increasing in the last few years.
"There has been a very, very, very, large increase in El Paso," said Ernesto Juarez, co-owner of Imperio Real Boutique. "Before you would only hear about two boutiques and even then they would only have a small selection, but in the last four years, there has been a major increase whether they are high quality or low quality,".
According to a 2014 research report by the Milken Institute, El Paso was ranked the No. 2 city in wage growth in the years 2007-2012. El Paso was also ranked the No. 53 city in the 2014 Best-performing Large Cities report.
"I moved to El Paso from Southern California and I was looking for a job, I was in retail design before so I used to travel for work and design stores. I was tired of traveling from work and I just decided to open my own boutique," said Jeannie Stringfield, owner of Fetch Clothing. "I did a lot of research before and I did a bunch of business plans and market research and trends and graphing of the demographics here. It was a great decision to open here."
UTEP students say the opening of new boutiques helps bring in more styles, but with high prices.
"It gives more options in styles and prices, but the things I've seen opening are a little more expensive," said Desiree Casanova, sophomore psychology major. "I prefer to go to bigger franchises because I already know what I'm going to like from those stores."
Fetch Clothing opened on June 2013 and Stringfield said she is not looking to expand because her sales are going well.
"Most of my sales are here in town and then we do a lot of Instagram sales, so we have a market all over the United States," Stringfield said.
Social media has become a powerful tool for local and small business owners to attract more clientele.
"It's really easy to buy something from this store in Instagram," Stringfield said. "If you go into our Instagram page and if you just type the word 'sold,' your size and your email, an automatic system will send you an invoice of the product, which will be deducted from our inventory, and then once that person pays the invoice that they receive in their email, we send them the product."
El Paso is a bicultural city in which language and culture have been combined to create different opportunities for boutique owners.
"We sell   dresses because they are an essential part of the community culture," Juarez said. "People from out of town come here just for that. People from Las Cruces, Odessa and cities you normally wouldn't think, come here. Colorado is a big place where people come just for our dresses."
Imperio Real Exclusive Boutique's specialty is dresses. It has its own designers and craftsmen, who can make unique changes to your outfit.
"You can buy a dress in another place and bring to us and get the alterations you want for your special event. You will have a great experience here," Juarez said.
Customers from Ciudad Juárez are known for helping El Paso maintain a balanced economy, but the devaluation of the Mexican peso might change the success of local boutiques.
"There's been a huge decline from people coming from Mexico," Juarez said. "Normally our major clientele was mostly people from Juárez, but ever since the peso devaluated there has been much less selling of quinceñera dresses."
Juarez said he had to change his sales strategies. He lowered many of his prices and spread advertising equally to all kinds of dresses as a strategy for maintaining his business.
Stringfield said that being close to UTEP doesn't increase her sales. It all depends on word of mouth spreading throughout campus. She also said college students are not her biggest clientele.
"My main drive here is actually kids from Coronado High School and Franklin High School," she said. "They just have more disposable income than college students."
Stringfield said that the clothes in each boutique are different and that every boutique has its own niche market.
"The fashion culture in El Paso is very eclectic. From my clientele, they just want to be comfortable, but still have very functional attire," Stringfield said. "We sell women's clothing and accessories that are daily wear. Everything we sell is everyday casual… Not all of the other stores offer what we do.  A lot of other stores sell going-out clothes, like clubbing clothes or go to the bars clothes."
Rene Delgadillo may be reached at [email protected]