Running back Aaron Jones arrested for alleged DWI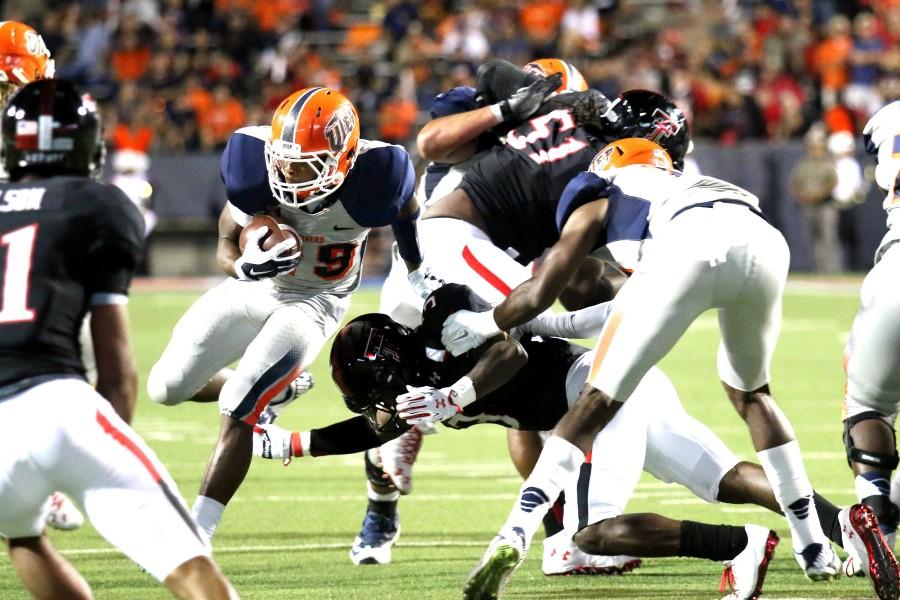 In a recent release from the El Paso court's records, Miners' football standout Aaron Jones was arrested for suspicion of DWI on Feb. 10. According to the El Paso County Sheriff's Office complaint affidavit per the El Paso Times, a deputy spotted a car swerving near UTEP on Feb. 10, which led to his arrest. His bond was set at $600 according to the county jail's website.
Jones was sidelined during the majority of the 2015 football season due to a foot injury. Although he was not expected to return to action during the spring ball season, Jones planned to make a full recovery and rejoin the squad as soon as the summer.
Before resorting to disciplinary measures, head coach Sean Kugler plans to evaluate the final ruling of Jones' case. Spring practices will begin Monday, March 7.
"We are waiting for the process to fully develop and once I have all the facts, I will evaluate the situation," Kugler said in a press release. "There are consequences to poor decisions and Aaron will be held to the same standard as every other student-athlete in our program."
Jones broke out as a standout running back during his freshmen and sophomore seasons at UTEP. The hometown graduate from Burges high school ran for 1,321 yards and posted 11 touchdowns as a sophomore in 2014. His 2,341 career yards already ranks him at eighth all time in program history. Prior to the 2015 season, he was recognized with conference and national preseason accolades.
His injury during the second game of the season against Texas Tech earned him a medical redshirt, so he could be classified as a junior in the fall. Jones is projected to be the team's offensive leader due to his dynamic rushing game.
About the Writer
Adrian Broaddus, Sports Editor
Adrian Broaddus is the sports editor for The Prospector. He is a junior multimedia journalism major with a minor in political science.



Adrian...