Wilson on the hunt for gold in Birmingham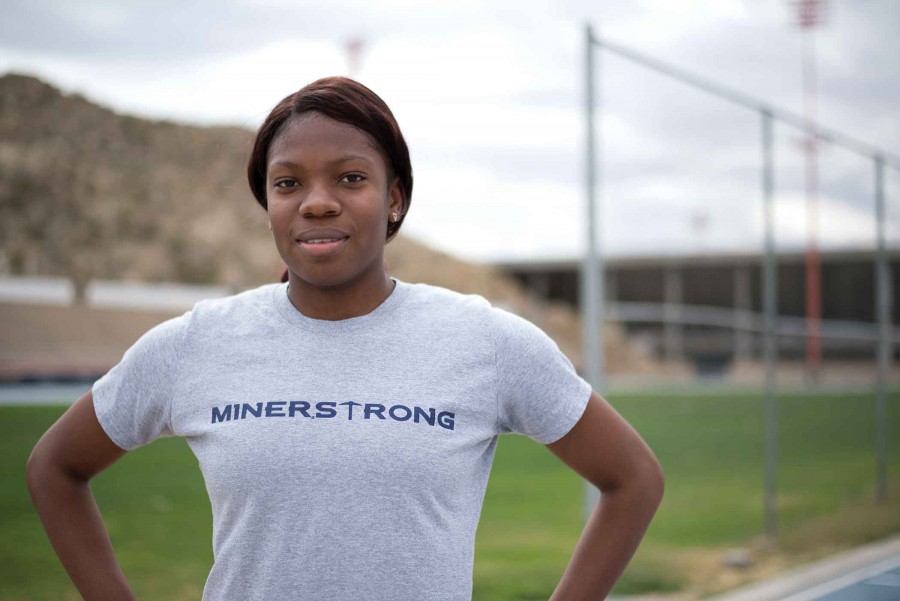 As the indoor season dwindles to a close, so does the collegiate career of senior triple jump standout Nickevea Wilson. Coming off her jump that ranked ninth in the nation at the Don Kirby Invitational, Wilson was awarded the Conference USA Female Field Athlete of the Week for the third time this season.
Wilson and her team will travel to Birmingham, Ala. for the C-USA Indoor Championships on Feb. 24-25.
In 2015, the women's track team won their first conference title in program history.
This year, Wilson has her mind set on repeating the title, as well as striving for a higher goal she has set for herself.
"She has an attitude of always trying to reach the highest goals," assistant coach Lacena Golding Clark said. "She wants to be conference champion, she wants to be NCAA champion, and one of her goals is making it to a world championship or the Olympics. I'm trying to guide her through those steps."
Grew up humbly in Kingston, Jamaica, Wilson began her career in track and field events at a young age.
"In Jamaica we start at a very young age—from kindergarten I started running," Wilson said. "In the ninth grade, on our sports day, I did the long jump and they said I was good. The next day they recruited me for their team and from then on I did the triple jump and long jump."
After spending a year at the University of Turabo in Puerto Rico, she began to search for a new school to call her home. When she initially visited UTEP, her mother pushed for her to take her talents to El Paso.
"I liked Turabo a lot because it was like home, but I decided I needed a change," Wilson said. "When I came here on a visit, my mother said 'you have to go to UTEP because coach Lacena is going to take care of you—she's Jamaican, she will take care of you.'"
Competing at the Division I level was quite the adjustment for Wilson. She had to get used to the competition and came to realize she might not be among the best instantly.
"It was a struggle coming at such a high level in high school to not being able to capitalize out there," Wilson said. "I had to trust the journey and keep pushing on. I'm going to keep working hard."
Golding Clark remembers Wilson's first trip to the school and also reflects on her growth as an athlete since then.
"She has grown over the years and understanding everything," Golding Clark said. "She set long term and short-term goals. Hopefully she does not settle on her goals."
At the Don Kirby Invitational, Wilson placed second overall for her 13.22m (43-4.50) jump. This was her personal best and ranked fourth best in school history.
"The week before, I was very disappointed," Wilson said. "My coach told me, 'you have it, you have it.' So I trusted her and went out and did everything we talked about and got good results. I was happy about that."
Her first step at achieving one of her goals is to win at the conference tournament.
"It would mean a lot to me (to be first place at the conference tournament)," Wilson said. "I want to go out there and give my share of the 10 points. Last year, I only gave nine and I was a bit disappointed. I know I'm better than second place. This year I'm going out there and giving everything."
In 2014, Wilson was named an All-American after finishing eighth in the NCAA Championships in triple jump (12.87m). Last year, she placed second in conference and missed nationals. However, this year, her 13.22-meter jump is among the top in the nation to possibly qualify her for the NCAA Championships.
"I know I'm better than eighth place," Wilson said. "I'm looking to capitalize on getting up there with some of the better competitors. It would mean everything."
When it is all said and done, fellow teammate and jumper Israel Ramsay, who is also Jamaican, has faith that Wilson will achieve her goals at the end of this season.
"This is her last year, so it would be so nice for her to go out with a bang," Ramsay said. "She brings so much confidence and is always willing to help anyone out."
Adrian Broaddus may be reached at [email protected]
About the Writer
Adrian Broaddus, Sports Editor
Adrian Broaddus is the sports editor for The Prospector. He is a junior multimedia journalism major with a minor in political science.



Adrian...