Hotel Indigo offers a modern take on lodging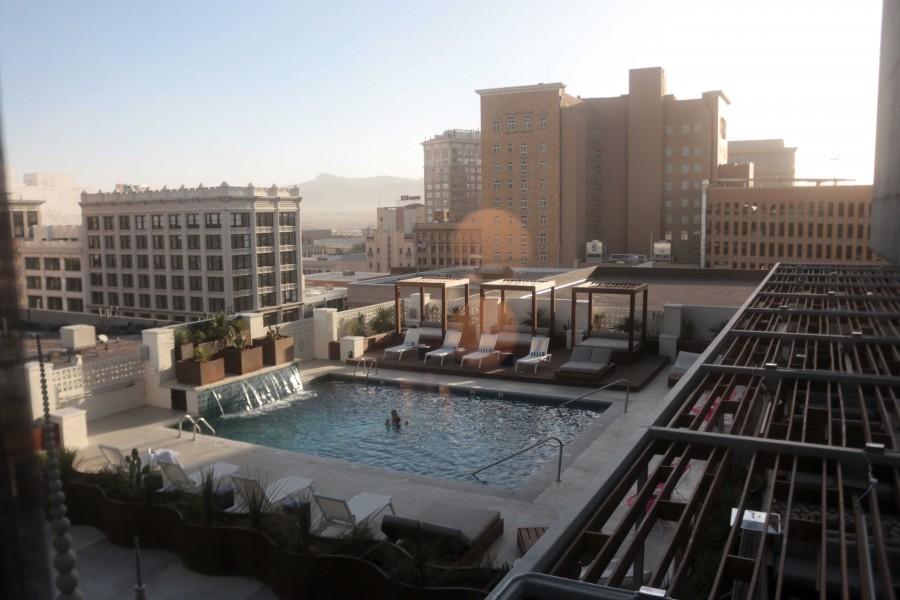 Jose Soto, Entertainment Editor
February 23, 2016
In the heart of downtown, in the middle of some of the city's federal and bar districts, a new hotel has recently opened its doors for business. But it isn't just any hotel and it isn't opening just any doors. The lavish and highly praised hotel is a different take on the lodging that El Paso is used to by using modern design and aesthetics with both new and vintage architecture to appeal to the public.
Hotel Indigo recently had its one month anniversary since its inauguration. Located at 325 N. Kansas St., the hotel has impressed the community, already selling out its rooms three times, according to Denise Acuña, director of sales.
"The community has been amazingly embracing," Acuña said. "The hotel has been to capacity a few times already and that is expected to continue. The rooftop bar has also been to capacity a few times."
The hotel took over a vacant 53-year-old building that was previously known as the Artisan Hotel, which was closed a few years ago. The yearlong, $12-million renovation has now opened up as the most modern and only boutique hotel in El Paso, with 119 rooms, a modish pool that features surrounding pergolas and a three-level parking garage. Arguably, its most distinctive and appealing feature is the bar Circa 1963, which is perhaps the classiest bar around. It is dimly lit ambiance is perfect for having cocktails in a lounge environment. Its walls are adorned with different pieces of contemporary art by mostly local aritsts. The bar overlooks downtown El Paso, which will be great for summer nights.
The entire hotel has an extremely modern take on architectural design. Urban and industrial styles fuse together to make up the aesthetic nature of the hotel and rooms, with modern furniture and fixtures scattered around its premise. It includes exposed infrastructure and wooden panels across its halls and inside its rooms, which also include huge windows that overlook the streets of downtown. The restrooms are spa-inspired with vibrant light fixtures and clear, sliding doors that lead to a walk-in bathroom with porcelain mosaics.   
"Not only has the location been a factor in why people have been greatly receptive, but also the fact that the community has been asking for something new and refreshing here," Acuña said. "The hotel is the only boutique hotel in town."
Indeed, it is refreshing. A boutique hotel is allowed to incorporate different designs and decorations that incorporate the history and appeal of its town of operation. Hotel Indigo has a mural, furniture designs, sculptures and paintings all crafted by local artists. It even offers locally roasted coffee. On one of the walls of their rooms is a wallpaper depicting a visual fusion of places from El Paso and Ciudad Juárez.
"We're able to promote the town through design, which even includes our menus that were designed by local artists. The wooden, school-like mini bars inside the rooms were artisan productions from an artist in San Elizario," Acuña said.  "It's made the hotel stylish, vibrant and unique."
Adjacent hotels Holiday Inn Express, DoubleTree and the historic Camino Real Hotel have long been the only resort hotels for visitors, business travelers and El Pasoans who have wanted to stay downtown, but they follow the "cookie-cutter" design, as Acuña calls it, which means they all follow the same layout. Hotel Indigo is a fresh and innovative experience the city desperately needed when it comes to hotel stays. Indigo will be perfect to stay at when events such as Neon Desert Music Festival and El Paso Pride Fest roll up.
"Already, there's been many visitors who have been here on business purposes expressing interest in hosting their conferences and meetings here at Hotel Indigo," Acuña said. "There's been interest in holding events at our bar as well. There are obviously many people who want a new and exciting experience when coming to a hotel. That is why we've been successful."
Hotel Indigo plans to open its first-floor restaurant, The Downtowner, in two to three weeks. It is named after the location's first tenant, which was a motor inn. It is planning to feature food that highlights the local culture.
Rates for rooms usually run from $120-$150 a night, depending on which room is preferred. For more information on rates and availability, visit hotelindigo.com/ElPaso or call 532-5200.
Jose Soto may be reached at [email protected]