First place Miners hope to continue success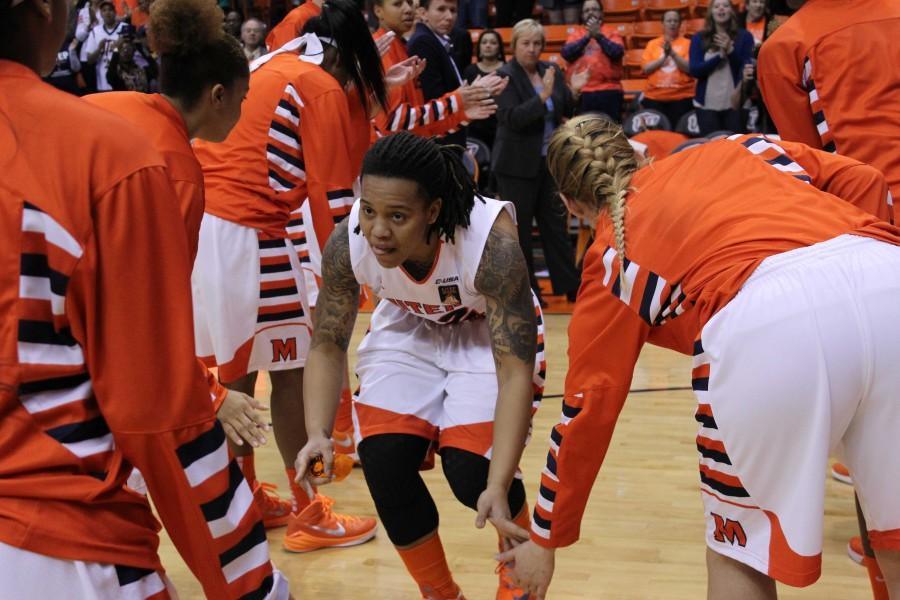 Juan Carlos Navarette, Staff reporter
February 16, 2016
The women's basketball team will travel to Southern Miss (Feb. 18) and Louisiana Tech (Feb. 20) in hopes to continue  their charge at a conference title.
The Miners (21-2, 12-1 C-USA) rest atop the conference at first place. They are currently undefeated at home (14-0).
This past week, the Miners beat Florida Atlantic University in a resounding 75-47 win at home to continue their payback tour. In the victory, the Miners locked in defensively and held FAU to 31.5 percent shooting and forced 23 turnovers.
The win not only coincided with head coach Keitha Adams birthday, but the 28-point win resonates with the hunger of this team. The Miners however do not hang their hat on a win; they understand that even if their league play is drawing to a close, there is still a lot of basketball left.
"We'll enjoy today's win, tomorrow we'll turn the page," Adams said after the win. "Next week we'll have a really good week of practice then we are going to have to travel tough and be ready to play."
The Miners will be on the road against Southern Miss to face the Golden Eagles who are 5-7 and in ninth place in the conference. The Golden Eagles may be 5-7 in C-USA play, but they are a team that always gives the Miners a tough game.
Even with seven losses, the Miners are weary of the type of team that Southern Miss can be. They are aware that this Southern Miss team is a lot stronger than it's record.
"Like coach Adams said, it's always back and forth with Southern Miss," senior guard Jenzel Nash said. "I think since I've been here they are one of the toughest teams."
These games tend to quickly turn into dogfight between the Miners and the Golden Eagles. The last time they faced each other, the Miners won at home by the narrow margin of 72-64. Head coach Keitha Adams continues to remind her team of that game and the fight it was to win it.
"We got to travel tough," Adams said. "We are getting ready to play two teams that we had to really battle here. Southern Miss—they are a good team. We have dog fights (with them). They are really competitive."
The Golden Eagles are not as stacked offensively as the Miners are. UTEP has four players who all average at least 10 points a game. Lulu Mckinney is the player that comes in fifth on the stat sheet with 7.0  points a game, but makes up for the points in assists as the teams' third leader in assists (31).
The Golden Eagles have three players that average double digits in scoring. Freshman Caitlin Jenkins leads the team with 12.0 points per game. She also leads the team in blocks (45) and rebounds per game (10.8). The Golden Eagles also have a perfect 5-0 home record.
The Miners may also be catching a bit of a break when they take on this Southern Miss team as starting senior guard, Jerontay Clemons is listed as non active for this game. The Miners will not have to worry about the second leading scorer of the team, as she contributes with 11.8 points per game.
Defensively, Adams and her squad do not ever seem to worry about any particular player. They stick to the defensive game plan, and plan to do that  when they take on Southern Miss. They average 16.3 turnovers per game and accumulated 275 steals through 23 games.
"Defense all day against them  — all day against them. We got to play D," Nash said. "They play good defense too, so it might be a low scoring game."
For this Miners team, the motto this season is to take it one game at a time. A 30-point win this week does not guarantee anything during the next week. One thing is certain, though, the Miners are ready for whoever they may have to play.
"Different is different outcomes, different players, you can't go off of this game because they (Southern Miss) are quicker they are faster," Nash said. "They play defense like us, so its going to be a dog fight."
Even with a big win against FAU, where she scored 16 points, Nash says the closer games are more enjoyable for her. Southern Miss is a team that can give her that close game she wants.
"I like playing those games, I don't like playing the blow out games they are boring," Nash said.
Juan Carlos Navarette may be reached at [email protected]