The Team That Made History
February 9, 2016
Throughout the week of the 50th anniversary celebration, ex-players from the 1966 national championship team relived old moments form the historic season. These players gave thorough accounts and stories about the five games they played in the NCAA tournament and the national championship game. They laughed and joked about the highs and lows regarding the post-season, which is still referenced 50 years later.
Photography: Michaela Roman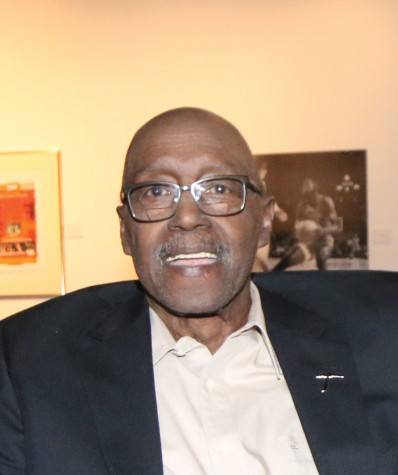 Orsten Artis
After being handed their first loss of the season by Seattle (March 5, 1966), nobody believed that the Miners would win the game against Oklahoma City (March 6, 1966). They started off slow, could not shoot and were down by 15 at the half. With the help of guard Orsten Artis' 23 points, the Miners came through with the victory over Oklahoma City, 89-74.
This is the story of the game told from accounts by Artis himself.
"I remember the Oklahoma City game and the Utah game very well," Artis said. "I played a pretty good game. I hit 23 points against Oklahoma.
Not undefeated? No biggie.
"There wasn't really a chip on our shoulder after we lost to Seattle. Coach made it seem that way because he hated we lost that game," Artis said. "We did not have any curfews or anything during the regular season, but after we lost the game to Seattle, coach gave us a curfew. The night before we played Seattle, Nevil was the only one who stayed in the hotel, so he didn't get in trouble. A couple of the Seattle players picked us up and we went to a house party—like the house party in the movie ('Glory Road'), that was real. Coach was so mad at us the next game."
A must-win situation
"I think in the beginning of the game there was a lot of pressure for us to win because nobody thought we are going to win," Artis said.
Sloppy start that Haskins would not stand for
"It was poor shooting at first, but that man (Haskins) stressed defense. He would rather play defense with us than anything," Artis said. "We had some long practices before the tournament. So long that he had to call the hall so we could eat. But as you can see, it paid off in the long run.
"They had us down at halftime, I believe by quite a few points. But we came back and beat them,"  he said. "After that, we went to play Cincinnati. The win against Oklahoma was a big one."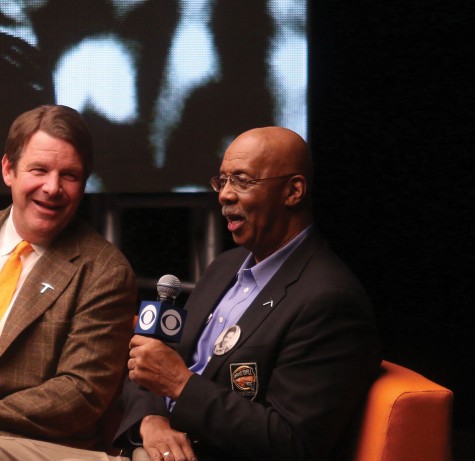 Neville Shed
With the first win out of the way, the Miners had to travel to Lubbock and play the back-to-back defending national champions, Cincinnati. During overtime, the Miners were able to capture the 76-74 victory over the Bearcats.
With the help of forward Willie Cager, forward Nevil Shed told this story of blunder and self-disappointment.
"This was a game where I did one of the dumbest things. It was the first time and the last time that I ever did anything like that," Shed said.
Blowup blunder
"It was this man (from Cincinnati), he was harassing me. We kept nudging back and forth and I pointed at coach Haskins and he said, 'Shed, just play the game'," Shed said. "So we're going through one play and I had to go off the screen from Lattin. This guy was holding me back and this left hand came out.  I wished I would have missed him and I hit him. Of course I got a tech (technical foul) and thrown out of the game. Haskins went ballistic. He threw me off the team. I had to watch the game and Cager took my place."
Cager to the rescue
"I was on the bench and when Nevil went out of the game, coach Haskins said, 'hey, go to work. Do what you have to do.' And I did what I had to do," Cager said.
Between a rock and a hard place
"After the game, coach Haskins didn't let me get on the bus. So I called my mom, and somehow in New York City, she got a hold of what happened. She said, 'Nevil are you out of your mind?'" Shed said. "I was looking for some support, but all my feathers fell off me. It was Eddie Mullins, the sports information director who took me home."
Nostalgic about what could have been
"Maybe if we had lost that game (against Cincinnati), I'm sure that blow right there would have had an impact on a great episode in our history for even The Prospector," Shed said.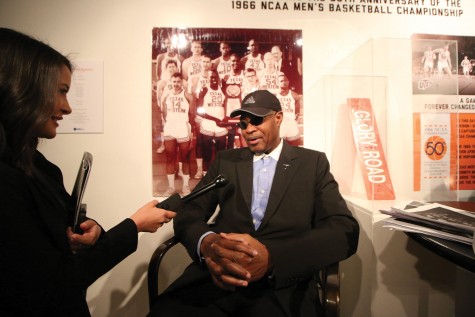 David Lattin
    t was no. 4 (Kansas) vs. no. 2 (Texas Western). Both teams had an arduous road to the regional finals. The game featured what is still today one of the most controversial calls of all time. Jo Jo White, an African American guard from Kansas, hit a game-winning shot in the second overtime; but after the buzzer rang, the referee reversed the play because White had stepped out of bounds.
Six-foot-6 center David Lattin, with the help of Artis and Louis Baudoin, recalls one of his most triumphant victories over the Jayhawks.
Who are we playing?
"It was a big game," Lattin said. "It was tough because we didn't know much about Kansas going into the game. We knew they had a great record, but we didn't play them in our conference and we hadn't seen them play."
"I didn't know Walt Wesley was 7-feet tall until I got ready to jump for ball at the start. Walt Wesley was looking down at me laughing and said 'Ha, this guy has no chance,'" he said.
For a lack of a better game plan.
"Coach Haskins did not have a game plan going into the game. We didn't talk about Walt Wesley or Jo Jo White," Lattin said. "Coach Haskins had done such a magnificent job of preparing us already.
"To prevent us from being successful, they knew about Bobby Joe Hill," he said. "They moved their entire defense to the left side of the floor to try and stop Bobby Joe from doing what he was doing. But he did it anyways."
No pregame jitters
"We did know how big the win was against Kansas— they were a great team. We had to be prepared to play them. We knew we had beaten a great team," Lattin said.
What could have been the end
"It just so happens that we would have lost that game had the referee had been looking at his feet instead of his shot," Artis said. "He was totally out of bounds—if not, we would have lost that game."
In your face
"It was fun playing against them," Lattin said. "After the Kansas overtime win, there were guys, again, saying 'we had them, we had them,'" Lattin said. "Again, I told them, 'you just got had.'"
Unsung title game
"Looking back, the Kansas game might have been the championship game," Baudoin said.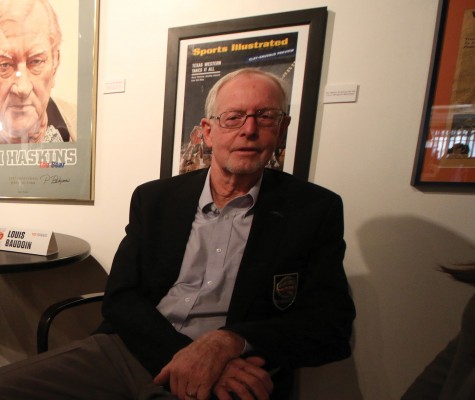 Louis Baudoin
This game would decide who would go to the national championship. Utah, who was not even ranked, came into the game as the underdogs on paper. However, they had one of the best scorers in the nation, Jerry Chambers. Although Texas Western was known for their defense, they let Chambers score 33 points on them. In the end, they were able to shut Chambers down and come forth victorious over the Utes.
Louis Baudoin, a six-foot-7 forward, along with Artis, gives his accounts of the game he labeled the Championship of the West.
They wanted Kentucky
"We were hoping it would be us and Utah in the final. That would have been a great matchup­—two western teams," Baudoin said. "All the media was from the east, all the rankings were from the east, everything. The day when we played Kentucky, we were even, ranked third, that just showed how the media favored the east. We were pulling for Utah and they were good."
Coming home
"Up to the Utah game, I don't remember much buzz around El Paso because we were on such a tight routine, we still had classes to go to. It was a game at a time. We did not look ahead at all," Baudoin said. "Every Monday, we would grab the first issue of Sports Illustrated to see if we changed in the rankings. We were never first. That gets under your skin after a while because you know you've beaten good teams and we won tough games."
Game time vs. Utah
"We came off two back-to-back overtime victories that were just grueling. We played such a different style than Utah. They played a little quicker game than we did. They were every bit as skilled as Kansas," Baudoin said. "I don't remember us having much of a different game plan for anybody. It was 'here's what we do, we're going to do it better than you do.' We prayed, we played against teams that liked to run. They were easier to beat. Teams, who played slow, were tough for us."
Jerry Chambers
"Utah had such a great forward, guard, whatever you'd like to call him, Jerry Chambers. He played everywhere and was outstanding. He still had 38 on us, and we thought we held him down," he said.
Winning time
"Jerry Chambers would sit everywhere on the court and Nevil Shed couldn't do anything with him," Artis said. "Coach put Jerry Armstrong on him and held him to two points for the remainder of the game. That's how we won that game."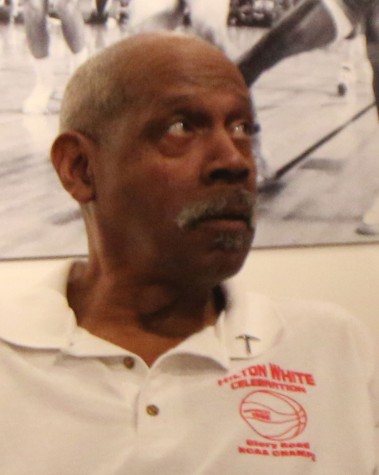 Willie Cager
The granddaddy of them all: the national championship. It was the first time that a Division I team had started five African-American players in a championship game, but coach Don Haskins claims he was simply playing his best. Willie Worsley, David Lattin, Orsten Artis, Bobby Joe Hill and Harry Flournoy all took the court to take on the top-ranked Kentucky. Coached by legendary head coach Adolph Rupp, Kentucky had three big-name college basketball stars: Pat Riley, Larry Conley and Louie Dampier.
Prior to the game, Kentucky was highly favored to beat Texas Western, having won four national championships before; but the Miners were ready.
During the second possession of the game, Lattin slammed a dunk over Riley, which some claim to be initial statement of the game. After that, Hill stole two passes, and Kentucky would never find another lead throughout the game. They shut down the Wildcats defensively, holding Kentucky to 38 percent shooting. Hill led the team with 20 points, followed by Lattin (16) and Artis (15).
Texas Western had changed basketball forever.
Members of the team joined together to tell the significance of the win and give stories about the game at hand.
Four titles? No big deal
"Going into this game, all we knew was University of Kentucky had won four times prior and that was it," Shed said. "Was it the white versus the blacks? No. That was what the media brought out during that time. Did we have a chance to win? Nope, because of our 'mentality,' (they said)  'we weren't smart enough' and  'not good under pressure.' But we changed that."
The dunk heard round the world
"I think about the dunk at the beginning of the game. It set the tempo," Lattin said. "Kentucky players knew they were in for a game. The dunk made a difference.
Kentucky down for the count
"We love to win—bottom line," Cager said.
"We didn't know we were embarking on such a season because we were youngsters and we were just thinking about winning," Lattin said. "No one walked into the gym and said we're going to win a national championship."
Cutting down the net
"It took years later to realize what we did, changed the era of basketball," Shed said. "Willie Worsely was sitting on my head to cut the net down after we won the championship. Today, at a championship team today, you see teams climbing up the ladder to cut down the net. After we won against Kentucky, they didn't give us a ladder. Do we look upset because of that? Nope. I wish they didn't have that famous photo of Willie on my head. Why didn't they crop me out in the Wheaties photo? It shows some guy (himself) holding Willie up.
"We didn't care," he added. "We won the most prestigious game of our life. I never had any idea of the magnitude of what that game was going to represent years later."
"Willie Worsley cut down the net and it was done," Cager said. "Say no more."