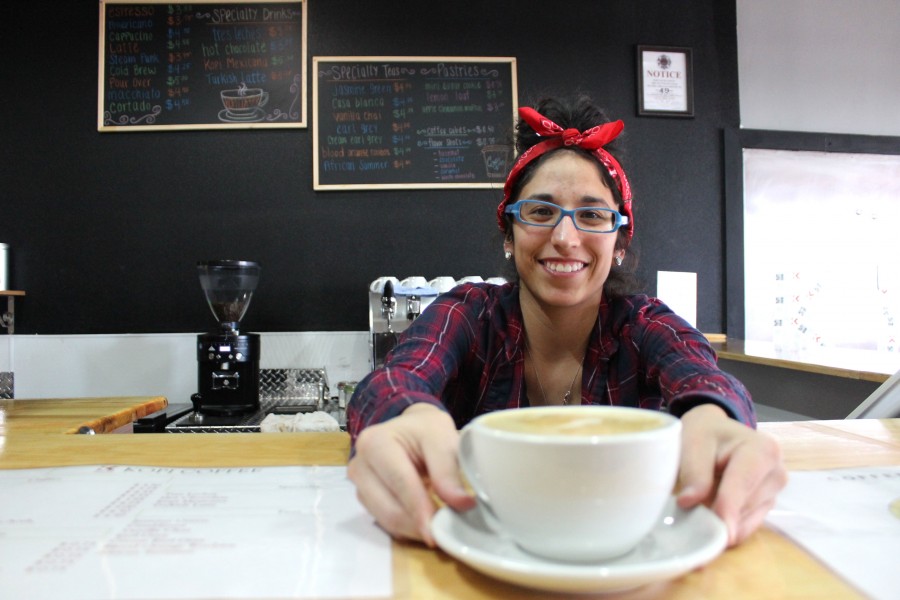 Christopher Zacherl
Five local hot spots to take your Valentine
February 9, 2016
Valentine's Day is rapidly approaching, and some people might find themselves drawing a blank thinking about a place to take their date. Here are five suggestions of some of El Paso's hotspots that will make Valentine's Day, or any other day, a memorable one.
1.) 2Ten Coffee Roasters– For those looking to keeping the date simple and intimate, 2Ten Coffee Roasters is a perfect spot to relax and converse over a delicious cup of joe. Located at 3007 Montana Ave. in the middle of the Five Points district, the cozy coffee shop can go unnoticed, but it definitely should be considered if you want to actually engage in conversation without the distraction of others. 2Ten is extremely small, but it is perfect if you need some time alone with your date. The coffee, which they roast and brew themselves, is a perk. They brew authentically, keeping the coffee's taste profiles intact since it's roasted there on location. It is a stronger cup of coffee, but delicious none-the-less. If you choose to go there, do so during the week as 2Ten is closed on the weekend.
2.) Kopi– Staying with the caffeine suggestions, Kopi Coffee is recommended for Valentine's Day. Located at 205 Cincinnati Ave., the coffee shop is a new El Paso gem and offers a unique environment and brewing method. Kopi offers pour-overs for coffee enthusiasts—a method of brewing coffee that uses grounds, paper filters and accurately measured hot water poured over the grounds without the use of machinery that can alter the flavors. This location is the only coffee shop in town certified by the Special Coffee Association of America.
3.) Tippi Teas– If coffee is not your thing, Tippi Teas is a perfect alternative. What you'll find at 2501 N. Stanton St. is an array of aromatic teas, some of which are organic, and various drink options like smoothies and lattes. The business is extremely welcoming and relaxing. It has a bohemian feel to it, making it a great choice if you don't want don't feel like pulling the classy card and simply want to enjoy the closet thing to relaxation in a cup. Their strawberry oolong tea will be suitable for the occasion.
4.) TradeCraft– If you're looking for an adult beverages, TradeCraft, located at 3737 N. Mesa St., will offer that, along with a mature, romantic atmosphere. Their signature cocktails, including the Oaxacan old-fashioned and the Parker Swizzle, are eloquently presented. The craft in their name comes into play when they prep their drinks, which is artisan in nature and delicious in taste. The place itself is beautifully decorated and very dimly lit, making it a perfect fit when intimacy is a must. Their booths allow for private conversations, while the communal table lets you hang with friends if you're not going one-on-one.
5.) Craft & Social– And finally, the one place I would recommend for a drink and to dine is Craft & Social. It simply lives up to it's name. The craft beer offered at 305 E. Franklin Ave. are switched often, making your visit to the bar a different experience almost every time. They really do know their beer selection as well, pairing them with their different meals. Their tomato-basil hummus is a great way to start off your dining experience at Craft & Social. Their craft salad is a good choice for those looking for a light dinner. Its highlight is the manchego cheese and alfalfa sprouts. If you're looking for something heartier, the bellanzana sandwich is a great pick. It contains roasted eggplant and portobello mushrooms with a hummus spread. The sandwich is exquisite. The environment at Craft & Social is precisely that, social. Their layout is built so as to encourage interaction with people you might not have gone with, and there are table games from which to choose from. They are often screening independent and classic films as well.
Jose Soto may be reached at [email protected]