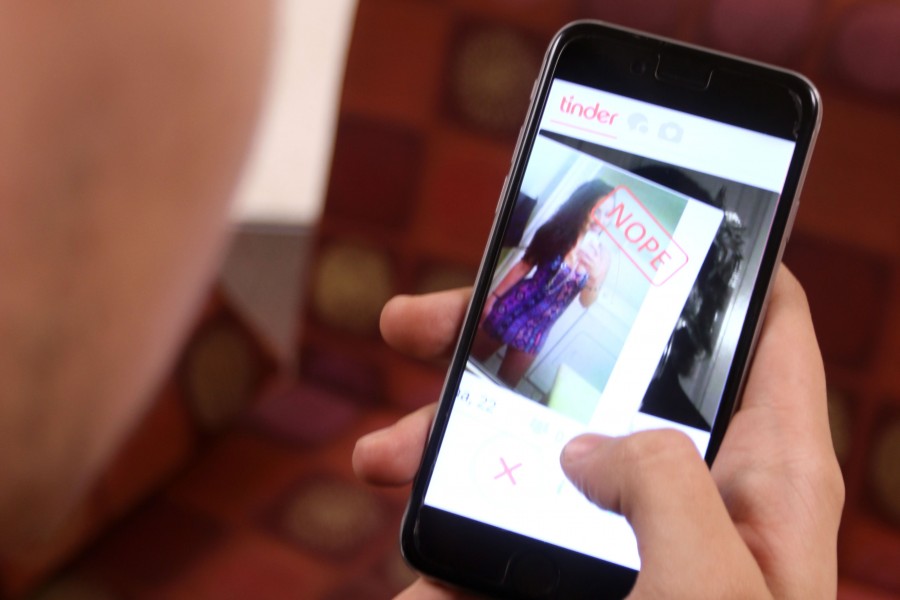 Dating gone mobile: The top dating applications reviewed
February 9, 2016
Dating and hookup apps are designed to streamline the dating process, allowing us to filter, skim and handpick potential mates, but how well are these apps working realistically? After signing up with four of the most popular hookup mobile applications; "Tinder," "Pure," "Down" and "Grindr," and one especially eccentric app, "Bro," a place for straight men to experiment with other straight men, it's an understatement to say that our senile, yet crazy-in-love, grandparents had it easier when it came to dating. Here is compilation of the outcomes I found while utilizing these mobile dating apps:
"Tinder" – Considered the Yankees of hookup apps, "Tinder" is one of the most highly used applications on the market today. Signing up is simple enough.  Connect your Facebook, write a short bio, and set your preferred age range and the maximum distance your willing to drive to meet a Tinder match. Within minutes, you're cruising through at least 30 people per minute, judging them based solely on six pictures max. The app works beautifully for people who can take a good selfie. Since installing the app last week, I received three matches out of what must have been 80 "swiped right" profiles I went through. Out of those three matches, one resulted in an exchange of phone numbers and Facebook information. A date has been scheduled for this weekend.
"Grindr" –The three connections I made on "Tinder" didn't match the 30 likes and messages I received on "Grindr." An app exclusively for gay men, users do not have to match in order to send messages to each other. The profiles are listed in rows and one simply cherry picks the men they wish to meet. The distinguishing feature of this app, however, is the "Grindr Tribes" selection, where users can use tags such as Bear, Bear Cub, Clean-Cut, Daddy, Discreet, Leather and Otter—which is a term used to describe hairy men who aren't as bulky as "bears," but are instead small-framed—to describe themselves. The speed at which these conversations escalated was phenomenal, with more than a couple of these connections rocketing from a reciprocated greetings to them sending me their pinned location and a "when are you free?" message. Although I am as straight as they come, it was comforting to know that 30 men (16 of those in the first three days) saw my picture and thought me worthy of a winky face, especially after the "Tinder" failure.
"Pure" – Unlike "Tinder," "Pure" doesn't sync your Facebook or ask for a bio. In this app, users have the opportunity to be undiscoverable when busy and immediately discoverable when free. When you are free, the app will ask you take a selfie right then and there, and will place you to be discovered for the next hour. The app will then locate people within your area who are also free, and will match you with them. I will give the app the benefit of the doubt and say this is great for people who need some friendly company, but the heart-shaped "loading" logo says more that this is purely just another hookup app. Over the week I made myself "discoverable" at different points throughout the day and churned out a solid one match late Thursday night, but I'll chalk up the turnout to the fact that the app is in its infancy.
"Down"– This app is the most straightforward out of all of them. The concept mirrors "Tinder's" swipe usability, except instead of swiping right and left, users swipe up if they would like to go on a date with someone and down to "Get Down." Admittedly, I liked "Down's" terminology better, but their small pool of users rendered the process hard to get a date.
"Bro" – The app's description says it all: "Bro" is the new social app for bromance, chat and dating. To be clear, it is for gay men, despite its insistence that it is for straight men as well, but among the gay community's array of social apps, "Bro" seems to be the only app dedicated to connecting men on a deeper level. The app asks open-ended questions that allow users to answer freely, from "what's your coming out story?" to "what is your goal in life?" The users who reached out to me during my time on the app were not looking for sex. Rather, they took the time to look through my profile and sparked up conversation regarding a certain response they enjoyed. Before beginning this hookup journey, my instinct told me "Bro" was a gateway app for men peeking out of the closet, and in a way it is, but it's an app that redeemed the 10 men on "Grindr" who wanted to jump my bones after seeing one picture.
Mike Vasquez may be reached at [email protected]