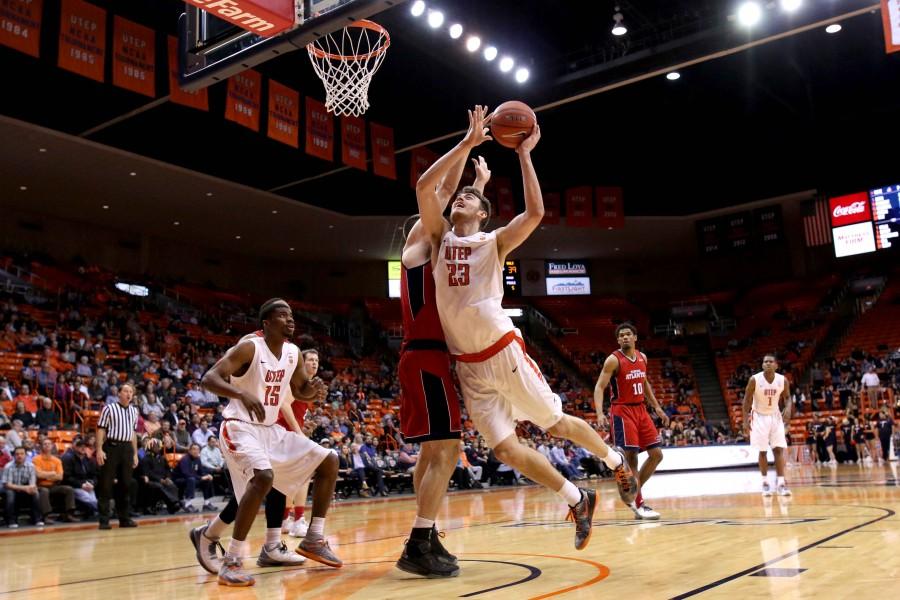 Men's team helps celebrate '66 champions
February 2, 2016
This week, the men's basketball team begins the second half of their conference schedule as they host Marshall (Thursday, Feb. 4) and Western Kentucky (Saturday, Feb. 6) in the Don Haskins Center. Saturday's game against Western Kentucky will honor the 50th anniversary of UTEP's 1966 national championship team.
Throughout this week, events in regards to the 50th anniversary of the 1966 national championship will commence. Legendary head coach Don Haskins was the first coach to start five African-American players in a NCAA championship game. To this day, UTEP remains the only Division I school in Texas to win a men's basketball NCAA championship.
Beginning on Friday, Feb. 5, CBS Sports Network will hold a panel discussion featuring ex-players Jerry Armstrong, Orsten Artis, Louis Baudoin, Willie Cager, David Lattin, Dick Myers, Togo Railey, Nevil Shed and Willie Worsley.
The nine players will also be honored at the game on Saturday, Feb. 6. Tip off is set for 3 p.m. and everyone who buys a ticket will receive a free 50th anniversary t-shirt at the Don Haskins Center.
Weekend of woes
The struggling Miners (11-11, 3-6 Conference USA) have lost six out of their last seven games. They are winless (0-7) on the road.
Two of those losses on the road came last week, when the Miners lost to Southern Miss (71-58) and Louisiana Tech (78-70), respectively. During both games, the Miners blew leads that they held at the half. Before the back-to-back losses, they had only lost one game out of 11 when leading at the break.
Despite having a breakout 15-point lead throughout the first half, the Miners were outscored 29-14 in the second half and fell to the Golden Eagles on Thursday, Jan. 25. They only scored eight points in the final nine minutes against Southern Miss.
Against Louisiana Tech, both teams traded off leads throughout the game. The Miners were not disciplined on offense and committed season-high 23 turnovers. The 23 turnovers resulted in 19 points for the Bulldogs. The Bulldogs' starters all scored 12 or more points in the game.
Although they lost to the Bulldogs, who are fourth in C-USA, head coach Tim Floyd saw improvement in his team that has been facing adversity recently. After matching Southern Miss in rebounding (36-36), they beat Louisiana Tech in the battle for boards (38-34) for only the second time this season.
Another plus for the Miners on Sunday's game was shooting. Prior to Louisiana Tech, the Miners had a difficult time in shooting from the perimeter and from the floor, but in this game they shot 50.9 percent from the field and four players (Terry Winn, Dominic Artis, Omega Harris and Earvin Morris) scored 10 or more points.
"By and large there was some improvement other than the ball handling," Floyd said after the loss. "We'll try to go back home and see if we can't do some things a little better when we get back to El Paso."
Seeing a remarkable upgrade in play was Dominic Artis. Going into Sunday's game, Artis averaged 3.5 points in the last four games. Against Louisiana Tech, Artis seemed to wake up and rose to the occasion. He finished with 23 points, 10 rebounds, nine assists and four steals, nearly recording a triple double.
"We got great play from Dominic Artis tonight (against Louisiana Tech), which was really encouraging," Floyd said. "He played at a high level."
Scouting the Herd
Marshall (11-11, 7-2 C-USA) will bring a high-scoring offense to the Don Haskins Center on Thursday. They like to run the score high, averaging 82.4 points per game. Four players are averaging 12 or more points per game, including James Kelly (19.9), Ryan Taylor (14.6) Jon Elmore (13.3) and Stevie Browning (12.9). Kelly leads C-USA with 11 double-doubles (17th in the nation), defensive rebounds (169) and field goals made (178 for 325).  Despite losing 81-79 to UAB, Kelly still posted a 30-point game. They are going to challenge UTEP in the post with Kelly and Taylor, who combine for 34.5 points per game.
In order to compete, coach Floyd and the Miners are going to need to establish a strong inside defense against the Herd. Winn and Hooper Vint will be the prime post players, and coach Floyd will probably use a zone-coverage to force the outside shots.
The Miners have struggled in recent games with foul trouble. On Thursday, both Lee Moore and Harris were sidelined due to fouls, and on Sunday, Vint fouled out of the game. If the Miners can keep the Herd away from the inside while still remaining disciplined on fouls, they have a chance at upsetting the fourth-place squad.
A look at the Hilltoppers
They have the same overall record, same league record and extremely similar frustrating season—if the Miners could look into the mirror, the Western Kentucky Hilltoppers would be in the reflection. The Hilltoppers (11-11, 3-6 C-USA) are also coming off a loss on Saturday (Middle Tennessee, 66-64), but they upset C-USA's top-ranked UAB (69-62) on Thursday, Jan. 28.
Western Kentucky is led by forward Justin Johnson, who leads the team in points per game (16.1), rebounds (168) and blocks (17). This is also a team whose strong side is defense. They average nearly five steals, five blocks and 13 turnovers per game.
Adrian Broaddus may be reached at [email protected]