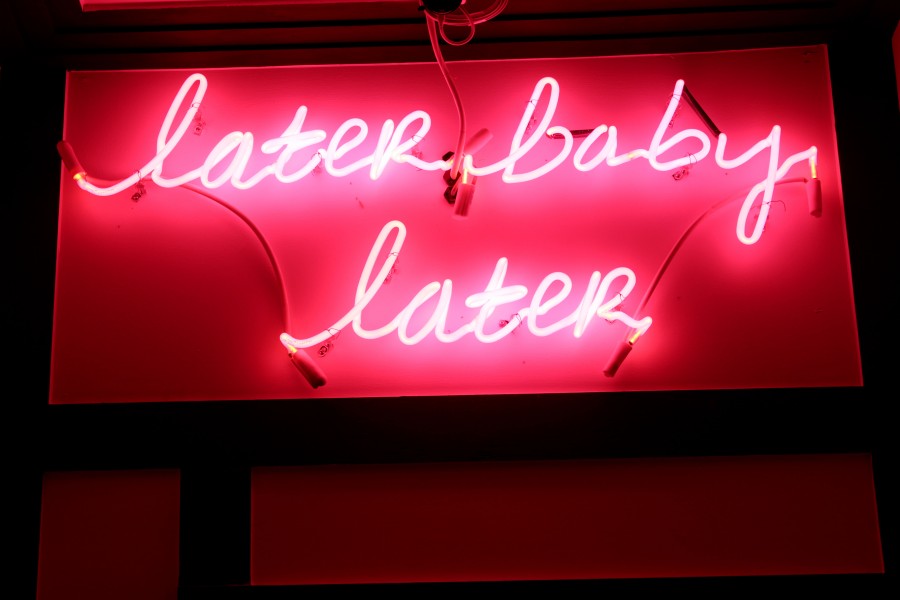 Photo courtesy Maria Esquinca
If you haven't been to Later, Later, you need to go now, now
February 2, 2016
It's hard to find a bar in El Paso that is inviting to all walks of life and has such a beautiful view that allows you to enjoy the beauty of the borderland. Or at least it was. Situated in the vintage and historic San Francisco district, Later, Later has almost unnoticeably popped-up out of nowhere to give the city a much needed classy and invigorating bar experience.
Located at 109 N. Coldwell Street right behind the Chihuahua's Southwest University Stadium, Later, Later is giving bar-goers the experience they might encounter if they were on Rainy Street in Austin. Kiki Cervantes, part owner of Later, Later, said that is exactly what they were going for.  Cervantes and Johnny Escalante, who also owns the bar, are business partners who also own J&K Presents, a local live events company.
"We were looking to further our experience by opening our first bar," Cervantes said. "We were looking for the perfect venue that would be reminiscent of Rainy Street. We wanted to have that vibe."
The Later, Later house is originally from the 1930s. Cervantes and Escalante remodeled the house into the gorgeous, chic bar that now occupies the location.
"We wanted to an industrial, yet modern look to the venue," Cervantes said. "It had to have a cozy character, it had to feel like a house."
You will surely feel at home at Later, Later. The couches, communal tables and soft lighting are great aesthetically. If the brick walls fusing into a beautiful pearl white frame and the sliding window doors aren't enough to leave you in awe, the view definitely will. As you stand on Later, Later's wooden patio, you can see the gorgeous view of Downtown El Paso, including the historical Amtrak Station and neighboring party district Union Plaza. Straight ahead is Ciudad Juárez, illuminating the desert night sky.
At the bar, which looks like a bar inside a vintage library, you'll find an array of craft beers on draft, which includes offerings from Deadbeach Brewery, a local brewery down the street from Later, Later. If beers aren't your thing, you can always order your preference in cocktail at their full bar.
Once you've ventured the bar thoroughly, you'll eventually wind up at their side restrooms, where their now-infamous sign reading "later, baby, later" hovers over the women's restroom. Being a guy myself, I haven't seen the inside of the girl's restroom, but the guy's is charming. Their simple white and black décor might seem banal, but it's cozy and welcoming as well.
Later, Later almost emerged from under the radar. The location was under construction for the last eight months, but they did no self-promotion until the day of their opening.
"We pretty much have been noticed by word of mouth," Cervantes said. "We didn't announce our name until we opened our doors for business."
Speaking of their unusual name, Later, Later is, if you haven't figured it out yet, a way of making fun of local lingo.
"It's a Hispanic thing," Cervantes said. "When I left El Paso, I noticed that we are the only ones that don't mean it when we say 'right now.' We always mean 'later, later.' People in El Paso say that. 'Not right now, but later, later.'"
Their name might be a pun of El Paso's diction, but don't take it too literal and postpone visiting the gorgeous bar. Later, Later is closed on Monday's, but opened Tuesday-Thursday from 5:00 p.m. to 2:00 a.m. and Friday through Sunday from 3:00 p.m.-2:00 a.m. During the baseball games, Later, Later will be expanding their hours and opening on Monday's.
For more information, visit their official page at drinklaterlater.com.
Jose Soto may be reached at [email protected]