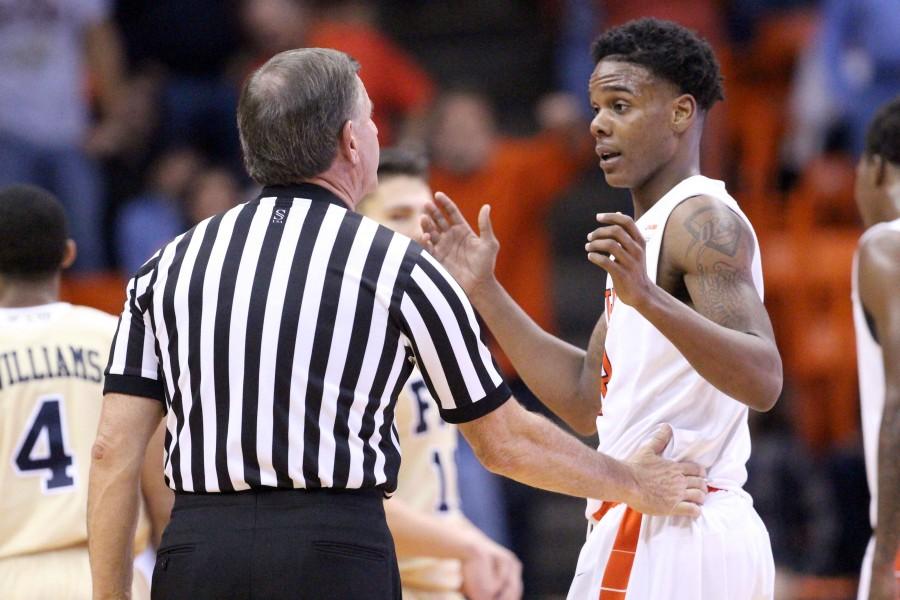 Angel Ulloa
Men prepare for Southern Miss, La Tech
January 26, 2016
The Miners' back-and-forth season continued on Saturday, Jan. 23, when they lost at home to Florida International University, 79-69. UTEP hopes to put that loss behind them as they take on Southern Miss on the road.
The Miners (11-9, 3-4 C-USA) had a chance to take over fourth place in Conference USA when they took on FIU at home.  The Miners' loss proved to be detrimental not only because it places the team under .500 yet again, but also because the Miners seemed to be reliable at home.
"We got beat by a club that I thought was just better than us tonight. We got up 7-2 in the ball game–they went on a 17-2 run," head coach Tim Floyd said. "It became about stops, I think we reverted back a little bit and we could put a three or pass rule to move the ball. It went out to the post, it needed to be kicked out, it wasn't kicked. I think that offense contributed to it."
Although the Miners were able to cut what was once a 21-point lead to three, they were not able to get the win at home.
"I do respect our effort late and the fact that we tried to come back we tried to fight," Floyd said. "We tried to double, tried to force the issue, all those things were positive the last 15 minutes, but then again the 17-2 run after being up 7-2 was not good."
The biggest issue for the UTEP team has become being able to play on the road. The Miners so far are winless in Conference USA when they have to play a team in any arena that is not the Don Haskins Center.
"We got to figure a way to win on the road," Floyd said. "The team we are playing on Thursday (Southern Miss, Jan. 28) beat this team, they beat them on the road."
UTEP will not only have to play with a winless record on the road, but they also are playing a team that beat FIU 66-60.  Southern Miss brings to the table a great front line that can shoot it from behind the arc, which the Miners will have to try to neutralize.
The Miners will have to keep a close eye on Southern Miss' guard Kourtlin Jackson, who is averaging 13 points per game. Jackson is also great behind the arc and is shooting almost 50 percent from the 3-point line.
"We are just going to close out hard, and make them put it on the floor, and make them take it to the rack, and not let them have any open shots," Omega Harris said.
To win on the road is not easy for any team, but the Miners are going to have to find a way to win against Southern Miss.
Although the Miners are at 3-4 and in sixth place in Conference USA, coach Floyd is trying to make sure that his team keeps on fighting.
"It won't be easy. None of them are easy for us right now," Floyd said. "I look at our 11-9 record, I watched UCLA this afternoon, they are 11-8.  There are a lot of teams fighting it right now."
Confidence is something this team does not lack even after a loss. With players like Omega Harris, who every game is looking better. Harris has carried his weight from behind the arc; he is making half of his 3s every game.
"I mean, we still feel we can go out our way. It's just another loss on the record and go get the next one," Harris said. "We are going to go in there with the same mentality we've been having when we are at home. We are on the road and just handle our business and come back with a W–that's all."
Juan Carlos Navarette may be reached at [email protected]