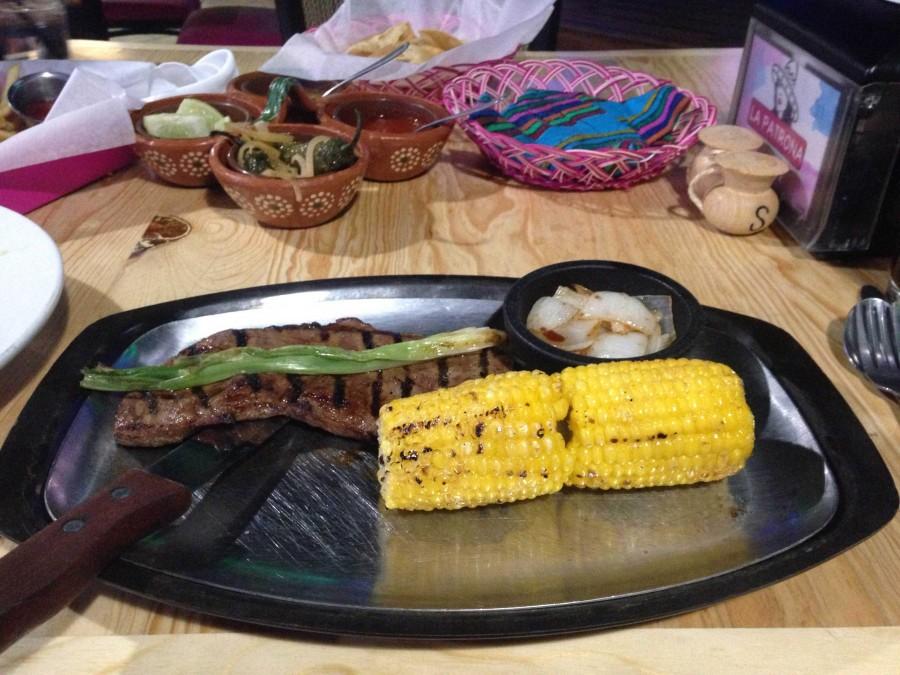 La Patrona is a good choice for both adult and children
January 26, 2016
To review this restaurant, I took my 10-year-old son. I told him that we were going to review a restaurant and that it was a top secret mission, which really made the whole experience a lot more fun for me ­— watching him tip-toe to the bathroom multiple times to check out the décor and report back to me.
Our readership is not always single students but, very often, single mothers and fathers or married parents with children — they have to eat too — just like I did last Thursday night at La Patrona, just north of campus on 4131 N. Mesa St. The new restaurant has opened where several former bars inhabited along with a few other restaurants. I took my son mainly as a way of finding out how kid friendly the place truly was — yes, I used him as a guinea pig. He enjoyed it.
The restaurant was only about a quarter full at 7 p.m. on a weeknight. We found a seat in the pink tinged, gangster-era atmosphere of the aptly named restaurant and were greeted by our waiter who took our drink orders and returned promptly with homemade chips and several condiments including perfectly spiced red and green salsa. We started with an appetizer of Ceviche de Pescado, which the waiter explained — or tried to explain — was Paraguayan. Ceviche is marinated raw fish. It was absolutely amazing.
Apparently, Paraguayan means that it has much more lemon and cilantro than those who are used to Mexican ceviche would be expecting. The fish pieces are bigger too. At La Patrona, it is recommendable along with the aguachiles according to some inebriated friends that I made in a subsequent visit. Aguachiles is a Mexican dish made up of shrimp drenched in a liquid seasoning of lime juice, onions, chili peppers and salt. They also recommended the drink specials.
Speaking of drink specials, there are a plethora of them. The menu includes specials for almost every night of the week at the full bar. On Friday, there is a mariachi band and on Saturday a full on rock band takes the stage. Although not a traditional Mexican plate, the french fries at La Patrona are the bomb — according to my dinner date, a 10-year-old food critic.  The grilled food is where it's at for La Patrona, though.
If you're dining with a big group, the plates for four are an enormous value. For just about $40, you can get a carne asada plate that is ample food for four, consisting of phenomenal carne asada, sausage, four baked potatoes, four orders of beans and grilled onions and peppers. It also includes beans, of course. If it is lunchtime, you cannot beat any of the lunch specials ranging from $5 to $7 all served with beans and homemade tortilla soup chicken, beef or pork being the protein. Second only to the amazing grilled meat are the outstanding homemade corn tortillas.
Parents should not let the bar look or atmosphere scare them off. This place will please you as well as your children. Everyone else, seriously, it is grilled meat, homemade tortillas and outstanding homemade salsa with cheap drink specials. I highly recommend that you go to La Patrona as soon as possible.
Jason Green may be reached at [email protected],.