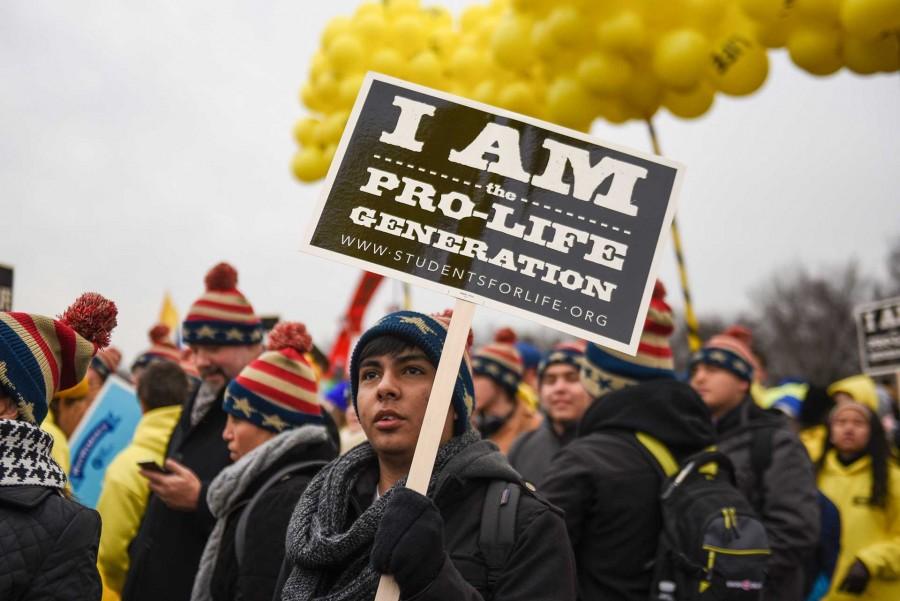 Heather Khalifa SHFWire
Despite weather, thousands attend March for Life
January 26, 2016
WASHINGTON – It has been 43 years since the Supreme Court's decision in Roe v. Wade made abortion legal. For the 42nd straight year, anti-abortion activists gathered on the National Mall and marched to the Supreme Court.
With the hope that one day Roe v. Wade will be overturned, men and women, young and old, American and international, those opposed to abortion braved the cold to express their beliefs – even if that meant staying in Washington an extra day or two.
Some groups canceled trips because of the predicted record snowfall.
"We're here to stand for the truth that all life is sacred from conception to natural death," said Sister Anna Grace, who has been part of the Sisters of St. Cecilia in Nashville, Tenn., for the last 19 years. "We would like to speak for those who can't speak for themselves, the most vulnerable."
Grace and other members of her order drove 11 hours overnight from Nashville to be at the march. Their plan is to return home Sunday, but like most others at the march, they were prepared for delays because of the weather.
Thomas LaPointe, 26, of Lakeland, Fla., was at his second consecutive march chaperoning over 30 students from Santa Fe Catholic High School and St. Joseph's Catholic Church in Polk County, Fla. The group arrived Thursday night and will be forced to stay at least an extra night at their hotel before returning home.
Before heading to the National Mall, some of the group's chaperones made sure they were prepared for the weekend storm. They made a trip to a WalMart.
"We know a lot of stuff is going to be closed," LaPointe said. "We had to prepare earlier this morning just to make sure the kids have something to eat."
The sacrifices they made to be in Washington, and the delays they might experience, didn't seem to worry LaPointe and the rest of the thousands of marchers. The statement being made by their presence on their beliefs and views about the state of American society was much more important to them.
"Our culture right now does not respect the dignity of life like it should," LaPointe said. "This is, I think, one of the best ways we can fight that. It's a peaceful march, a peaceful process, and that's absolutely critical to maintain."
In a statement, President Barack Obama reaffirmed his disagreement with abortion opponents. Obama celebrated the anniversary of Roe v. Wade and said he will keep working to protect the decision.
"As we commemorate this day, we also redouble our commitment to protecting these constitutional rights," Obama said. "Including protecting a woman's access to safe, affordable health care and her right to reproductive freedom from efforts to undermine or overturn them."
Just as Obama promised to continue protecting abortion rights, abortion opponents promised to keep fighting them.
According to Tait Pilegaard, 26, a freshman at Christendom College, in Front Royal, Va., the march in bad weather showed exactly how committed this segment of the American population is. After expressing his support for the cause, Pilegaard applauded the effort of those in at the march.
"That's an amazing sacrifice," Pilegaard said. "That's showing the perseverance of the American people and that shouldn't be taken lightly. We're talking about life and death. … This is a fight and we're here to stay."
With several states passing laws leading to the closing of abortion clinics and the Supreme Court preparing to hear the case challenging a Texas law restricting abortion practice, abortion is at the center of American life as much as it has ever been.
With many people who had planned to attend the march canceling their trips to Washington, braving the cold and changing plans to support the cause was not only admired by all of those in at the rally but attendance but also enjoyed as a privilege.
"Fortunately, in a way it's kind of a blessing, I think, if our flight gets canceled or we can't get out early because I want to be here and I know these youth want to be here," LaPointe said.
Only a small number of anti-abortion protesters stopped to take a break at the Supreme Court, where a short prayer and protest had been planned. A majority opted to march directly to the nearest Metro station.
Protesters were scheduled to lobby with lawmakers on Capitol Hill after the long march from the Washington Monument, but the winter storm forced federal buildings to close hours before the march ended.
The protesters marched on despite the falling snow.
Reach reporter Luis Gonzalez at [email protected] or 202-408-1493. SHFWire stories are free to any news organization that gives the reporter a byline and credits the SHFWire. SFHWire reporter Eric Payne also contributed to this story. Like the Scripps Howard Foundation Wire interns on Facebook and follow us on Twitter and Instagram.