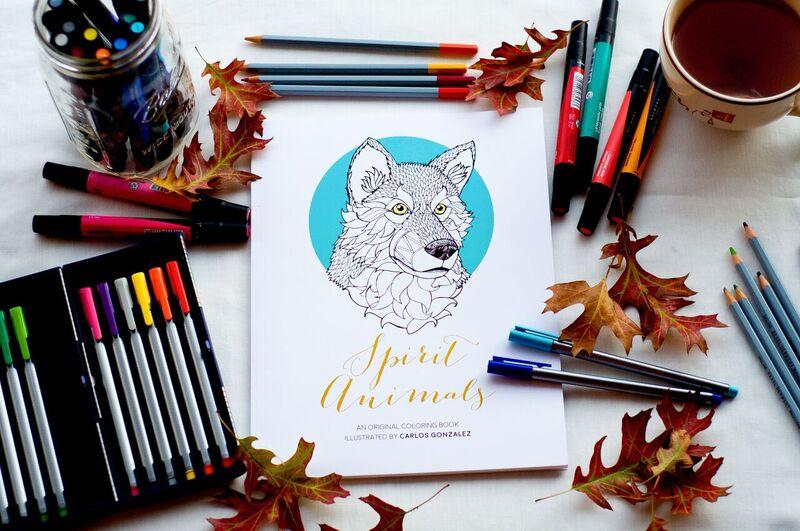 Special to The Prospector
MindCanvis coloring books promote interactive art
January 26, 2016
While some may take up exercising or knitting, many have found the old childhood ritual of coloring can be a relaxing way to unwind after a day of stress. Artist Carlos Gonzalez, art director at MindCanvis Publishing, has brought the fun back to coloring for adults with the release of his coloring book "Spirit Animals," which features 30 pages of drawn out animals waiting to be colored.
The coloring book, which can be purchased on Amazon or at Barnes and Noble, includes engaging and interactive art created to give artists and non-artists alike the opportunity to unleash their creativity. Gonzalez, who is a UTEP alumnus, said he gets his artistic inspiration from everything and anything.
"I've been drawing since I was 2 years old, so I've been doing it pretty much my whole life," Gonzalez said. "Sometimes it doesn't all make sense in the moment, but I usually catalog everything in my head and use it later. I get inspired by life and different events, things that have happened or might happen."
Enrique Macias, MindCanvis' co-founder, said they chose to do coloring books because demand was growing and it became the perfect medium for Gonzalez to get his talents out into the world.
Macias said that past projects have yielded very little monetary return, but were done simply to be creative.
"I've always known Carlos has an amazing talent, so we needed to give it the visibility it deserved," Macias said. "Once we realized the coloring book phenomenon was overtaking the art scene, we figured it was a great medium to showcase what Carlos has the ability to do, and at the same time, creating the experience to not only let people enjoy his art, but take part in being the artist themselves."
In addition to making the art interactive, the duo behind MindCanvis also believe coloring can help people alleviate stress and take their mind off everyday pressures.
"Not only does it draw on your childhood, but it does it in a way that you're not worrying about your emails or text messages or your bills," Gonzalez said. "It does it in a meditative way that maybe people have tried in the past, but haven't explored it enough to say 'wow, this is a better alternative to managing stress.'"
Irena Fierro, junior studio art major, said art—particularly drawing and coloring—helps alleviate her stress by giving her a nice distraction.
"It gives me a sort of distraction from overthinking and gives me full attention and focus to the current subject I am working on," Fierro said.
Carlos Gonzalez, who was born in Los Angeles but grew up in El Paso, said being raised here gave him the drive to strive for bigger and better things within the art world.
"I learned a lot about etiquette," Gonzalez said. "If you love it enough, put in the work to get it done, and growing up in El Paso in that sense gave me the work ethic."
To celebrate the release of "Spirit Animals," Trade Craft coffee shop and bar will have an adult coloring book meet up on Feb. 4.
"This upcoming one is our second one so far," said Joe Jimenez, an employee at Trade Craft. "When the idea for this event came about we knew it would be popular. However, we didn't expect the huge turnout we ended up getting."
For more information about the coloring books or the meet up at Trade Craft, visit MindCanvis' Facebook page or website at mindcanvis.com.
Julia Hettiger may be reached at [email protected]