El Don Haskin Center goza de Juan Gabriel
Jose Soto, Entertainment Editor
December 7, 2015
Hang on for a minute...we're trying to find some more stories you might like.
El orgullo mexicano fue demasiado presente anoche cuando un estadio completamente lleno recibió al divo de Juárez. Con una pequeña sinfonía y un mariachi, se presente el gran compositor y cantante que es una de las mas grandes estrellas de la música latina, haciendo a todo publico cantar, bailar y hasta llorar junto con el.
Como parte de su gira musical "Bienvenidos al Noa Noa," Juan Gabriel se presento anoche, el seis de diciembre, en El Paso en el Don Haskins Center. Con grandes aplausos y gritos fue como recibieron los asistentes del concierto, quienes vinieron desde Juárez, Chihuahua y Las Cruces, al famoso cantante mexicano que cuanta con mas de 40 años de carrera.
Juan Gabriel, de 65 años, empezó el concierto con un montaje de escenas visuales representando a Mexico. Fue su carisma contagiosa, su gran presencia en el escenario y, por supuesto, su gran voz que hizo que el estadio exudara con emoción. Es sin duda que el divo de  Juárez es entro los favoritos de la gente mexicana. Fue obvio durante el concierto, que duro mas de dos horas, al ver a la gente bailar y cantar junto con el musico.
Juan Gabriel canto muchas de los temas que lo han llevado a ser el icono musical que lo es actualmente. Entre las canciones estuvieron "La Diferencia," "Porque Me Haces Llorar," "Siempre En Mi Mente," y "Te Voy a Olvidar." Fue durante "Asi Fue" donde el cantor realmente empezó a ensenarle al publico la capacidad de su voz, exponiendo el aspecto sentimental que se encuentra en la letra de la canción.
Es particularmente la voz de Juan Gabriel que realmente es lo que lo mantiene relevante entre tantos otros cantantes aun después de tantos años. Es versatile. Puede colocarse entre una canción pop con vocales casuales y también entre una ranchera o balada que requiere una voz vibrante y potente. Durante el concierto, Juan Gabriel se podría ver con el micrófono alejado de su boca y aun así, el cantante se podría escuchar perfectamente al rededor del Don Haskins.
Juan Gabriel no es artista que depende de rutinas bailables ni pirotécnicas. Las pantallas con visuales con solo para añadir un estético al concierto. El concierto fue completamente enfocado en la voz del cantante mexicano acompañada de sus músicos. Es importante añadir que los músicos de Juan Gabriel son demasiado talentosos. Juan Gabriel es  poco bromista y amigable. Durante el show, el cantor hacia reír al publico entre versos de sus canciones. Es por eso que quizá ha podido contar con un publico leal durante sus mas de 40 años de carrera musical. En "Te Pareces Tanto A Mi," Juan Gabriel le dedico algunas palabras degradantes al nuevo amor de la que lo dejo. Es un ejemplo de como Juan Gabriel, mientras demostrando su gran talento, le da un poco de espacio a la comedia.
Por la mayoría del concierto, Juan Gabriel fue acompañado de su mariachi, como durante la canción "Cuando Yo Quiera Has de Volver." Es durante las canciones rancheras que el cantante realmente expone su voz potente. Durante "Costumbres," el cantante le dio homenaje a Rocio Durcal. El rostro de Durcal se apareció en la pantalla del fondo mientras Juan Gabriel cantaba las letras bien conocidas.
"Amor Eterno" fue una de las canciones que hizo al publico tanto llorar como aplaudir a Juan Gabriel. Es una de sus temas mas conocidas que fue escrita para su madre después de su muerte. Después, Juan Gabriel regreso con mas ritmo con "Tus Ojos Mexicanos Lindos," que hizo que el publico se levantara a bailar. "No Tengo Dinero" fue unas de las mas aplaudidas. En "Querida," se podría escuchar la voz colectiva del publico sonar por todo es estadio.
Para cerrar su gran concierto, Juan Gabriel canto "Para Que Necesidad," un tema llena de alegría y esperanza, igual como dejo a sus asistentes quienes disfrutaron una noche de gozo y gran talento.
Jose Soto may be reached at [email protected]
About the Contributors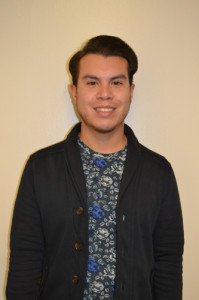 Jose Soto, Staff Reporter
Jose Soto is a multimedia journalism major with a minor in creative writing. He joined The Prospector team in November of 2013 as an entertainment reporter....