Guard play dazzles in Orange & White scrimmage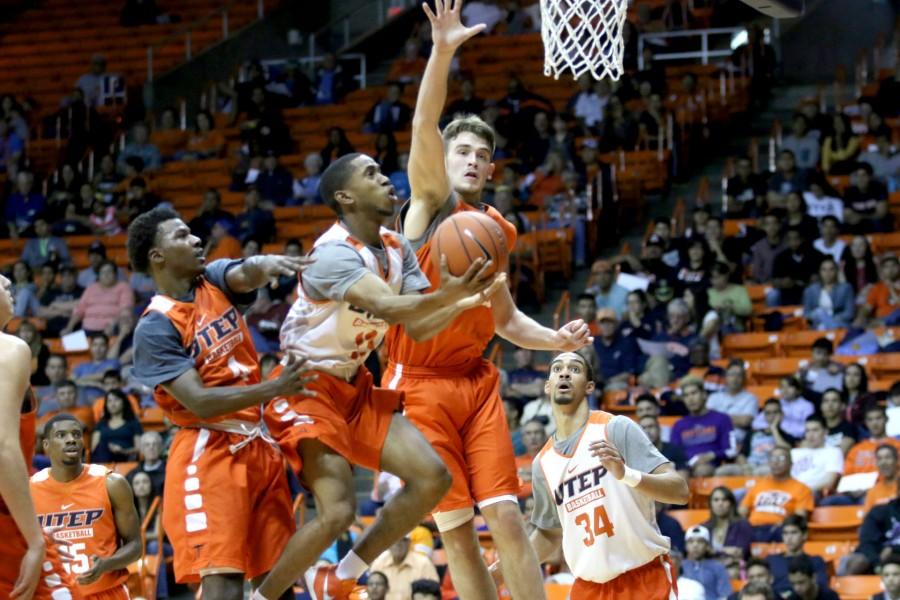 In preparation for this season's tip off, newcomers and returners of the UTEP men's basketball team were able to show off their talents at the annual Orange vs. White scrimmage. The Orange squad, comprised of key players Hooper Vint, Dominic Artis and Lee Moore, defeated the White team 102-70 at the Don Haskins Center.
Led by senior center Hooper Vint with 30 points, the Orange team did not trail once during the game. Vint, alongside Artis and Moore, accumulated 81 points in the scrimmage.
Omega Harris and Earvin Morris, who had 23 and 16 points respectively, led the White team. Despite playing neck-and-neck with each other at the beginning, the Orange team was able to break away and claimed a 25-point lead at the half.
"I like our guard play," said head coach Tim Floyd. "The team that was the most unselfish won. It looks like Hooper Vint has benefited and gotten better from playing with guards that can get him angles to the basket by dropping it off to him and letting him lay it up."
Vint and the Orange team were effective in the paint. They scored 62 points in the paint and held the White team to 36 points down low. Newcomer guard Dominic Artis was able to connect several times with Hooper Vint, and ended the day with 13 assists.
"Hooper and his experience – what he brings to practice, and Lee Moore – his ability to score is second to none," Artis said. "Me being a point guard and them two scoring the ball and rebounding with second chances is beautiful."
Also leading the Orange with 15 boards, Vint attributes one of his major roles on the team is to rack up the rebounds effectively.
"(Rebounding) was definitely what I was focusing on today," Vint said. "Obviously I think I'll be able to score with (Artis) and my team, but I need to board because we lost a lot of rebounding this year."
Last season the Miners finished 22-11 overall; however, during the off-season, the squad lost four of their starting five players. This season, the impressive guard play, in which Floyd spoke about, gives hope to the young team.
"That backcourt is good," Floyd said. "We've got another guard that wasn't here–Josh McSwiggan with a knee injury. He is very, very talented. And Matt Willms, a guy who is a potential starter, wasn't here. So maybe we're not dead yet. Maybe the buzzards don't need to circle yet. Maybe we will be okay."
The 102 points allowed by the White team in the scrimmage led Floyd to believe that the defense has holes that need to be fixed.
"I was concerned with a lot of things," he said. "We wanted them to play. We wanted to learn just by watching them play. We saw some things that resembled what we are trying to do. Most of it did not. We'll go back and practice tomorrow and try to improve upon it. I think it's important every time they go out–it's a competition. They're competing for playing time and minutes."
Prior to the scrimmage, individuals from the Miners competed in a 3-point contest and slam-dunk contest. Redshirt freshman guard Trey Touchet hit 15 and then 13 3 pointers to defeat Jake Flaggert for the 3-point championship crown. Two-time slam-dunk champion Omega Harris retained his title after defeating Tevin Caldwell.
The Miners will host their season opener in an exhibition game at 2 p.m., Saturday, Oct. 31, against the Cameron Aggies at the Don Haskins Center.
Adrian Broaddus may be reached at [email protected]
About the Contributors
Adrian Broaddus, Sports Editor
Adrian Broaddus is the sports editor for The Prospector. He is a junior multimedia journalism major with a minor in political science.



Adrian...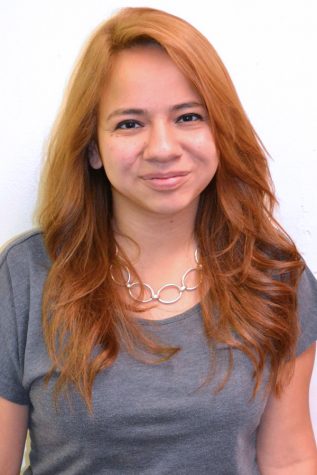 Michaela Roman, Editor-in-Chief
Michaela is a Senior Digital Media Production major at The University of Texas at El Paso. As the Editor-in-Chief, and former Photo Editor of The Prospector,...