UT System board authorizes possible tuition increase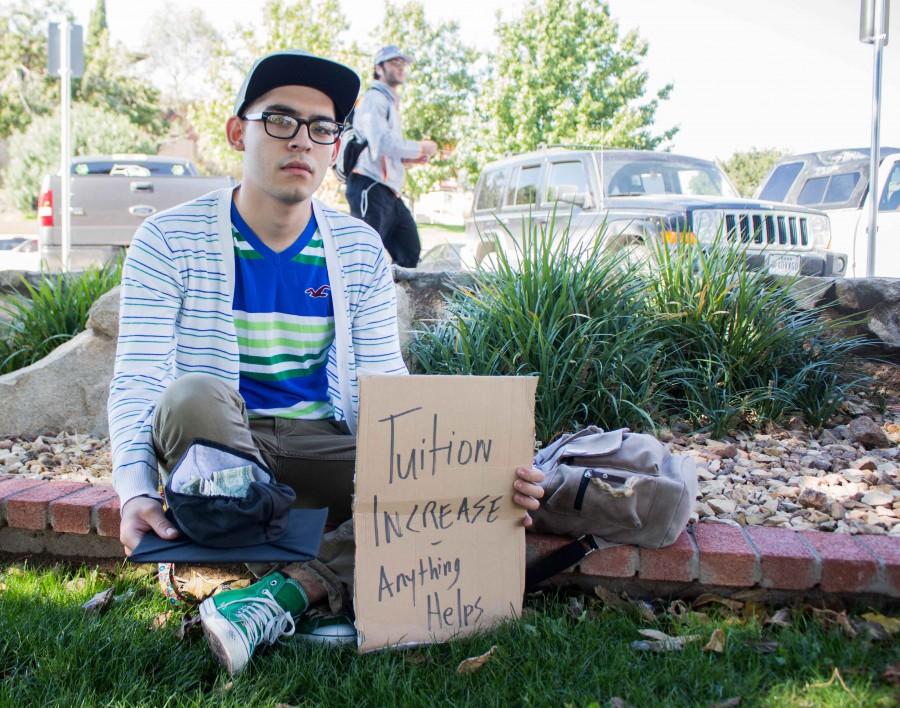 Luis Gonzalez, Editor in Chief
October 20, 2015
A raise in what UTEP students pay each year for classes may be on the horizon. The UT System Board of Regents authorized all of its institutions to construct and present proposals for increasing tuition and fees for the 2017 and 2018 fiscal years. Tuition numbers did not change at UTEP from last year to this year, and only experienced a minimum increase in 2013. Operating costs, inflation and faculty retention are among the main concerns UTEP and other UT institutions are concerned about.
"Even with state funding, our institutions—which have done a tremendous job of increasing efficiency and holding the line on costs—have reached a breaking point," said Chancellor William H. McRaven while addressing the board's decision. "If we want UT institutions to continue to be nationally competitive against their peers and offer a topnotch education, we have to provide them with more financial flexibility."
The university just learned of the Board of Regents' decision and is in the first stages of addressing the possibility of an increase in tuition. According to Gary Edens, vice president of student affairs, the university has no concrete information on what it might mean to its students yet. A committee will be formed to analyze the school's current situation and decide if in fact a proposal will be made.
The committee will include staff, faculty and students and will look at the school's needs in deciding if a tuition increase is warranted.
"We'll look at what does a tuition increase mean for our students, on the one end, but then on the other end, what are the costs of keeping faculty here," Edens said. "With the growing research portfolio, students would like to see investments in advising, tutoring. We have to balance what it is we need with what the cost is."
UT institutions are among the lowest in the nation when it comes to tuition. UT Austin ranks last in the amount of revenue per student when compared to other top-tier nationally ranked research institutions. UTEP is nationally recognized for the low tuition costs it offers its students on a semester-by-semester basis.
It has been a goal of the state and the system to maintain low tuition costs and the go-ahead to increase tuition in the near future was not well received by everybody on the Board of Regents. Regent Alex Cranberg was one of two board members to vote against the decision and believes tuition increases should be the last resort.
"The framework expresses an expectation that we should see a tuition increase above inflation," Cranberg told the Dallas Morning News. "Student tuition raise should be a last resort, not an expectation."
The board's decision recommends that all proposals presented include a 2 percent increase to address inflation.
According to Edens, a tuition increase would be made with the sole intention of increasing students' experience at UTEP. Providing a quality education with the best teachers possible is the main concern of the university and that may have to include a higher cost.
"Retention of faculty is really critically important, not only for UTEP, but the whole state of Texas," Edens said. "We want the very best faculty here teaching our students."
Raising tuition would allow UTEP to have more money to keep and add top-quality faculty members. Competing with other top universities around the country, with higher tuition rates, that can offer better salaries is a huge concern around the state.
"If a campus over in Dallas can pay them a lot more money because their tuition is higher and we can't because our tuition is lower, then I causes a real difficulty for us to keep and hire the very best faculty," Edens said. "That's the reality we're in."
UTEP has made it a point to find ways of dealing with the costs of providing a quality education other than raising tuition. Fundraising, outsourcing and research grants have all played a role in UTEP's low tuition numbers over the years.
Funds coming into the university thanks to research grants has increased to over $88 million, according to Edens. The centennial fundraising campaign brought over $200 million to the university, which also helps cover costs and allow tuition to remain low.
While analyzing the possibility of a tuition increase for the 2017 and 2018 fiscal years, Edens said the university will maintain its goal of keeping education affordable to those in its community.
"You've got to provide the services to run a university," Edens said. "I think and I hope students understand and realize that, yes tuition will have to go up sometimes, but we're also at an institution that cares deeply about that cost."
Luis Gonzalez may be reached at [email protected]