The underappreciated art of fashion
Jose Soto, Entertainment Editor
October 6, 2015
This week, the Mercedes-Benz of El Paso Fashion Week will launch their four-day long event that will highlight local, national and international fashion. This event is coming at the end of the El Paso Fashion Week, which also showcased some of the local fashion artistry. Respectively, both productions aimed to expose and influence the community to the art of fashion through a myriad of shows. Now the question emerges: did it or will it do any good?
Indubitably, El Paso is a thriving artistic community. The city pulsates with cultural and regional influences that embrace different art forms from sculpting and painting to musical and theatrical productions, as well as literature. The majority of El Pasoans support the local art scene in its many artistic methods except for one: fashion.
The art of fashion is inconceivably underappreciated. Although the fashion community is vast enough to find support amongst themselves, the majority of the community may find it irrelevant and mistakenly unimportant. This is merely due to the fact that most El Pasoans do not see fashion as a form of art. They see fashion as a standard of luxury, the overpricing of a non-necessity, the overwhelming sense of vanity and self-centeredness. For many, there is art, there is life and then there is the delusional, fictitious world of overspending on unnecessary garments.
It's not entirely the El Paso community's fault that there is a limited appreciation about fashion. Most of us have not been exposed to good fashion, regardless of what you define "good fashion" as. The likelihood of the matter is that the most basic fashion, the most generic, is your only example of "fashion" as an El Pasoan. We are not New York, Miami or Paris. We are right in the middle of the Chihuahuan Desert on the border with Mexico. What kind of fashion would we possibly be exposed to? Events such as the Mercedes-Benz of El Paso Fashion Week are the scarce few that can be taken advantage of to exemplify the art form that is fashion.
Don't misconstrue what I am saying. I am not making fun of anyone or their fashion sense-or lack there of. What I am implying is that it is not entirely our fault that the community does not perceive fashion as a form of art and, in turn, not appreciate it for what it exactly entails. We simply have not been exposed to fashion as thoroughly as other cultures and cities.
Fashion, just like any other art form, is comprised of talented visualization, execution and presentation. Designing clothes itself takes a lot of symmetrical precision as well as an understanding of visual aesthetics. Fashion designers have consistently said that the world around them is what influences their creations. Nature, architecture, paintings and history have all been cited as inspirations for fashion designs. To coordinate symmetry, fabric and visual presentation in one garment takes a lot of talent.
Now, to coordinate different garments together takes whole different kind of talent. One must have an eye for fashion in order to present one hell of an outfit. Different prints and colors do not always correlate together. Neither do different patterns and fabrics. Both men's fashion and women's fashion are based on being able to piece an ensemble together, from head to toe. It's much like interior design. You must have a feel for your environment and atmosphere to be able to place things together.
Many El Pasoans flock to different art exhibits and expos, different musical festivals and shows, but not many will pay much attention to fashion shows. Many do not understand the amount of work and talent it takes to design fashion pieces, and that is okay. Much like different musical genres and art pieces, you have to be exposed to them to truly appreciate and understand them. That is the case with fashion. And remember, it isn't entirely your fault if you don't appreciate it for what it is.
What is your fault, however, is being ignorant about the art form. Fashion doesn't necessarily have to be your niche, but it doesn't have to take the back burner in your artfully cluttered mind. Learn about it and take some interest in it, even if it is the most minimal amount of interest you have toward something. Pay attention to the fashion around you. It's kind of like mobile pieces of art. Pay attention and you'll see color schemes, prints, structure and design all around you.
Zeitgeist is one of my favorite words. It means the "spirit of the timeframe, the general trend of thought or feeling characteristic of a particular period of time." There are few things that can define the zeitgeist of your generation. Fashion will always be one of them.
By no means am I implying that everyone should wear designer clothing and be adorned in current fashion trends. Fashion itself implies the particular liking of something or someone. You don't have to be voted the "best dressed" in order to appreciate fashion. Simply be aware of what the art form consists of and the amount of talent it takes to pull it off.
Jose Soto may be reached at [email protected]
About the Writer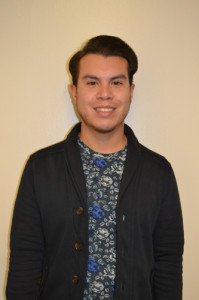 Jose Soto, Staff Reporter
Jose Soto is a multimedia journalism major with a minor in creative writing. He joined The Prospector team in November of 2013 as an entertainment reporter....