The Mercedes-Benz of El Paso Fashion Week showcases high-end designs
For four days, the artistic and fashionable talent of our region will be on display at the Mercedes-Benz of El Paso Fashion Week, an event that aims to highlight and celebrate the fashion of the Southwest. Already in it's fifth year, the production will continue to exhibit the work of local and national fashion designers and retailers, make-up and hair artists, as well as local salons and spas through a series of receptions, parties and shows.
The fashion week officially kicks off at 7 p.m., Wednesday, Oct. 7 at the launch party at Mesa Street Bar and Grill, located at 3800 N. Mesa St. The following three days will host an array of fashion shows, where local models will work the catwalk while wearing the likes of Andre Soriano and Masai, among an array of other designers.
Allen Davie, event manager for the Mercedes-Benz of El Paso Fashion Week, has been managing the show during it's entire five-year run. He said the fashion industry in the area benefits from the production.
"I believe this event definitely enhances and impacts our El Paso community," Davie said. "Within the past five years, the Mercedes-Benz of El Paso Fashion Week has evolved and grown each year, bringing some of the top upcoming designers in the fashion industry such as Benito Santos, David Salomon, Andre Soriano, Rafi Ridwan, Jaer Caban, Masai and many others. This event displays local, fashionable talent. It brings designers inspiration, networking and launching opportunities."
Davie said the team works on creating the event a month after the previous year's show comes to an end.
With each year, the production gets bigger and better.
"Our first year, we had an El Paso designer, Masai, who has showcased his collection all over Los Angeles and has been featured in 'Good Morning America,' 'E! News,' and has had celebrities wear his gowns," Davie said. "The past year, we brought David Salomon and Benito Santos, who both are very-well known in Mexico. They have been featured in 'Mercedes-Benz Fashion Week Mexico,' Vogue, Marie Claire, and have worked also with top celebrities. This year we are featuring Rafi Rinwad, who has been featured on 'America's Next Top Model,' cycle 20. We also have Jaer Caban, who has been on 'New York Fashion Week,' 'Puerto Rico Fashion Week' and 'Missouri Style Week' and many others. We are also featuring designers from San Diego, Dallas, Los Angeles and London."
Andrea Salomon Herrera, one of the participating models and owner of On and Off Showroom, a recently opened jewelry store in Westside El Paso, said these kind of events are putting El Paso on the map of the fashion industry.
"El Paso's fashion scene is small compared to other cities, but it's definitely growing," Salomon Herrera said. "There has been a lot of growth recently and these fashion shows help highlight that growth."
Salomon  Herrera said she traveled to LA to study fashion and has returned to pursue her career here in El Paso.
"Some of that passion I have includes modeling, so that's the reason I decided to participate in the event," Salomon Herrera said. The 'Mercedes-Benz Fashion of El Paso Week not only promotes local fashion designers, but also displays the works on national and international designers. This allows El Paso to have the opportunity to be exposed to high fashion and get to know different and unique brands."
Salomon Herrera designs some of the jewelry at On and Off Showroom, which will be used for the 'Vanessa by Vanessa' fashion show.
Jaer Caban, one of the fashion designers, said he got involved with the event during a visit to New York.
"I was there presenting a capsule collection of my spring-summer 2016 proposal during 'Latin Fashion Week,'" Caban said. "I then received a call from Wilhelmina Bazaar Model Management to become part of the Mercedes Benz of El Paso Fashion Week."
Caban said he will be presenting that collection during his fashion show in El Paso.
"I will be presenting my spring-summer 2016 collection, which is inspired in the art deco of Puerto Rico, with a very fashion-forward twist," Caban said. "I believe that this event will open new business opportunities in Texas and internationally. I would love to continue traveling there and make El Paso one of my main travel destinations every year. I have heard great things from the community and I am eager to meet all the fabulous people."
Caban said El Paso can expect a very fashion-forward collection with a pronounced Latin inspiration.
The second round of fashion shows will be held at 8:30 p.m., Oct. 8 at Cutter Aviation, located at 1771 Shuttle Columbia Dr. The shows will continue the following day at 8 p.m. at the Mercedes-Benz of El Paso Showroom, located at 1122 Airway Blvd. A "Polo With a Mission" event will be hosted on Oct. 10, which marks the final day of fashion week, at the Rancho Santa Maria Polo Club, located at 8201 Luciano Road in Vinton, Texas. Doors will open at 3 p.m.
For more information, visit http://www.fashionweekelpaso.com.
Jose Soto may be reached at [email protected]
About the Writer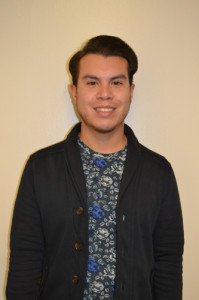 Jose Soto, Staff Reporter
Jose Soto is a multimedia journalism major with a minor in creative writing. He joined The Prospector team in November of 2013 as an entertainment reporter....