SunCycle takes the city on a ride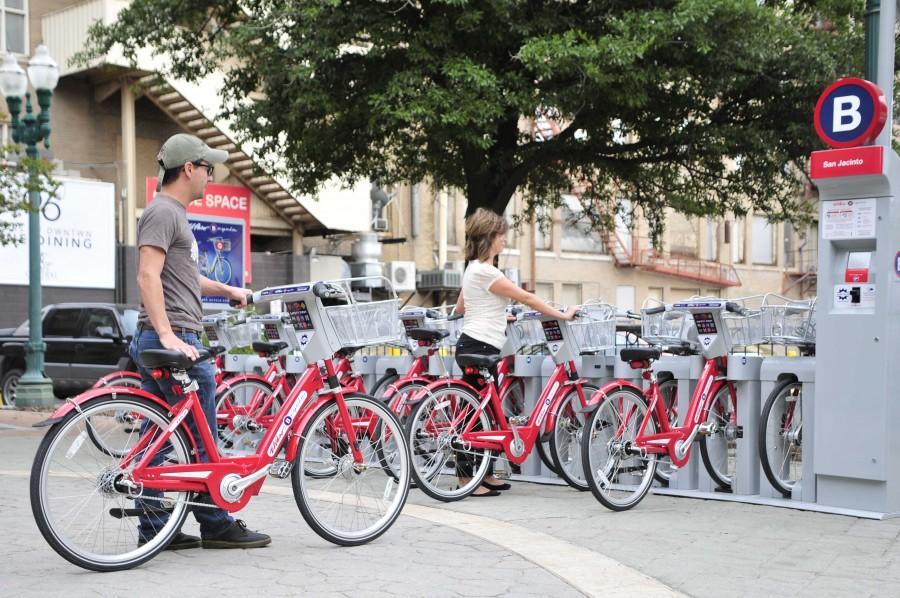 Jose Soto, Entertainment Editor
September 29, 2015
Residents and visitors of El Paso now have another option when it comes to getting from one destination to another. This new way does not involve a vehicle, making it an environmentally friendly choice for those looking to get around town, particularly in downtown El Paso. All you have to do is hop on and pedal away.
The SunCycle Bike Share Program officially launched Sept. 16, with roughly 80 participants riding from City Hall over to The Garden, a Union Plaza restaurant, where a press conference took place followed by a celebration.
The Camino Real Regional Mobility Authority, who is in charge of most of the transportation developments across the area, is the group behind the program. Raymond Telles, executive director of the CRRMA, said he is extremely excited to finally see the program launched.
"El Paso needed a bike-sharing program and we're just excited it's finally here," Telles said. "The process has been in the making for over two years, so we're excited to see the community make use of the program."
Telles said that CRRMA's sole purpose is to be a flexible program to ensure improvement in El Paso's transportation.
Telles said the CRRMA worked with the Metropolitan Planning Organization, which allocates funds for different projects and for citywide developments.  He said the MPO is like the clearing house for the SunCycle program and they were the ones to originally propose the idea.
"The idea behind the program is to help commuters take on the last mile through quick trips," Telles said. "We had two target audiences; downtown users and UTEP students. We wanted to make commuting for both groups easier and more efficient."
SunCycle allows users to rent a bike at one station and return it at any of the other eight locations, two of which are on the UTEP campus. One is located at the UTEP library and the other is on the corner of Oregon Street and University Avenue.
The others are at the El Paso Community College campus at 100 W. Rio Grande Ave., Cleveland Square at 510 N. Santa Fe St. and 116 Anthony St., at City Hall on 300 N. Campbell St., at Pioneer Plaza on 125 Pioneer Plaza and at the Downtown Transfer Center on 630 S. Santa Fe St.
"Besides being useful for reducing carbon emission and congestion levels in the city, the program also helps people who don't necessarily need to use a vehicle to get around," Telles said. "Mexican nationals can use the Downtown Transfer Center to get to school instead of having to drive all the way. Downtown employees can use it to get around the area for business meetings or simply to get lunch without having to use a car. It's also good for games and restaurants, where people don't want to have to drive just a few blocks up."
Originally, the program was going to cost close to $2 million, but was brought down to $720,000, Telles said.
"$24,000 of  that  came  from  the UTEP Green Fund program," Telles said.
Roberto Portillo, a junior electrical engineering major, said he "loves the idea."
"I myself ride my bike from the R (remote) parking lot to my classes," Portillo said. " It's a much faster way of getting around than walking and it gets in a bit of exercise. I think the program will do the same for other people. Right now, there is a lot of hype about the program. Let's just hope that it doesn't die down."
Portillo said the only thing that he wished was that SunCycle had implemented more stations.
"There are plans to create more stations across town during the second phase of the program," Telles said. "It's too early to tell how many and where because MPO needs to figure the funding, but there will be more."
The CRRMA manages the program, but B-Cycle is the vendor for both the bikes and the kiosks. Mesilla Pedicab Company handles customer service and maintenance for SunCycle.
The cost for a half-hour pass is $6. Thirty day memberships are $30. Semester memberships–or 120 days–cost $50 and annual memberships are available for $75. For rides lasting more than the allotted 30-minute interval, an additional $2 will be charged for each additional half hour, with the maximum charge for a day being $65.
SunCycle users can also create a profile at ElPaso.Bcycle.com, where miles, calories and carbon offset can be individually recorded. Similar programs are currently operating in Austin, Ft. Worth, Houston and San Antonio. Users may use their membership in these cities as well.
For more information, visit www.facebook.com/SunCycleBikeShare.
Jose Soto may be reached at [email protected]
About the Contributor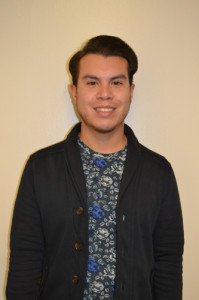 Jose Soto, Staff Reporter
Jose Soto is a multimedia journalism major with a minor in creative writing. He joined The Prospector team in November of 2013 as an entertainment reporter....