Robertson-Harris going out on top in senior year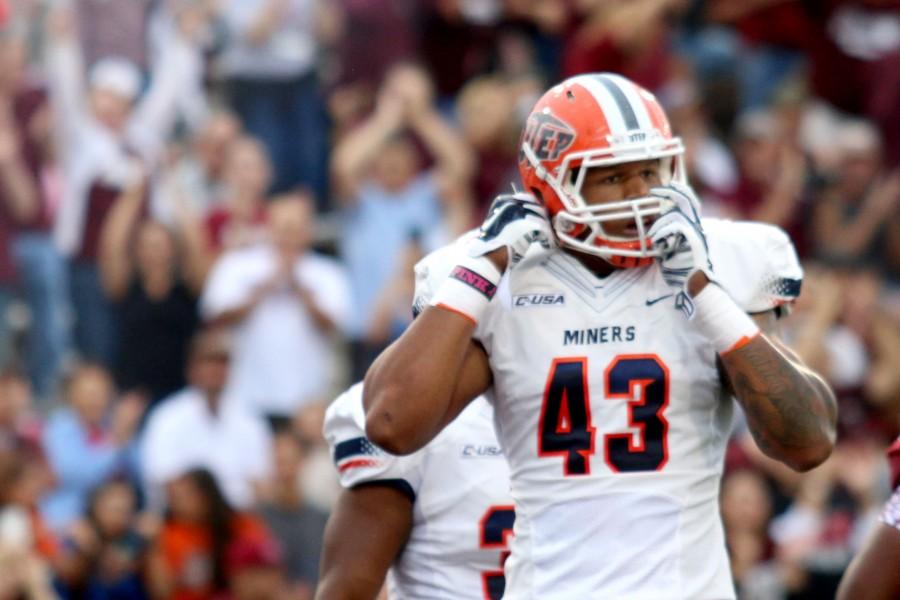 Juan Carlos Navarrete, Staff Reporter
September 22, 2015
He is often thought of as the face of the defense; a three-year starter and there's no reason why he shouldn't be. Now that the Miners are without Aaron Jones, Roy Robertson-Harris may become the new face of the team.
For Robertson-Harris, his football career is something he can thank his stepfather for. He didn't start playing until he was 12 years old. It was his last year in California and it was the first of many changes that would come to him thanks to football.
In high school at Grand Prairie, Texas, he was considered a three-star recruit by rivals.com. It was during his senior year that he realized he could play at the Division One level. He got offers from numerous programs, but chose UTEP for one reason only–more playing time.
"Just the small feel of it. I got calls from bigger schools I knew I wasn't going to play," Robertson-Harris said.  "So I came here, knew I was going to play early. So far I've been able to do everything I thought I was going to do."
A decision to come to a less competitive program would pay off for Robertson-Harris. In his first season as a Miner, he played in 10 games, had a career best four-tackle game, and was able to record his first career sack; it doesn't take much to see why fans appreciate him.
Another big fan is his coach. Sean Kugler has been through the ups and downs with Robertson-Harris and knows the reason why he has been regarded as a top player since day one.
"Roy has come a long way since we've been here as a coaching staff," Kugl er said. "Here's a guy that academically was struggling off the field, was not a great producer really, was close to being kicked out. He's turned his life around, he's a team captain, he works his tail off every day. He's earned the respect of the coaches and his teammates, and here's a guy that took a second chance and ran with it, and I'm proud of him."
In his sophomore year, when many players hit a slump, Robertson-Harris continued to improve. He played in all 12 games for the Miners and even ranked second on defense in tackles for loss.
He's a player who has quickly earned the respect of his teammates. This year, being his senior year, his teammates have designated him as team captain; a prestigious accolade he does not take lightly.
"It means everything," Robertson-Harris said. "Everybody is watching–you got the media, you got guys that are younger who are coming–so you have to preform day in and day out."
Robertson-Harris has seen the results of a team working hard together. Last year the Miners had a 7-6 record to lead them to their first bowl game under Kugler. It was also the first bowl game for many of these Miners, including Robertson-Harris.
A tough loss against Utah State at the New Mexico Gildan Bowl made this year's goal was clear for Robertson-Harris. The Miners have not won in a bowl in over 40 years, and that is something he would like to change.
"Conference championship, win a bowl game, and we'll see where it goes from there." Robertson-Harris said.
With Jones out, Robertson-Harris has stepped up as the face of the program. This was more apparent in their last outing against Battle of I-10 rivals NMSU on Saturday, Sept. 19. Robertson- Harris had a part in leading the defense against what looked to be a runaway game for the Aggies. In a turn of events, the Miners got their first win of the season, and Robertson-Harris's defense got the stops when it was needed.
The Miners are now 1-2 and a conference championship and bowl game are still in their sights and a possibility for the team.  With a player like Robertson-Harris, there is no doubt that the UTEP will have as good a chance as any to win another five games to reach bowl eligibility.
Juan Carlos Navarrete can be reached at the [email protected]
About the Contributor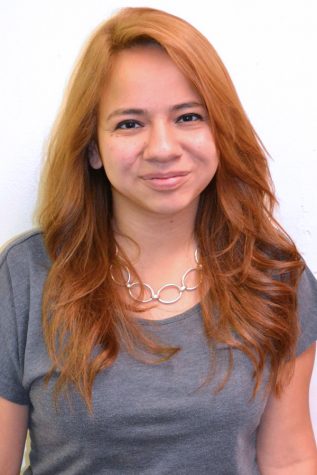 Michaela Román, Editor-in-Chief
Michaela is a Senior Digital Media Production major at The University of Texas at El Paso. As the Editor-in-Chief, and former Photo Editor of The Prospector,...