Donald Trump gets a big hit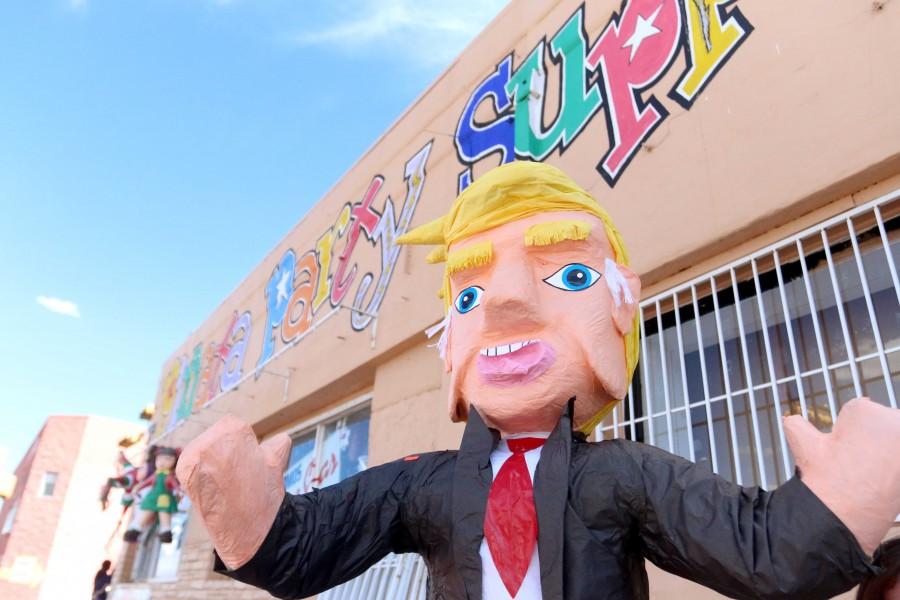 Maria Esquinca, Managing Editor
September 22, 2015
Red, white and green piñatas hang from the rafters of Piñata Party Supplies. But in between the rows of streamers, candies, and princess costumes, one piñata doesn't hang—the Donald Trump piñata stands, straight and unflinching.
The blue eyed, open-mouthed, suit-wearing piñata is precisely replicated, except for his signature blonde toupee, which is subtly morphed, and three blonde hairs jut out like sharp horns.
"It's very funny," said Debbie Nathan, who bought a Donald Trump piñata from Piñata Party Supplies. "It's a culture treasure coming out of the border."
The process to create the piñata takes a whole day and is sold for $39.99 by Piñata Party Supplies, located at 3524 Alameda Ave.
However, the Trump piñata is not unique to El Paso. In Reynosa, Mexico, Piñateria Ramirez sells a Donald Trump piñata, and in the city of Chihuahua, Mexico,  a piñata store Fiesta Fiesta, sells one as well.
The use of the piñata to represent unpopular figures is a cultural tradition in Mexico, which can be extended to the likes of the current Mexican President Enrique Peña Nieto.
"The piñata is coming from the border," Nathan said. "It's coming from Mexico because people know how to instinctively embody everything they know is wrong with him."
Trump has become notorious for his views on immigration and Mexicans. During his presidential announcement, he said Mexicans are rapists. He was also criticized for kicking out Jorge Ramos, a Mexican-American journalist, out of a press conference and telling him to go back to Univision, a United States Spanish language television network.
Dennis J. Bixler-Marquez, director of Chicano Studies, said the piñata is a tool of resistance, whose symbolic use extends back to colonial times when indigenous people had to paint the murals of Spanish churches.
"There's a lot of history of resistance to oppression and being in a subordinate status in Mexico and Latin America," he said. "What the indigenous population did was to ensure that the facial features, when you saw the devil, you had no doubt in your mind that this was a European, this was a Spaniard, rather then someone with a Mesoamerican phenotype."
Bixler-Marquez said the cultural use of the piñata as a way to admonish "evil" can also be observed the Saturday after Holy Friday, in which a piñata, which represents the devil is beat up.
"It's a means of symbolically getting rid of evil, getting rid of the devil and obviously the character is undesirable," Bixler-Marquez said. "The use of the piñata becomes a manner of manifested political resentment, discontent—a way of promoting resistance against a political measure."
Something that has extended to the spoken language.
"Even the term piñata as a noun, turned into a verb, 'lo piñatearon, lo van a piñatear,' meaning he's going to be attacked, he's going to be beaten up for his position," he said. "I've heard that used in television and radio during the last week."
So far, around 12 piñatas have been sold by Piñata Party Supplies. The owner did not wish to further comment on the piñata.
"People should really embrace these piñatas," Nathan said. "The city should embrace the Trump piñata, it's an amazing border object."
Maria Esquinca may be reached at [email protected]
About the Contributor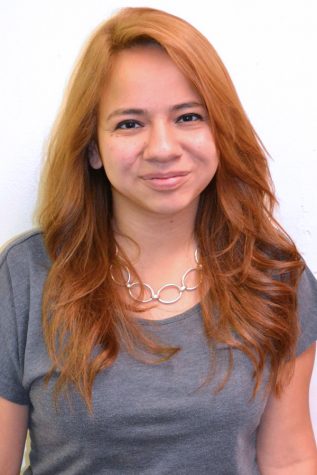 Michaela Roman, Editor-in-Chief
Michaela is a Senior Digital Media Production major at The University of Texas at El Paso. As the Editor-in-Chief, and former Photo Editor of The Prospector,...