When you need your coffee fix: places to grab your cup of joe
Jose Soto, Entertainment Editor
September 8, 2015
As you walk into the wooden-paved, relaxed ambience of Trade Craft, located at 3737 N. Mesa St., you get the notion that you are in for something rather interesting. The place is welcoming and warm, in the sense that it has a home-like feeling. There are a myriad of bottles lined up against their bar wall, many of which are unrecognizable. This isn't where you would expect to grab a morning cup of joe.
For a huge portion of the population, a caffeine fix is a daily must and coffee takes care of that need. Many opt for coffee as their choice for an energy booster. As easy as it is to brew your own cup of coffee in your own home, it is a popular trend to visit one of many favored coffee providers around town.
Although the most common place for this is obviously Starbucks, there are other options awaiting service around town. Starbucks uses 100 percent Arabica beans, which is a species of coffee.
I know, right? Who would have thought that there were different species of coffee? In fact, there are close to 100 different species of that fragrant bean. Arabica and Robusta are the most common throughout the world.
Arabica, the better of the two, is mostly found in the middle European region and southern Latin America. Although it contains a bit less caffeine that Robusta, Arabica definitely has a much better taste in comparison.
Less caffeine may seem like a negative aspect, but caffeine imparts a heavy bitter taste, this is why Robusta beans are less sought out than Arabica beans. This should help explain why Starbucks coffee is extremely popular.
It isn't hard to dispute that Starbucks is extremely tasteful and is, in essence, addictive. From their Blonde Roast, which is roasted with beans slightly less roasted than most of their other packaged coffee, to their many variances of lattes and espresso beverages; Starbucks is always a safe and guaranteed way of getting your caffeine fix.
At Trade Craft, located at 3737 N. Mesa St., they brew a mean Nitro Cold Brew. Although Starbucks also offers a cold brew of their own, Trade Craft's brew has an artisan and handcrafted quality that perhaps isn't a blanket affect at all Starbucks.
A cold brew is coffee that is left to steep over an elongated period of time, making the oils and profiles of the beans more obvious. It is then iced and prepared to your liking. Trade Craft's cold brew is phenomenal. Slightly sweet, yet with a kick, their cold brew is sure to start off your day with a bang.
Hillside Coffee and Donuts is another option that coffee seekers may want to try. Their location is situated inside TI:ME at Montecillo at 4935 N. Mesa St., where many other visiting-worthy businesses are. The place is beautifully designed. Contemporary and chic, Hillside is a must for those who want to spend their time in a modernized coffee shop. What isn't appealing is their brew. Hillside's coffee lacks what both Starbucks' and Trade Craft's have–a kick. Perhaps it's their method or their coffee provider, but Hillside's coffee doesn't live up to the hype of their location. You're mostly paying for the environment.
Down further on Mesa Street from Hillside is the Coffee Box, conveniently located at 401 Mesa St. in downtown El Paso. Situated right across from the San Jacinto Plaza, Coffee Box is a trendy coffee shop designed out of train cars. Their upstairs patio is a nice addition to their small inside lobby. Coffee Box offers many of the options that you will find at Starbucks as well, and are equally  expensive. However, at Coffee Box, you are not paying for their environment. Their coffee is decent and adequate. If you feel like changing your usual routine, Coffee Box is definitely the way to go.
The best of all options is BLGD 6, located at 11385 James Watt Dr., St. B6. Their coffee is organic and micro-roasted, which means the batch of coffee is no more than 150 pounds as opposed to the mass amount of coffee roasted by most corporate providers. This surely adds to the coffee and espresso profile, which is notable in BLGB 6's coffee and espresso beverages. Most of their beans come from Mexico or Latin America and are extremely rich and distinctive. BLGD 6 is definitely the place to go get your caffeine fix, although these other locations mentioned are worthy of your price and time, among other local coffee shops you might prefer.
Jose Soto may be reached at [email protected]
About the Contributor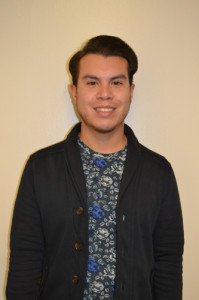 Jose Soto, Staff Reporter
Jose Soto is a multimedia journalism major with a minor in creative writing. He joined The Prospector team in November of 2013 as an entertainment reporter....