Red Raiders offense poses a tall tasking for Miners defensively
With one monster subdued, another one emerges. That is the focus on the UTEP football team heading into week two of their 2015 season.
After a 35-point shellacking by the Arkansas Razorbacks, where the Miners gave up 48 points and 490 yards of total offense in Fayetteville, Arkansas, the Miners will have their hands full once again with the Texas Tech Red Raiders.
"We had a difficult trip to Arkansas," Kugler said. "We played an outstanding team, a very talented and very deep team.  They exposed us in a few areas. There are some things we need to clean up moving into this second game. I'm a firm believer that a team makes its biggest jump from its first game to its second game. It learns from its mistakes, it learns their strengths, things they can improve upon, and what they need to work on the most."
No matter the year, head coach or players, the Red Raiders are always amongst the best passing offenses in the nation. Dating all the way back to 2000, when former Texas Tech head coach Mike Leach took the reigns of the program; the Red Raiders have utilized a pass-happy spread offense.
Current Texas Tech head coach Kliff Kingsbury was Leach's first guinea pig, and the experiment paid off. Kingsbury led the nation in passing and touchdowns his senior season, and his successors followed in his footsteps.
B.J. Symons, Sonny Cumbie and Graham Harrell all followed with eye-popping passing statistics that cemented Texas Tech as one of the most prolific passing programs in college football history.
Whereas the Red Raiders boast one of the nation's best offenses year in and year out, the Miners lay claim to one of the nation's worst defenses year in and year out. Going by last Saturday, not much has changed for the Miners.
The Razorbacks averaged 9.1 yards per play on offense, basically equaling out to a first down on every play. Arkansas quarterback Brandon Allen only attempted 18 passes, but totaled 308 passing yards and four touchdowns.
The Razorbacks' offense moved the chains and scored whenever they pleased. Coach Kugler knows that the Miners will have to play better defensively if they do not want a repeat of last Saturday's game.
"They are as explosive and fast-paced of an offense as there is in the country," Kugler said. "They have nine returners back on offense. Seventy-eight percent of their offensive production from last year returns intact. They are explosive; they scored 59 points versus Sam Houston. They are a fast-strike team–they scored 28 points in the second quarter alone. They had 611 yards against a very good Sam Houston State team. This is an explosive fast-paced offense."
Much of the Miners' problems in week one against Arkansas were in the secondary. At times, the Miners simply looked lost on defense, which played a role in the Razorbacks 17.1 yards-per-pass play.
Kugler attributed most of the Miners' problems defensively to the change in scheme by Arkansas. Usually a run-oriented offense, the Razorbacks used a lot of play action and threw the ball down field more then expected.
Kugler expects the Miners to see the Red Raiders pass and pass some more.
"We're facing a little bit different cat this week," Kugler said. "Where you just line up and know they're throwing and their run game is based off their pass game.  It's a little bit different when you know the passes are coming at you. But Arkansas to Texas Tech, it's like going from a tank to a Ferrari really. It's just two totally opposite teams."
The latest player to drive the Red Raiders "Ferrari" is sophomore quarterback Patrick Mahomes. Named Big-12 Offensive Freshman of the Year, Mahomes is a dual-threat quarterback who can run as well as pass.
"It all starts at quarterback for them," Kugler said. "He is more mobile in the pocket. He gives them the ability to run. This guy can escape and create plays and throws well on the move. This guy is accurate, and he gets the ball out quickly. They've got some explosive weapons, an experienced offensive line, a dynamic runner and a quarterback that plays in their system perfectly."
Javier Cortez may be reached at [email protected]
About the Writer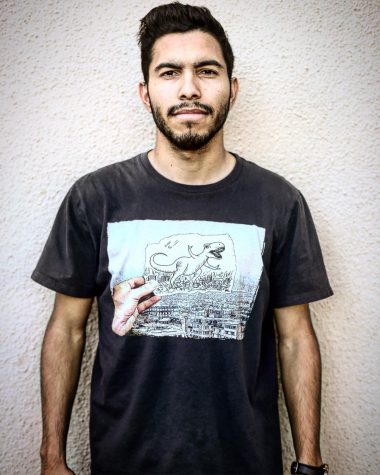 Javier Cortez, Staff Reporter
Javier Cortez is a staff reporter for The Prospector. He is a senior multimedia journalism major, with a minor in English Rhetoric.

Javier was born...