Leftwich secures starting spot at quaterback
Hang on for a minute...we're trying to find some more stories you might like.
After a long and drawn out battle, UTEP football head coach Sean Kugler named sophomore Mack Leftwich the starting quarterback for the Miners.
Throughout the spring and summer the quarterback battle was wide open. Four different players competed for the starting job; Leftwich, junior Garrett Simpson, redshirt freshman Ryan Metz and true freshman Kavika Johnson.
In the Miners' last scrimmage before leaving their camp in Ruidoso, the battle seemed to have comedown to Leftwich and Simpson. Kavika Johnson turned heads with his stellar play out of the Miners' wildcat package, while Metz was used at wide receiver briefly.
Leftwich briefly played his freshman year in 2013, replacing Jameill Showers as the starting quarterback after Showers went down with a season-ending shoulder injury. Leftwich started the last four games of the season, completing 58 percent of his 75 passes [44-of-75] for 458 yards with two touchdowns and two interceptions. The Miners were 1-3 with Leftwich under center.
Simpson played briefly in the 2013 and 2014 seasons, but never started. Nevertheless, Leftwich was named the starting quarterback "fair and square," according to Kugler.
"Mack Leftwich will be the starting quarterback," Kugler said at weekly UTEP football media luncheon this past Monday. "He won that quarterback competition fair and square.  This was monitored all the way since the end of last season, from the offseason conditioning workouts through spring football, through the summer conditioning workouts and through the fall camp."
Steadfast in his conviction, Kugler did add that this past quarterback battle was as close as it gets.
"I will say this, I have never been a part of a quarterback competition that statistically was as close," Kugler said. "As far as the completion percentage, Mack was only one percentage better than Garrett (Simpson). Their touchdowns were equal. Their dropped passes were equal.  The thing that stood out to me were interceptions, which tilted heavily in favor of Mack."
Not turning the ball over was crucial for the Miners last season. Playing a slow-paced/run-oriented offense; the Miners do not throw the ball frequently, opting to run the ball heavily. The Miners have been slow and methodical since the departure of former head coach Mike Price's spread offense and the arrival of Kugler's ground and pound game.
According to Kugler, Leftwich fits the template of his offense to a tee.
"I think he's got a great quarterback demeanor," Kugler said. "Handling formations, handling the clock. In the style of offense that we run those are very important things.  Jameill did a great job with those things last year.  Not turning the ball over, those are all great qualities that Jameill did outstanding for us last year, (Mack) has those."
Leftwich is the starter for now, but the backup spot is still up in the air. Although Simpson will likely play behind Leftwich in the near future, the junior is still suffering a high ankle sprain injury that occurred in the Miners' last scrimmage.
Kugler said Simpson's status for the Arkansas game this Saturday (Sept. 5) is still unknown, while Ryan Metz might be the Miners' number two come this weekend.
"Ryan Metz is an outstanding athlete," Kugler said. "We would package certain things if he was in there. He might be the number two quarterback this week based on Garrett's injury."
Whether it's Leftwich this weekend, Simpson the next or Metz by the end of the season, Kugler is happy about his situation at quarterback.
"I feel confident about our entire quarterback group," Kugler said. "At some point throughout the year, you'll see all four of those quarterbacks out on the field representing UTEP."
Javier Cortez may be reached at [email protected]

About the Writer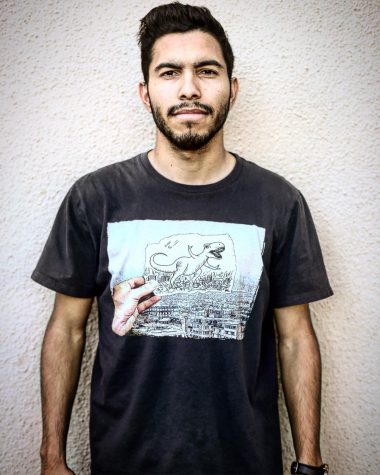 Javier Cortez, Staff Reporter
Javier Cortez is a staff reporter for The Prospector. He is a senior multimedia journalism major, with a minor in English Rhetoric.

Javier was born...