Chihuahuas get blitzed by OKC pitching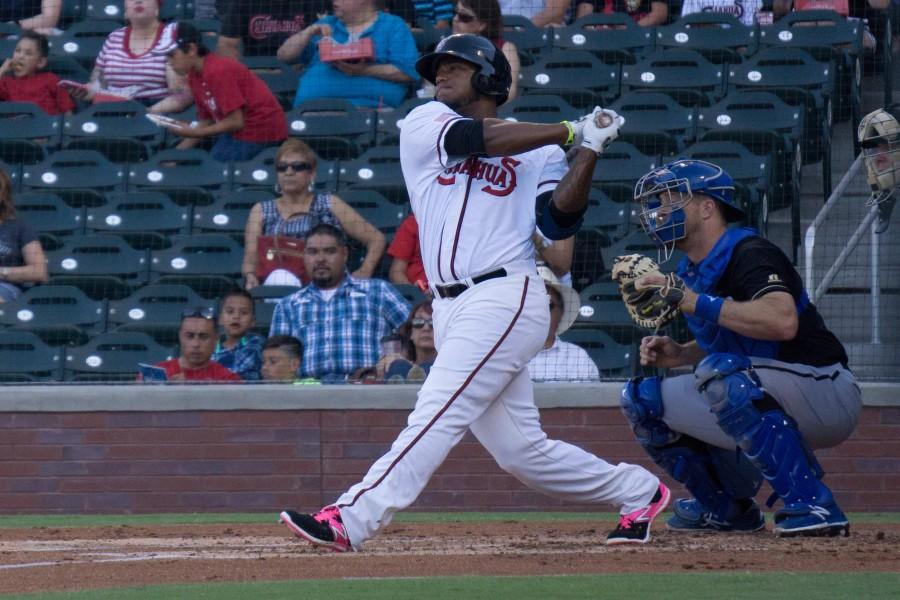 Through the first two games against the Oklahoma City Dodgers, the Chihuahuas put up 25 hits and 14 runs. However, the consistent hitting by the home team would not be enough as they fell 4-1 at Southwest University Park in front of the sold out crowd of 9,144.
The Chihuahuas could not capitalize off of Dodgers pitcher Mike Bolsinger (3-3, 2.31), who recorded 11 strikeouts and only allowed three hits in seven innings. In the loss, the Chihuahuas went 1-8 with runners in scoring position.
"Bolsinger kind of just teased us," said Chihuahuas Manager Jaime Quirk. "He has a good curve ball; he kept throwing it, we kept swinging at it. We get runners out there, but we're 0-9 in runners in scoring position. Just couldn't get a big hit. Give [Bolsinger] credit, he's been around, he knows what he's doing and he stayed with it. We didn't make adjustments back. Offensively it was a rough day with the strikeouts [14], and we couldn't get a big hit and we had guys out there."
Left fielder O'Koyea Dickson opened up the scoreboard for the Dodgers in the 3rd inning with a solo homerun off Chihuahuas pitcher Daniel McCutchen (8-8, 3.80), who recorded the loss for the Chihuahuas.  Dickson also hit a homerun on Friday, Aug. 28, despite losing to the home team 7-1.
Despite the loss, McCutchen only allowed five hits and had seven strikeouts for the El Paso team.
"McCutchen did a heck of a job," Quirk said. "[Bolsinger] getting a hit really hurt us. 1-0 is a lot different than 2-0."
Although the Chihuahuas pitching proved to be stellar, Bolsinger and his curveball were too much for club.
"[His] Curveball was really good and he used it a lot and we kept swinging at it," Quirk said. "We were a little impatient. There were not a lot of strikes, a lot of balls thrown in the dirt. I know as a hitter, it looks like a strike but by the time it gets there, it's not. We were overly aggressive and he took advantage of it."
During the eighth inning, Jake Goebbert hit a ground-out RBI to bring right fielder Hunter Renfroe home, snapping the scoreless drought the Chihuahuas held. But, that run would be the only run of the night for the squad.
"We were trying to get every score in," Quirk said. "We had runners in scoring position. We had runners at second and third, runner at third with one out, just 0-9 with runners in scoring position. You're not going to win too many games that way."
Still 2.5 games back, the Chihuahuas caught a break as the first place Las Vegas 51s lost 4-1 to Round Rock. Quirk believes, although the 51s lost, that his second place squad missed out on a big opportunity to signify a higher placing in standing.
"It's good that [Las Vegas] lost and we lost, but that's just another day off the schedule," Quirk said. "At this point, every day matters, so we're still in it, we still have a shot. We can't worry about playing them, we have to win tomorrow and then go play them and see what happens. Them losing makes the standings look better, but another day on the calendar went by. There's still life, we still believe in this thing, but tomorrow is the only thing that matters.
Adrian Broaddus may be reached at [email protected]
About the Writer
Adrian Broaddus, Sports Editor
Adrian Broaddus is the sports editor for The Prospector. He is a junior multimedia journalism major with a minor in political science.



Adrian...