UT System funds $1.7 million study to prevent campus violence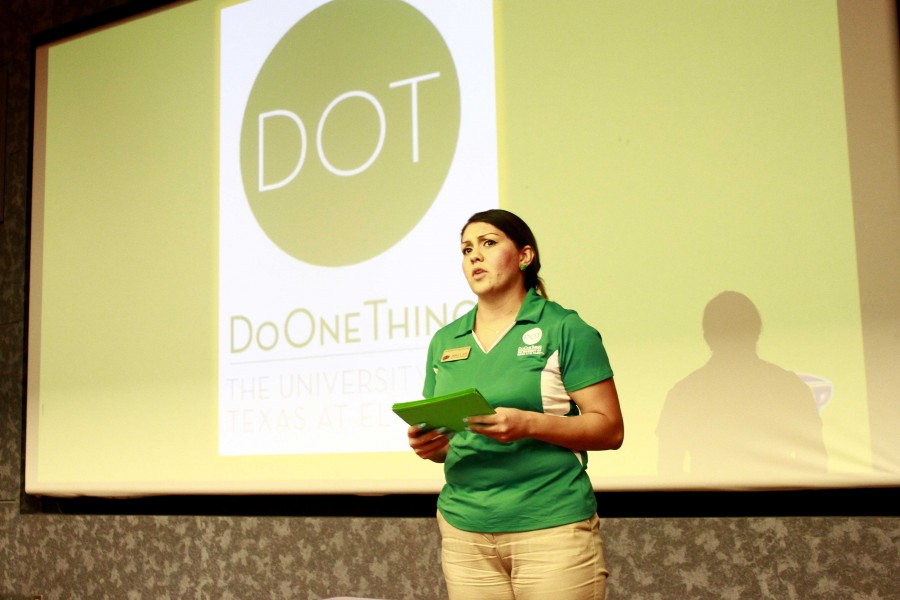 Amanda Guillen and Valerie Herrera
August 25, 2015
The beginning of the fall semester brings the launch of two new initiatives on campus to deal with the problem of sexual violence.
The UT System has begun a $1.7-million multiyear study on sexual assaults, dating violence, stalking and sexual harassment at 13 of its college and medical campuses.
Through this study, the UT System is making an attempt to aid all UT schools by increasing safety messages and by creating positive methods that will aid each campus community and allow each institution to provide its own unique approach in doing so.
In partnership with this initiative, last spring the Student Government Association's senate began the establishment of the Green Do One Thing strategy, a sexual assault bystander intervention-training program that seeks to educate individuals on the steps they can take to prevent a potential sexual assault or rape on campuses.
The UTEP DOT initiative will be officially launched campus-wide during the first few weeks of the fall semester.  The first event will be a DOT Carnival, which will be held at 1 p.m. Aug. 26 at the Union Plaza.
The UT System's study will consist of online questionnaires for students, surveys and focus groups of faculty, staff and campus law enforcement. There will also be a four-year study following a group of entering freshman in order to study the impact of sexual violence psychologically and economically.
UTEP, along with UT Arlington, UT Austin, and UT Medical Branch at Galveston, will use focus groups and surveys from faculty, staff, law enforcement, administration, and student leadership to determine three key factors–how these crimes are reported, how the university responds and the policies and procedures that commence when crimes are reported. Associate Vice-President and Dean of Students Catie McCorry-Andalis is in charge of the initiative at UTEP.
UT System's associate vice chancellor for student affairs, Wanda Mercer said in an interview earlier this month, "When Chancellor William McRaven took office in January, he felt a responsibility to the UT System's 217,000 students to ensure their campuses are safe, and if they report crimes, they will be supported." She went on to say, "This study is a proactive approach to an important issue. We are not waiting for a high-profile incident to occur before we do it."
In coordination with these efforts, UTEP created a Bystander Intervention Committee, comprised of 50 faculty and staff members across campus, who underwent a four-day Green DOT training in the summer. Throughout the summer, the university created the DOT initiative, which gives community members the additional tools needed to deescalate potentially harmful situations and spread the word to others.
Dr. Ryan Holmes, assistant vice president of student affairs, believes that when community members receive more information and training on how to avoid and deescalate situations, they are more likely to intervene and speak about concerns to promote culture change where it's needed.
"When considering national research on campus violence, it should be the thought that any act of violence is one too many," Holmes said.  "DOT will allow all who learn about it understand that we can all do something to make our campus and community safer."
New entering students, who attended new student or transfer student orientation, have been receiving information about the program along with student organization leaders, who have already gone through training as early adopters.
While UTEP, by comparison, is a relatively safe campus, the university hopes that with the addition of the DOT initiative, it can sustain, and in some cases increase, its reputation of community togetherness and safety.
The Jeanne Clery Disclosure of Campus Security Policy and Campus Crime Statistics Act, is an act that requires each institution of higher education in the United States to provide an annual report containing crime statistics and statements of security policy.
Currently, UTEP has its 2014 report that was completed on October 1, 2014. The 2015 report is expected this fall.
The total number of reported forcible sex-offenses at UTEP was nine for the 2013 year and there were no non-forcible sex-offenses reported.
According to Holmes, the Green DOT organization has done much research in the area of campus violence and has seen success in its prevention efforts.
He said research has shown that two major reasons why individuals do not get involved in stopping potentially harmful situations are that a person feels as if they have to be a hero and must take the situation on alone or that someone else may have seen what is going on and is more likely to intervene.
"In the latter of the examples, it has been shown that no one may act while hoping someone else will," Holmes said.
This system-wide initiative also is in relation to Title IX criteria. Any educational programs or activities that receive government funding must follow set guidelines, guidelines that include awareness of sexual assault.
Although direct and indirect marketing items have been distributed to students, UTEP faculty and staff members continue to be involved in discussion meetings to see how they can distribute DOT information to students more effectively.
Raquel Torres, sophomore psychology major, said DOT would spark a social change that will not only benefit students, but the community as well.
"It's important to know what to do when an harmful event may occur, and I think it's great that students are now able to learn about defense for the common good whether it's for themselves or others," Torres said.
During training sessions, UTEP's Green DOT members expressed the need for students, faculty and staff to be proactive when they see "Red Dot" instances such as harassment and assault occurring. These proactive choices are referred to as "Green Dots," which could be distraction, intervention or calling authorities.
Vanessa Martinez, director of academic student success, and Elise Espina, residence life coordinator, said that if enough students take initiative to help others from "red dot" activity, such as assault, bullying and sexual harassment, then surely culture change would occur on campus.
Holmes also said that as community members tend to make poor decisions because they assume other people may condone such choices, and the more that students, faculty and staff continue to engage in describing a positive culture; that there would be no place for violence or harmful behavior of any type.
"Community safety is paramount on the UTEP campus and the DOT seeks to do its part to continue this tradition of safety," Holmes said. "DOT is also displaying to everyone in the community that safety is everyone's job and we all have a part to play."
For more information, go to greendot.at.utep.edu.
Amanda Guillen and Valerie Herrera may be reached at [email protected]