University Field offers "new and improved" artificial turf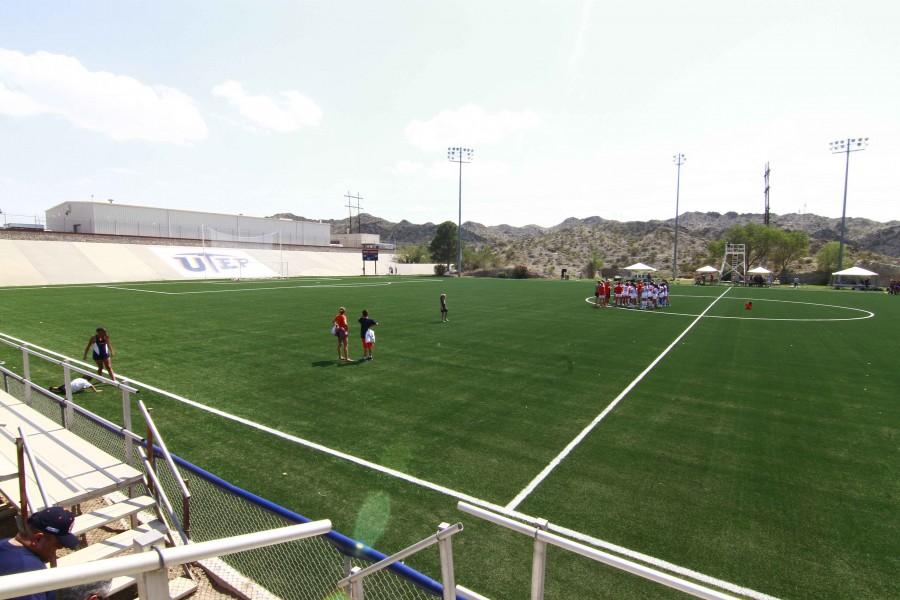 Luis Gonzalez, Editor in Chief
August 25, 2015
The UTEP women's soccer team kicked off a new season this weekend at home in front of their fans and on a brand-new playing surface. The natural grass that had been at University Field since its inauguration in 2006, was replaced this summer by artificial turf. The debate about what playing surface is most prevalent in sports, particularly in soccer, versus the cost of having natural grass and maintaining it at an elite level with the type of traffic University Field experiences throughout the year was simply too much for the university.
"It costs a lot of money to maintain natural grass," said David Kooger, director of athletic compliance at UTEP. "And we had a lot of underlying problems with soil, with the drainage, with the irrigation, which made it really difficult to keep them the way we wanted to."
Kooger estimated that in order to fix the underlying problems that had prevented the field at University Field to be at an elite level, UTEP would have had to spend around $300,000. That amount did not include what it would cost to maintain it once better grass could be grown.
Maintenance of a natural grass field is not easy or cheap. Irrigation, fertilization and mowing are only some of the things that go into the process. The frequency with which University Field is used makes it even harder and also played an important role in the decision to implement artificial turf.
"The amount of traffic that is on university field is very high," Kooger said. "A lot of people use that field. It is very difficult to maintain a good, nice, athletic grass field when there's that much traffic."
The women's soccer team, which practices and plays at University Field, is not the only ones who use it. The UTEP men's club soccer team uses it to practice and play and sometimes intramurals will be held there as well.
"If you go to another university, maybe a bigger university, they'll have a practice field and a game field," Kooger said. "Part of the reason their game field looks so nice is because they don't have anybody on it, they only use it for games. We don't have that luxury here, we only have one field and that field is for everybody."
The new turf on University Field is one of the best that technology has to offer and counteracts some of the major concerns that athletes have when dealing with artificial turf. According to Kooger, the increase in injury probability and excessive heat due to the material turf is made out of should not be factors thanks to the technology FieldTurf, which is the company that installed the field.
FieldTurf Revolution CoolPlay is the name of the new turf. It is made with a layer of sand and rubber, covered/dressed by a layer of organic cork.
"A lot of normal artificial fields have black rubber as their dresser," Kooger said.
"Black rubber obviously absorbs a lot of heat, the cork does not absorb nearly as much heat…the temperature will be about he same as a natural grass field."
Over the last five years, there have been plenty of studies regarding the correlation of injuries due to artificial turf by different parties, with varying results. In 2012, the NFL Injury and Safety Panel published a study in which MCL and ACL sprains occurred 22 percent and 67 percent more frequently than on natural grass, respectively. According to FIFA, the governing body of professional soccer, there is no significant difference between playing on natural grass and artificial turf when it applies to injuries.
According to Kooger, UTEP was presented with studies done by FieldTurf that suggested injuries occurred less on their types of fields.
"The technology so far in the past five years, that back in the day, playing on artificial turf was like playing on carpet," Kooger said. "To say you get more injured in artificial turf is mostly a misnomer."
When it comes to the game actually being played, UTEP women's soccer has little to no complaints. Head coach Kevin Cross was not only happy with the technology that will maintain the field at a natural temperature, but also with how it has seemed to affect the game. Artificial turf is known for affecting the speed and bounce of the ball, but so far it has seemed natural to Cross.
"We're very pleased," Cross said. "I was pleased with the way the ball rolled, it's pretty similar to grass."
There are many who believe artificial turf is the future of the sports. There are also those who believe there will never be anything like playing on natural grass. In UTEP's case, the positives seemed to outweigh the negatives when making the decision to change the playing surface at University Field.
"There's pros and cons to playing turf," said UTEP junior defender Alexa Bain. "But I think we'll be used it, it's better than our old field for sure, so I'm excited to play on it."
Luis Gonzalez may be reached at [email protected]