Miners up and down in weekend debut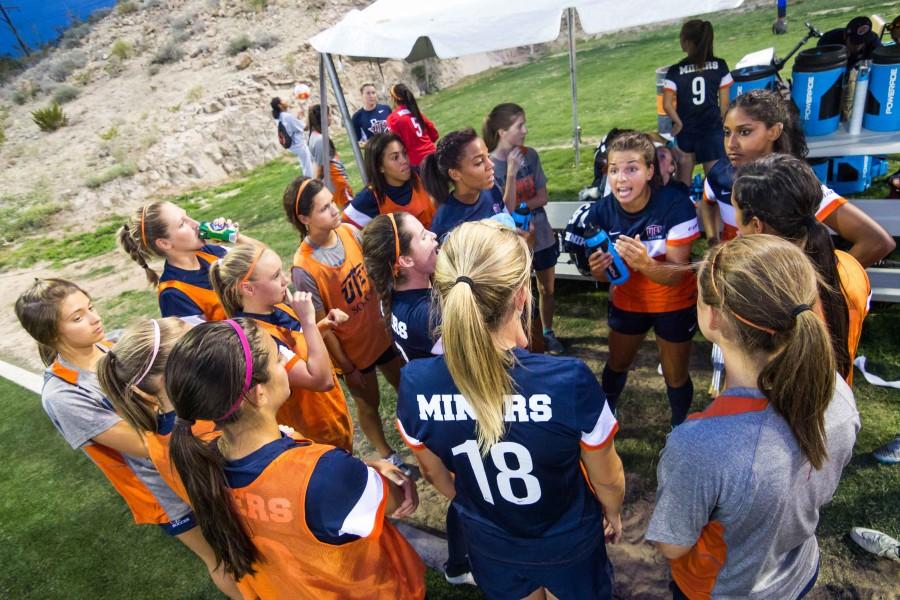 The Miners have never started the season with an 0-2 record under head coach Kevin Cross and Sunday, Aug. 23 was no exception as the Miners defeated Abilene Christian, 1-0, with a game-winning header in the 80th minute by senior Captain Angela Cutaia.
The forward scored off a Carleigh Simmons corner kick, and the Lady Miners finished the weekend by breaking .500 with the victory.
On Friday, Aug. 21, the Miners fell to the Eastern Washington Eagles (2-1), which would snap their 10-match winning streak (9-1-0) in season openers. Junior Bri Barreiro scored the first goal for the Miners; however, the Eagles responded with two unanswered goals and dominated the Miners in shooting 20-11, leading to the Miners' first loss.
While hosting Abilene Christian, the Miners dominated the offensive side of the ball. The Miners had 18 shots, eight of them on goal, which left the Miners with the better side of an offensive possession for the match. After the goal by Cutaia, coach Cross said the team succeeded in redeeming themselves from Friday's opener.
"We had more pressure on the ball  and played with a lot more energy even on a hotter day," Cross said. "We played with a lot more intensity and played a lot more like ourselves. It looked more like UTEP soccer, what we're used to seeing. Friday we had jitters and it wasn't right on Friday, but (Sunday) it looked good."
Prior to her game-winning goal, Cutaia had seven shots against the Wildcats, and it was not until the 80th minute that the captain for the Miners headed the goal.
"Before the corner kick, me and (Jeanna Mullen) looked at each other and said 'this is it,'" Cutaia said. "The ball was up and the goalie tapped it out and I put it back in. Immediately I thought 'yes, finally.'"
Cutaia, the Miners' returning leading scorer from last season (eight goals), saw positive changes immediately from her squad since their loss on Friday.
"We made some changes on how we are playing certain positions and that helped us a lot," Cutaia said. "Before we wouldn't have a lot of people up in our attack, and that was something we always struggled with, but today was a completely different story. We so many people up, so it was a lot different and ended up really good."
A major storyline for the Miners is their newest addition at goalkeeper, freshman Alyssa Palacios. According to UTEP Athletics, in Friday's loss against the Eagles, Palacios recorded 10 saves, which ties the record for most saves by a Miner freshman in her debut game.
Junior forward Aleah Davis believes that Palacios fills the role as goalkeeper effectively and efficiently.
"Alyssa is unreal; she's unbelievable," Davis said. "Coming into the summer, she worked her butt off in conditioning and in practice. We've all noticed how hard she's worked, and she's awesome. Coming in and being told you are going to start must be extremely nerve wracking, I'm sure. For her to come and perform how she did was amazing. She's going to continue to grow and be awesome for the team."
Against Abilene Christian, Palacios saw a dramatic change in the defense's play. Palacios finished with three saves, while the defense allowed 10 shots, opposed to the 20 shots they allowed against Eastern Washington.
"We all communicated a lot better, and throughout the game our communication stood out," Palacios said. "Last game we gave them way too much space on Friday, but today when we planned to set, we all set, which didn't give (Abilene) enough time to do anything. On Friday, when our communication stopped, we became disorganized. We realized we needed to keep talking to each other throughout the game. This game we did and we stayed a lot more organized."
As a newcomer, Palacios has personal expectations she wants to achieve throughout the season.
"The more games I get under my belt, the more comfortable I'll be on the field," Palacios said. "I already felt more comfortable today than Friday. The more my defense and I are working together, the more we get comfortable with each other."
Despite the rocky start to the season, Davis has high hopes for the young squad, which saw six freshmen making their college soccer debut this weekend.
"We've had a very young freshman class, but they've all stepped up," Davis said. "Carleigh (Simmons) and Payton (Ross) both came in starting and played nearly a full 90. I'm sure no one could tell, if they didn't have a roster, that they're freshman. If we continue to be positive and keep our team identity in mind, all of our accomplishments in mind, I think we're going to do fine."
Next, the Miners go on the road to face Houston Baptist on Aug. 28 and Texas State on Aug. 30. Now looking forward, Cutaia and the Miners will use the lessons learned from this weekend as a stepping-stone on the road.
"We will use all the things we did well; taking the things we got from Friday – the things we didn't do so well on," Cutaia said. "We want to keep this momentum going."
Adrian Broaddus may be reached at [email protected]
About the Contributor
Adrian Broaddus, Sports Editor
Adrian Broaddus is the sports editor for The Prospector. He is a junior multimedia journalism major with a minor in political science.



Adrian...