Miner Canyon offers innovations to students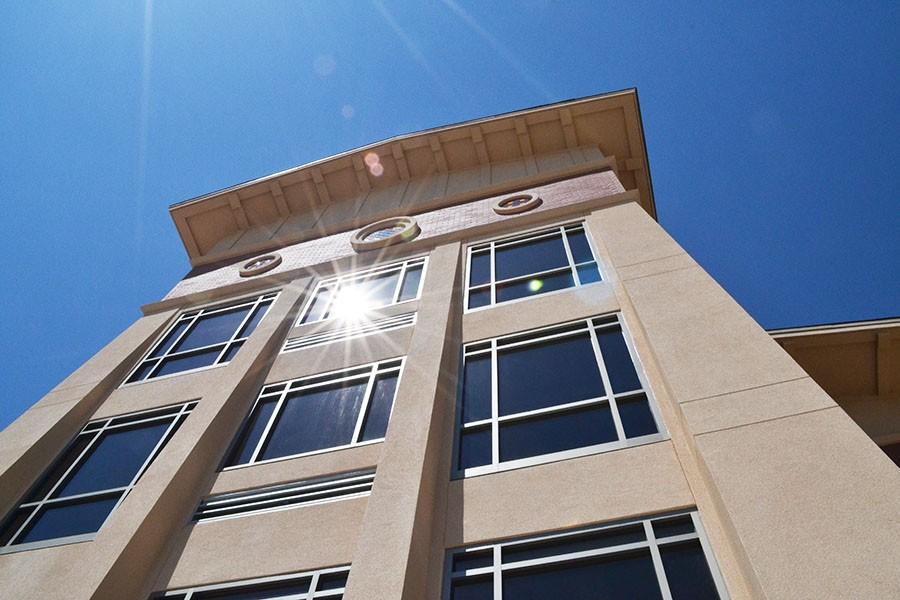 Fernanda Leon, Staff Reporter
August 25, 2015
Miner Canyon, the brand-new housing complex at UTEP, is loaded with state-of-the-art innovations for students to take advantage of. 
Being the only apartments on campus featuring from card access to study rooms available at all times, high-speed Wi-Fi, and Internet Protocol Television with DVR, Miner Canyon represents a leap forward for UTEP and students.
This housing facility consists of three buildings. The first two buildings, Copper and Whispering Springs, are residence halls for students.
The last building, Boquillas, is a community building equipped with a computer lab, a theater-quality screen, projector and surround sound stereo system, which will allow students to have study groups as well as events.
"It is (Miner Canyon) what we are calling state-of-the-art student housing," said Charles Gibbens, director of the Department of Residence Life. "We did a lot of research. We talked to students, faculty and staff about what they wanted to see in the property."
According to Gibbens, Miner Canyon is not an old-fashioned dormitory, instead is an apartment building that is designed to help students be academically successful.
Since safety and security is of primary concern, the only way for students to access Miner Canyon buildings and apartments is via their Miner Gold Card.
"The student doesn't get a key anymore to get in," Gibbens said. "Their student ID card is activated and that gets them in the front door, the elevator, their apartment and their room."
Miner Canyon features three different styles of apartments: the first ones are efficiencies, which are one-person apartments. The other two are four-bedroom apartments that house four or six students per apartment.
Gibbens said that most of the bedrooms in this complex are private, but there are shared spaces within the apartment.
This was done intentionally because these shared spaces help students to get to know each other.
Each floor has a lobby area that allows students to study in groups, watch television or even play video games.
"This space encourages students to interact with one another and create the sense of community while having the real college experience," said Alexis Lubbers, senior cellular and molecular biochemistry major and Miner Canyon resident.
UTEP's new housing complex also has two study rooms on each floor. One is smaller in order to accommodate both small and large study groups.
Boquillas Hall, the community building at Miner Canyon, has a meeting room that features a flat-panel touch-sensitive television with a camera. There are speakers in the room's ceiling, microphones and a telephone. All this equipment is available for students to use and represents an improvement to help students network with other universities around the country.
This community building also features a patio that has been designed to create an ambience for different events or parties.
"There is never really an excuse not to study. The technology Miner Canyon has to offer is astounding and makes me feel safe as well, just as you should in your own home," Lubbers said. "Living on campus means accessibility to all that UTEP has to offer as a university such as atudent organizations, research and participation in campus activities."
Providing more opportunities to students living on campus is another goal of UTEP's Department of Residence Life.
"The hope is that as students live on campus, they will seize all the opportunities that UTEP has to offer, and become an active part of the community and increase their participation as UTEP's student body," Lubbers said.
Miner Canyon was constructed in a way to bring privacy and, at the same time, a sense of community to its residents.
"We built something with the intentionality to serve the student body," Gibbens said.
Fernanda Leon may be reached at [email protected]