El Paso can't get enough of Paydirt Pete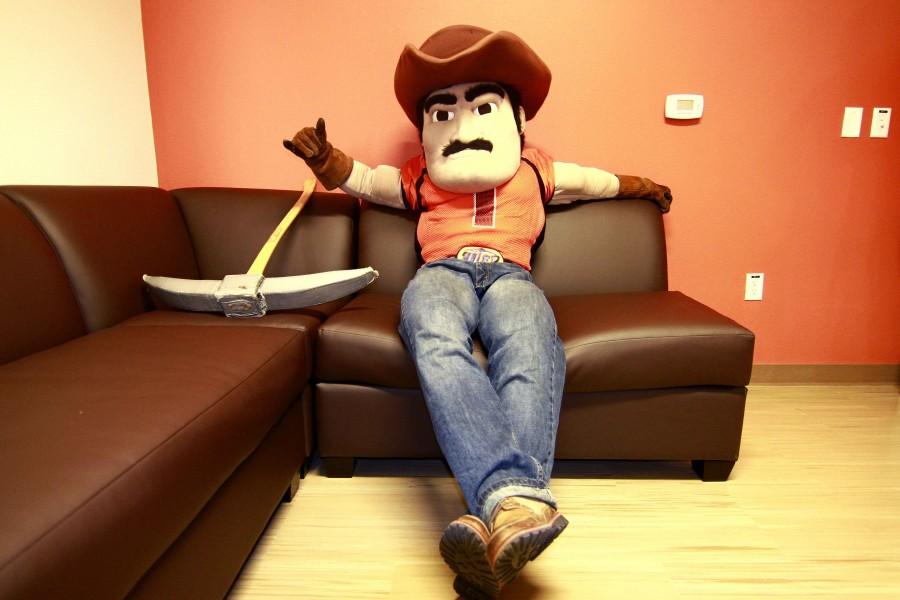 Luis Gonzalez, Editor in Chief
August 25, 2015
There are few things that identify El Paso like the University of Texas at El Paso. The presence of the university can be felt in every corner of the city and it strives to be a part of the El Paso community as much as possible. One of the ways it tries to do so is through its mascot, Paydirt Pete, and UTEP is looking to increase Pete's presence all around El Paso by adding a few more of him to the team.
UTEP has never had more than two people playing the role of Pete, but because of his popularity, cheerleading coach Bianca Marquez is expanding the Paydirt Pete mascot team in an effort to satisfy the demand.
"In the past, we've only had two (Petes)," Marquez said. "What we are trying to do is to get a group of Petes just because the demand for him is so high that two guys can't handle the demand."
Since Paydirt Pete must be a student, who is enrolled full time if they are classified as an undergraduate or half time if classified as a graduate student, there are some requests that have to go unfulfilled.
Paul Perez, a graduate student in leadership studies, has been a part of Team Pete for five years and has gotten to witness up-close and personal the role that Paydirt Pete plays in El Paso.
"We're the face of the university," Perez said. "You have little kids coming up and hugging you, you have older alumni, you have families coming up to you, and you have people wanting to sign t-shirts, footballs. You mean the world to them because they got a chance to take a picture with somebody that may not be a real person, but he is an icon so to speak."
Pete was born in 1974, when he was originally nicknamed "Sweet" and not "Paydirt." He was the first animated mascot and replaced the donkey that had served as the school mascot for more than 50 years.
Going into this semester, the team is made up of Perez and two other students—one of whom is in his first year as a mascot. Marquez is trying to increase the roster in order to fulfill the different responsibilities Pete has at UTEP and around the community.
"Were trying to get at least five or six Petes so that they can rotate between doing community events or doing athletic events," Marquez said. "It's very, very demanding."
The main responsibilities for UTEP's mascot are divided into two categories. There is game day Paydirt Pete, who is present at all of the athletic events and community Paydirt Pete, who makes appearances at elementary schools, business openings and other types of events. With only three students being Pete, all three of them take on both community and athletic-related duties.
"Ideally I would like a couple Petes to be just dedicated to community events and a couple to be just dedicated to university events," Marquez said.
In order to fulfill Pete's duties, who is becoming more and more relevant nationally, the demands of the job go beyond just a busy schedule. Perez, who has been recognized as one of the best mascots in the nation, aiding the team to a cheerleading national championship and finishing as the runner-up in the 2010 Capital One Cup Mascot Challenge, says it is very demanding physically.
"You have to maintain physical fitness," Perez said. "I think we sweat more than any other athlete on campus in any other sport, but you can't pass out. You have to be able to maintain your composure while you're out there."
Marquez and Team Pete have been holding tryouts and taking applications since June of this year. Students who are interested may apply for either community Pete or game-day Pete.
Trying out for community Pete mainly consists of just interaction. Interacting with the existing Petes, coach Marquez and the cheerleading squad during their practice is the main part of the process.
Getting the feel of being Pete is very important.
"It's just to get the feel of what its like to be in the suit," Marquez said. "You can't talk in it, so their gestures have to be big and exaggerated."
Game day Petes must put together a two-minute routine when trying out, but the focus remains on the interaction between Pete and his audience.
The stable of Paydirt Petes is already bigger than it has ever been, but UTEP will continue to try to expand it as it looks to expand its role in the community.
"We really want Pete to be out there in the community," Marquez said. "Showing the community that UTEP supports their business or their organization or their campus or their school, and then vice versa, we want them to come out and say 'hey we support UTEP.' "
Luis Gonzalez may be reached at [email protected]