"Whiplash" lashes out some truth
I recently watched the motion picture titled "Whiplash" upon my brother's very adamant request, as he had seen it recently.
We were kind of late to jump on the bandwagon of this 2014 release, which was heavily acclaimed with numerous positive reviews and having won three Academy Awards.
Most importantly, at least to me, it won the approval of my brother and I.
We are far from avid film critics, but we do have a niche for distinguishing brilliantly produced music, a focal point of the film.
"Whiplash" is the story of a young ambitious jazz drummer, Andrew Neiman, who is enrolled at Shaffer Conservatory of Music, a fictional music school in New York City.
One of his professors, Terence Fletcher, notices the drive that this young student has and transfers him into the studio band, the highest of ensembles at the conservatory.
Ruthlessly pushing his young student through exhausting rehearsals and unobtainable prolific talent, Fletcher eventually manages to break his student's spirit, causing him to be dismissed from the music program.
Fletcher's intimidation is extreme.
Without spoiling too much of the story, the main moral to "Whiplash" is that people are no longer pushed to bring out their raw talent.
Fletcher claims in the film that the world has become excessively accepting of the phrase, "it's okay." Whenever people mess up, everyone tells them "it's okay," he said.
The film gives the example of Grammy Award-winning jazz saxophonist Charlie Parker, who wasn't coined with the nickname "The Bird" until after an infamous night when he jammed out with Jo Jones, the drummer for the Count Basie Orchestra.
Parker eventually lost the beat, causing Jones to throw a cymbal at him. Parker went on to cry himself to sleep that night, or so the story goes, but woke up the next day to practice until he acheived perfection.
That made me ponder a little about things, especially about myself.
When I first started college, I was not a multimedia journalism major. I was actually a music major, specifically with the alto saxophone.
I quit that major after a year and a half. It wasn't because I had stopped liking music or playing my instrument, I had just become stagnant.
What if I had a mentor who pushed me like Fletcher pushed his students?
Had all teachers pushed their students like Fletcher did his, w kind of talent would be discovered?
Perhaps Fletcher is right, we treat so many of these students, musicians or not, well like students. The word usually carries around a negative connotation of being naïve or weak.
What if there is more to them than what meets the eye?
During an internship I took in Washington, D.C., the director/editor was extremely pushy. She probably didn't know it, but she was intimidating.  I repeatedly got stories sent back for corrections, for added details and sources or they were simply shot down.
She was always pushing me to work in ways that I was not used to. I endured this for months. Today, I can thank her for making me a better journalist.
At the end of the film, Fletcher's student outdoes himself onstage with a drum solo that impresses not only Fletcher, but also the rest of the auditorium.
Pushing through the resentment and anger that he had harbored toward Fletcher, he was able to push himself to another level.
The best part of the story is this: one can find the true extent of their talent and possibilities if there is always someone behind us pushing us forward instead of patting us on the back and saying "it's okay."
It's really not okay. We must all continue to struggle upward on the path toward our goals, no matter how hard the path gets. We don't need a babying "it's okay." We need a harsh, yet realistic, push forward.
Jose Soto may be reached at [email protected]
About the Writer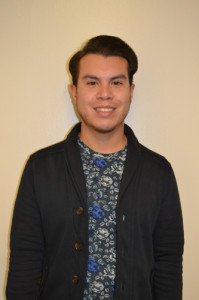 Jose Soto, Staff Reporter
Jose Soto is a multimedia journalism major with a minor in creative writing. He joined The Prospector team in November of 2013 as an entertainment reporter....