Students find artistry in cosmetic application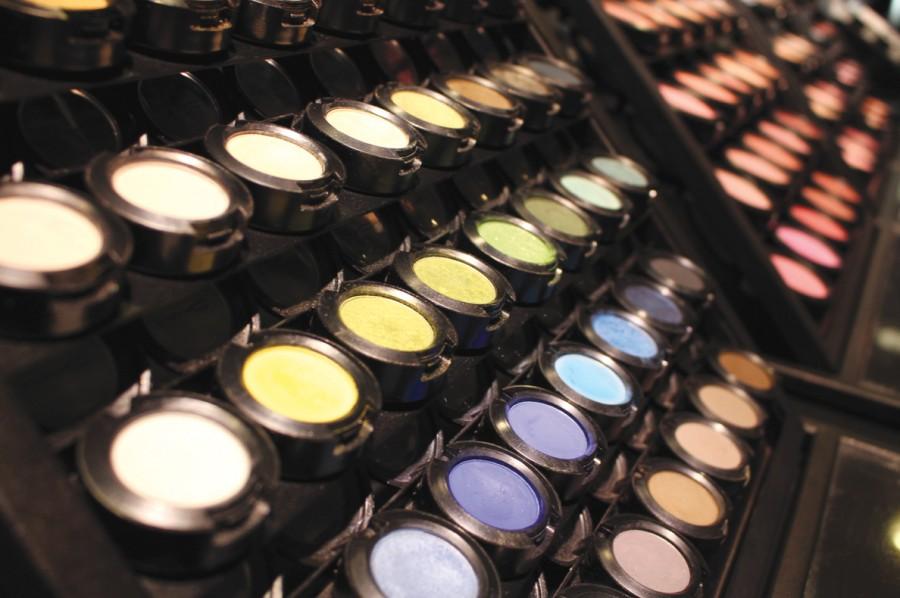 Fernanda Leon, Staff Reporter
July 14, 2015
It is summer and students have gotten into the summer mood with different trends in fashion, music and makeup.
Makeup constitutes a very important part of the everyday life for Alberto Rodriguez, who is a senior majoring in organizational and corporate communication. He is also a makeup artist for Estée Lauder at Macy's at Cielo Vista Mall.
Rodriguez said that makeup has the ability not only to transform people physically, but it also helps people  feel more secure about themselves and gives them a self-esteem boost.
"I began working in the makeup industry as a result of my insecurities," Rodriguez said. "In my teenage years I dealt with heavy acne, for which I was bullied in high school. This then led to the use of makeup to not only minimize the redness in my skin, but also boosted my self esteem and this then lead to an exploration of different products, which developed skills and led me to apply to a cosmetic counter."
Savannah Hernandez, junior psychology major, said makeup represents a way to play around and create looks for yourself.
"My favorite thing about makeup is the different looks you can play around with and create for yourself," Hernandez said. "Just like getting dressed, there are different elements to applying it, and I love that process."
Rodriguez said his work as a makeup artist and in the makeup industry are more related to his career decisions than it might seem.
He uses and puts into practice the knowledge that he has acquired at college. As a communication major, he said he is able to establish professional relationships with his customers and his minor in marketing helps him to target and deliver the products effectively.
"As a corporate and organizational major with a minor in marketing, I am able to create and sustain relationships with customers as if each were a different corporation to which I need to sustain a relationship," Rodriguez said. "So in a way, although I do use a more creative part of it, everything comes into play."
Hernandez said she had always had her family and friends asking to do their makeup.
"I decided I could make a small business out of it and extend my services to the public," Hernandez said.
Both Rodriguez and Hernandez believe that makeup can be a form of art.
"I feel like anything you can express yourself with and create from the ground up could be a form of art," Hernandez said. "A blank face is like a canvas to me, I get so excited."
Rodriguez said it is crucial to know how to apply the current techniques or otherwise they may turn out messy.
"Makeup is definitely a form of art, it takes skill and knowledge to apply products," Rodriguez said. "Also practice is required to nail down some of the looks, one must know the face and what flatters each individual.
For the high heat that the El Paso has during the summer, Rodriguez recommended the use of a high SPF sunblock to minimize the damage caused by the sun, an oil-controlling foundation for individuals who tend to have oily skin, and a bronzer can come in very handy to get a tan look for the summer.
"Maybe for an everyday look less is the best and just for a night look, an easy dark shadow and a lipstick change can make your look go from day and night," Rodriguez said.
Some of the summer trends this year are contour and tinted moisturizers, which help even out the skin tone and provide sunblock protection. According to Rodriguez, matte lipsticks and colored eye liners are a huge request this season.
Rodriguez shares his favorite makeup products for this summer.
"The products that I have been really liking is the double wear foundation by Estée Lauder, also the mineralized powders by Mac for those fans of glowing skin since they provide a great glowy finish," Rodriguez said. "For lips, the Anastasia lip stains have an awesome pigment and are a matte finish."
For Hernandez, her favorite summer trend makeup products are the bronzer, highlighter and a blush palette from Urban Decay.
"Bronzers and highlighters are also essential, especially for a nice contour," said Hernandez.
In terms of color, Rodriguez considers all types of nudes a hit for this season. Pinks and corals are also on a high demand for this summer.
Hernandez also recommends nudes, pinks and corals for the lips and light shimmery colors for the eyelids.
As a makeup artist, Rodriguez applies different makeup techniques depending on what the client is looking for.
"Every customer looks for different things, but lately color is in demand. They want that celebrity look with bronzed skin and full lips and defined eyebrows," Rodriguez said. "They really look for a transformation."
Hernandez said that her customers usually look for a facial glow in their makeup.
"Every time I do makeup, they almost always show me pictures of the Kardashians," Hernandez said. "Since I do a lot of weddings, my clients want to look bright and beautiful with a facial glow that will last all day."
Fernanda Leon may be reached at [email protected]