Dominic Artis focused on seizing second chance
He spent a year in exile, trying to keep a dream that was hanging by a thread alive—all because of one bad decision.
Dominic Artis, once considered one of the most promising point guards in all of college basketball, spent last season at Diablo Valley Junior College. He lifted weights at least three times a week and put up close to 600 shots a day while he waited for a second chance at D-I basketball.
UTEP basketball head coach Tim Floyd gave Artis that chance and he is back in the world he once thrived in.
"I am grateful to coach Floyd for giving me another opportunity," Artis said in early May when the program first announced his signing. "I made a mistake and used poor judgment, but I have learned from this."
Although never convicted, Artis, along with two of his former teammates at the University of Oregon, were accused of forcible rape, which resulted in his dismissal from the program.
Born on July 7, 1993 in San Francisco, Artis had an impressive high school career. He attended Salesian High School in Richmond, Calif., up until his junior year. At Salesian, he was part of the team that won California's Division IV state title.
He transferred to Findlay Prep in Henderson, Nev., for his senior year. There he led the Pilots to a 32-1 record and an ESPNHS National High School Invitational title.
After high school, he spent two years in Eugene, Ore., playing for the Ducks before his dismissal. He came into the program and contributed almost immediately.
As a freshman, he started in 25 of 28 games in which he participated, including two double-digit scoring games at the NCAA Tournament. He led the team in assists and recorded career-high 16-point performances twice, one of those coming in a loss against the Miners at the Don Haskins Center.
He remembers that game well and that memory played a role in his decision to come to El Paso.
"The fans were crazy, the atmosphere here was crazy," Artis said. "People kind of brush that to the side, but playing in front of people is definitely nice."
There was a regression his sophomore year at Oregon, in part due to a lack of discipline—maybe foreshadowing what was soon to come. He only played six games that year, but would once again see some action in two games during the NCAA Tournament.
Losing the starting job was bad, getting suspended for nine games was bad, but it got a lot worse after the season came to an end.
Once dismissed from Oregon, Artis went back to his home state of California and spent that season redshirting for Diablo Valley College in Pleasant Hill, Calif.
The plan was never to play with the Vikings. Artis had one goal, to return to D-I basketball.
Artis practiced regularly with the Vikings not just to stay in shape, but also to keep improving his game.
By redshirting, Artis did not lose a year of eligibility and will be able to wear the Orange and Blue for up to two years starting this next season. Still, practices are never the same as real in-game action, but Artis sees no problem with readjusting to the game once the season gets under way this upcoming fall.
When asked if the year lay-off will have any affect on him and his production on the court, Artis is confident.
"I really don't," Artis said.
Some of the rules will be different, including a shorter shot clock, but he is confident in his ability to adjust.
"I know there's going to be a lot more pressure, a lot more pressing going on, a lot more zones–so a lot more scheming to the game," Artis said. "But I feel like I'll be able to adjust."
During a time when UTEP basketball has been dealing with significant losses, the news of Artis' addition to the program was met with excitement, no matter the controversy in his past.
He is still considered one of the best point guards in the nation and will help fill the void left by graduating senior point guard C.J. Cooper, as well as compensate for the offensive production of Vince Hunter, who left for the NBA draft.
His talent and on-ball abilities combined with the big game experience he acquired during his time in Oregon should be a significant addition to coach Floyd's roster.
"Control of the pace of the game," Artis said about what he can contribute to the Miners. "Definitely in transition–being able to knock down open shots and getting our big man going."
The power-combo of Artis and sophomore guard Omega Harris has the potential to give the opposing defense headaches on a night-to-night basis. In his freshman season, Harris showed glimpses of greatness, awing the crowds with his speed and athleticism.
Artis sees as much potential in the future of the Miner backcourt as everybody else.
"That can very special, just with the speed and his (Harris) athleticism," Artis said. "Our ability to make shots can really cause some noise."
It is not the first time Floyd has taken a chance on a player with a troubled past, and it's a risk he must take to bring in a level of talent that otherwise would most likely be at a bigger program.
The decision may have been met with some skepticism, but it will all be forgotten if it works.
This may be a country that does not hold back judgment and is quick to punish, but it is also one that loves a comeback story. Like many athletes before him, Artis is now getting his second chance and is ready to take full advantage of it.
"Just getting something taken away from you is definitely an adjustment that I made, but I feel like I've progressed from it," Artis said. "I've been working harder from everything I've been through. (It) has really pushed me to succeed more."
Luis Gonzalez may be reached at [email protected]
About the Contributor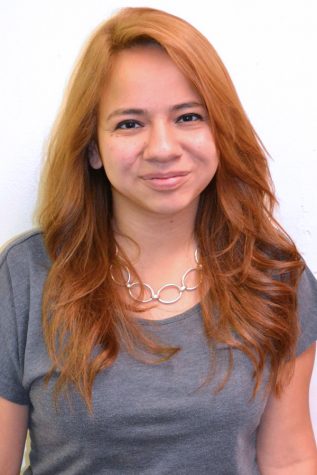 Michaela Román, Editor-in-Chief
Michaela is a Senior Digital Media Production major at The University of Texas at El Paso. As the Editor-in-Chief, and former Photo Editor of The Prospector,...