Academic Tecnologies receives excellence award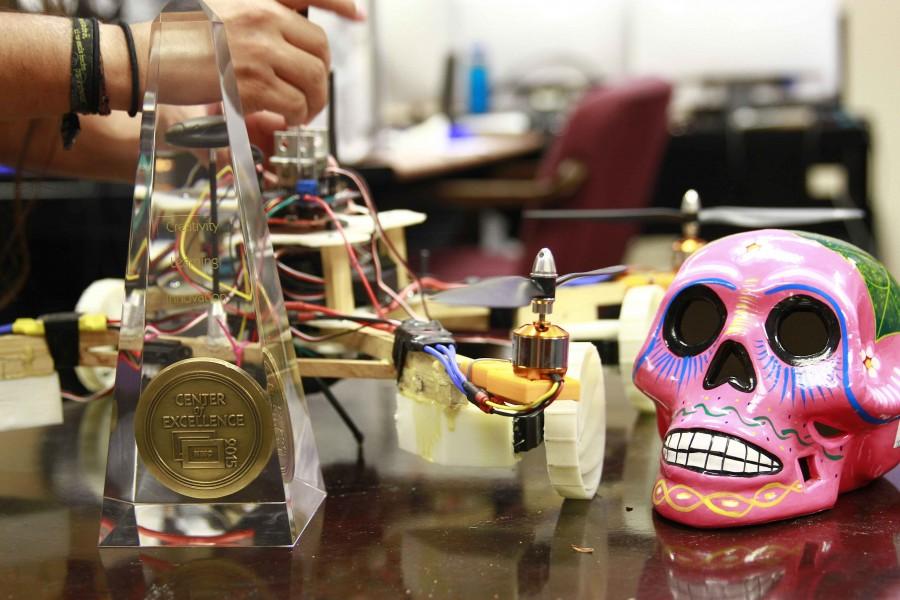 Juan Raygoza, Staff Reporter
July 7, 2015
The international community of experts in educational technology, known as the New Media Consortium, awarded UTEP's Academic Technologies the 2015 Center of Excellence award.
In a letter from NMC, senior director of communications, Samantha Becker, congratulated UTEP's Academic Technologies department for adopting new technologies with the purpose of transforming teaching and learning. In what Becker called a forward-thinking mindset, UTEP became a leader in technology, not only for the present, but for the future as well.
The award was given to the department's Creative Studios for its work in 3-D technologies–virtual worlds, 3-D printing, engineering and programming (quadcopters), all of which are used in field research by UTEP scientists, multimedia production, graphic design, web, mobile and software development.
Creative Studios' Associate Director Steven Varela said that NMC looks at hundreds of higher-education institutions, museums, K-12 institutions and organizations that are on an international level.
"What makes this award special is that we didn't apply for it–our work was simply finding larger audiences who are acknowledging its quality, creativity and usability," Varela said.
Senior nursing major Ana Meza said it was significant that UTEP was being recognized on an international level.
"This adds up to the recognition UTEP has gotten in the past for having the most Hispanic graduates nationally, " Meza said.
One of the current projects being developed at Creative Studios is through a contract with the Texas Holocaust and Genocide Commission. The project seeks to create professional development modules to help faculty integrate ethics or ethical concepts into any higher-education classroom. The program, set to launch on Aug. 1, will consist of delivering cutting-edge web design and interactions for Texas higher-education institutions and beyond.
The second project currently being developed is the redesign of the UTEP website. In collaboration with University Communications and the Enterprise Computing department, the goal of the project will be a complete makeover of UTEP's website. In this collaborative project, Creative Studios is in charge of web development, while UC leads the design and Enterprise Computing will handle servers and security.
In addition to these two new projects, Creative Studios will still work with departments, faculty, staff and students on various grants and projects.
"It's important because UTEP is no longer just a university, it now has gained an award for actually accomplishing something," junior multimedia journalism major David Caro said. "It's just great that they are working on the new webpage, I hope everything is categorized because sometimes it's hard to find what you are looking for. They should also work on providing better Wi-Fi through the university."
Juan Raygoza may be reached at [email protected]