Stomping the flag becomes a debate about patriotism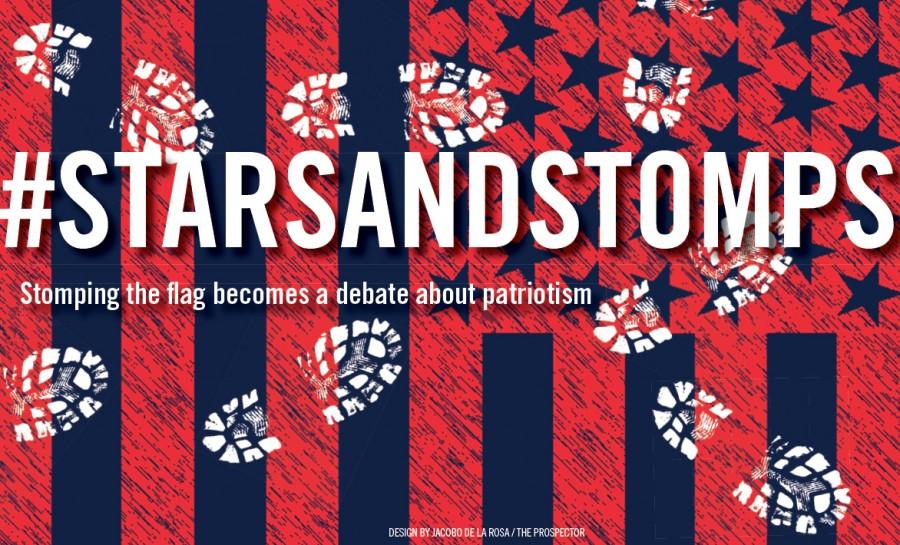 Juan Raygoza, Contributor
June 23, 2015
This past May, a new social media trend known as the Eric Sheppard challenge has outraged veterans, members of the military and Americans all over the nation. It has also empowered a movement in support of free speech.
Sheppard, who is an African-American student at Valdosta State University, stomped on the American flag during a student protest on April 17, while declaring himself  a "terrorist against white people." In videos recorded by students, Sheppard is seen stomping the flag and saying it represents white supremacy and racism. He has called for everyone to stomp on the flag in order to step on racism and white supremacy.
Because the law protects freedom of speech, the Valdosta campus police said he was within his rights and did not arrest Sheppard in spite of the student body outcry. However, Sheppard faced prosecution after police found a hand gun in Sheppard's backpack.
Carrying firearms at a university is prohibited in Georgia. The Valdosta police chief said at a press conference that Sheppard was not being targeted by police for exercising his freedom of speech, but because he had introduced a gun to the campus.
A warrant for the arrest of Sheppard was issued and he was eventually arrested in Tampa, Fla. In the meantime, the #ericsheppardchallenge began to grow, and followers and supporters of Sheppard mimicked his actions and began walking over the flag as a means to promote freedom of speech as well as to protest racism.
Mimicking movements such as the #icebucketchallenge that went viral in the past to support a noble cause, the #ericsheppardchallenge appears to be dividing Americans and has inspired counter-challenge movements such as  #FlyTheAmericanFlagProudly and the #NeverOutgunned social media movements.   
When it comes to the legality of Sheppard's actions, he was within his constitutional rights, said UTEP political science professor Todd Curry.
"There is a certain irony when expressing politically unpopular viewpoints: the more people you make angry, the more efficient job you are doing.  Furthermore, his method of speech was entirely legal," Curry said. 
Curry also said that when a speech is political in nature and it is done with accordance to the law, the law does not care about motivation.
"When we begin considering the motivation of the speaker before making determinations about its legality, we begin to privilege certain types of speech over others.  Freedom of speech isn't selective." Curry said. "There would be no need for the First Amendment if all speech was supportive of the political system.  The First Amendment protects contentious speech, critical speech, minority opinions."
Bilingual education major Estephanie Ronquillo said that stepping on the flag was just plain disrespectful.
"I don't think that's the right way to promote freedom of speech," Ronquillo said. "If this were to ever spread to UTEP, I think I would say something or try to stop it."
However, Professor Curry thinks the probability of this trend making its way to El Paso is highly unlikely since there is a very small African-American population in the city.
"It should be welcomed if some students do wish to engage in it. Speech protections should be the strongest on college campuses to allow for a true marketplace of ideas," Curry said.
Darius Brown, junior accounting major, said he understood why people would get offended by it, but freedom of speech is a right every American has.
"There are probably better ways to promote freedom of speech, but if you want to carry a point across you have to get controversial," Brown said. "If this were to happen on campus, I wouldn't do anything, just let them do whatever they want. It's not really none of my business."
Juan Raygoza may be reached at [email protected]