Local businesses work to ensure summer fun safety
The sun is blazing, the days are long and the heat is ever rising. Summer is in full effect in the Sun City. That means El Pasoans are taking to the streets to enjoy the hot summer months. The people of El Paso are out and about enjoying themselves now more than any other season with many events to choose from, many of which are party orientated.
Many clubs, bars, restaurants and businesses host daytime pool parties, brunches and other events that attract the summer crowd. This obviously entails alcohol consumption.
According to a study conducted by the Foundation For Advancing Alcohol Responsibility, June and August were the deadliest months on the road in 2013. Furthermore, 43 percent of traffic-related fatalities during the summer were from drunk driving and there were more high-blood acohol content fatal traffic crashes during August than any other month of the year.
To ensure the safety of those partaking in these party-orientated events, some locations are taking special measures. Kenji Shigematsu, one of the partners from The Garden, said the location has reiterated proper training for their security.
"We've gone through old procedures with our security staff and have implmented new ones as well," Shigematsu said. "We make sure our staff knows exactly what to do while working any event held here.
Shigematsu also said The Garden has increased their security staff for the summer party events.
"Along with more security, we also hire undercover police to secure the surrounding area," Shigematsu said.
The Garden's bartenders also go through extra training during the summer months.
"We make sure that every bartender is up to par with TABC (Texas Alcoholic Beverage Commission) policies and procedures," Shigematsu said. "They also go through proper training in order to identify when someone has had too much to drink. That way, we can stop serving them before they become completely intoxicated."
Shigematsu said The Garden also enforces proper dress code in order to prevent any illegal firearms or weapons from being introduced into the venue. "It is also to attract a well behaved crowd," he said.
Like The Garden, Malolam also has increased their security staff. Adrian Castillo, manager at Malomam, said they have hired more security for the summer, especially for their newly implemented brunch parties.
"The brunch has attracted more people during the daytime, so we've hired more daytime security," said Castillo. "Then we bring in more security once the night crowd starts coming in."
Castillo also said Malolam bartenders have also gone through proper training to ensure their attendees don't over-consume alcohol.
"It's important for us to maintain the good behavior of our crowd," Castillo said. "Our bartenders know how to tell when someone has had too much to drink. Our bussers and servers do as well. We all communicate with each other to ensure that no one is getting over-served. Once someone shows signs of inebriation, we cut them off."
Castillo said Malolam has so far had "good luck" with their summer parties.
"Luckily, nothing unfortunate has happened," Castillo said.
While bars and restaurants do their part to ensure everything goes well inside their establishments, the El Paso Sheriff's Department will be doing their part to ensure everything goes well outside as well.
Sgt. Michael Lara said the department is well prepared to handle the summertime party crowd.
"The department does have plans in place to help curb any partying problem," Lara said. "We have enough units out to help maintain control."
Lara said the department is also equipped to respond to any situations that may happen at the outskirts of town.
"We have off-road vehicles and a portable lighting system powered by a generator," Lara said. "They have used this equipment on many occasions when responding to situations that occur in the desert area off of Montana such as Red Sands.
Savannah Hernandez, junior psychology major, is one of many who will be partaking in the summer partying.
"As college students, there are always many invites to attend pool parties, cook-outs, parties at bars," Hernandez said. "It's obvious that many young El Pasoans are going to be attending many of these events. The trick is to know exactly what you are doing and what your limit is."
Hernandez said knowing the difference between alcoholic beverages is also crucial. "You've got to know what it is that you're drinking and how it affects you," Hernandez said. "Beer affects people differently than a cocktail, for example. You've got to know your drink."
Both Malolam and The Garden offertransportation services to those who have had too much to drink."If you let us know, we'll find a way to get you home safely," Castillo said. "We are happy to provide rides to people who recognize that they have had too much to drink."
Both Castillo and Shigematsu encourage partygoers to drink enough water between alcoholic beverages, to party on a full stomach and designate a sober driver.
For a free ride home, call (915) 212-7777.
Jose Soto may be reached at [email protected]
About the Writer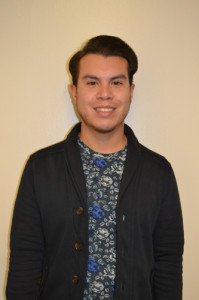 Jose Soto, Staff Reporter
Jose Soto is a multimedia journalism major with a minor in creative writing. He joined The Prospector team in November of 2013 as an entertainment reporter....