2015 NBA Finals: Game 3 Recap
Hang on for a minute...we're trying to find some more stories you might like.
There is no sugarcoating it, this series is ugly. Golden State's offensive execution is ugly, LeBron's shot selection is ugly, and the Cavs defense is ugly. But at the end of the day it's extremely exciting to watch.
Through three games there has been a continuous trend—the Cavs outplay the Warriors for the vast majority of the game, then Golden State decides to play with urgency in the latter stages and they make things interesting. It's almost a certainty that these two things will happen for the rest of the series.
The reason for the Warriors lack luster play, especially in game three, can be explained by Cleveland slowing the pace of game and their stellar defense.
But the peculiar thing about this series is the Cavs propensity to play horrible late in games.
Their offensive execution gets worse, they turn the ball over and their defense turns to shit—pardon my French.
When the Warriors blatantly outplay the Cavs, when the game is on the line, it makes you wonder why they concede the first three quarters. In game two I said there were two major keys to the game, but in game three there were dozens, but I'll go with three.
David Lee can still play
Who would have thought that a two-time All-Star who averaged 18 points per game last season could still play?
David Lee only played 13 minutes, but his impact was obvious. In a series that has seen Golden State struggle shooting the ball from the outside and having no contribution offensively from their big men, David Lee just might be the remedy for the Warriors' offense.
If Lee does not play a bigger role in the rest of this series, then that is a huge strategic mistake by the Warriors' coaching staff. He can play in the mid-post and pick-and-pop for midrange jumpers. He shouldn't really take minutes away from Draymond Green and Andrew Bogut, because his help defense/rim protection is suspect, but he needs a bigger role in this series.
Why are the Cavs switching?
The Cavs nearly blew game three in part due to their defense on Stephen Curry in the fourth quarter. When David Lee came into the game and Golden State started to run pick-and-roll action with Curry and Lee, and the Cavs started switching for some reason.
Every single time—to no avail—Tristan Thompson switched onto Curry and the ball went through the bottom of the net every time.
All series long the Cavs have not switched on Curry, they've trapped him with great sideline pick-and-roll defense and Dellavedova has been excellent guarding the MVP in the middle of the court. The Cavs different look on defense was a bad move that nearly cost them.
Thompson is having a Rodman-esque series
It's become woefully apparent that the Warriors have no answer for Tristan Thompson. His play so far in this series is very similar to that of Hall of Famer Dennis Rodman, minus the crazy hair and versatile defense.
He's been extremely physical with the Warriors, and they have not responded. Instead they look irritated and frustrated with the tall task that is boxing Thompson out.
Besides playing very good defense, he is outplaying one of the best help defending centers in Andrew Bogut and an All-NBA defender in Draymond Green. He is also putting the Warriors in foul trouble with over the back fouls and loose ball fouls and punishing them by keeping possessions alive.
Aussie, Aussie, Aussie, oi, oi, oi
If you look at Matthew Dellavedova he looks like he teaches seventh grade math or he's a 20-year old Amish man on Rumspringa.
Appearances aside he has played great. His defense on Curry is stellar and his play on the offensive end has been a huge bonus.
LeBron is the best player in this series, but Dellavedova has won two games for the Cavs. His put back attempt in game two that led to two free throws, which he made, sealed that game for Cleveland.
In game three he had another pivotal play.
With 2:45 left in the game, Curry hit a 3-pointer to cut the lead to one. The next play Dellavedova drove to the lane and made a miraculous shot that led to a 3-point play. Curry and the millions of people watching the game shook their heads in disbelief.
The next two plays consisted of another Curry turnover off followed by LeBron hitting a dagger 3-pointer to close it out. Curry kept the game interesting by making contested shot after contested shot, but the game was never in jeopardy for the Cavs. All they had to do was make free throws, which was the one thing they couldn't screw up in crunch time.
Bow down to the King
Even if the Cavs eventually lose this series and LeBron cools off, he still needs to be praised. The way he is controlling the game is unprecedented, and the fact that he is doing it against one of the five best regular season teams in the last 25 years makes it even more impressive.
Just to clarify though, the last sentence was not hyperbolic. There is empirical evidence that proves Golden State's greatness, despite their poor play through three games. Their league leading offensive and defensive efficiency, win margin, depth, and 3-point shooting prove it.
But all that has gone to waist in the Finals and most of that is due to LeBron James. By slowing the pace of the game and exclusively playing through LeBron, the Warriors have been forced to play in a half-court offense becoming stagnant with minimum ball movement. LeBron might be scoring inefficiently but the Cavs' deliberately slow pace is balancing that out.
Curry and Thompson need to be more engaged
I've already mentioned that David Lee should see more minutes for scoring in the paint, but the Warriors need to get their two star players going. After an underrated performance in game two, Klay Thompson was not engaged enough if the Warriors offense in game three.
All season long, Golden State has been brilliant at getting Thompson good looks in the post and running his defenders off with pin downs and double screens. He's too good to take less than 20 shots in two games of the NBA Finals, but it's happened.
The last and most important piece is the MVP. Cleveland has shutdown Curry with their on ball defense, with the heavy work load falling on Dellavedova. If the Warriors play Curry off the ball more in the half court, good things will come.
Klay Thompson has had better looks all series, due in part to what I already said about pin downs and double screens, and Curry needs a few more of those himself. Insert Barbosa or Livingston to play the point and let the Cavs chase Curry around in the half court for four quarters. Having another speedy guard on the floor could also help the Warriors pick up the pace.
It's not over for Golden State
In the short time that comes between game three and four, the narrative will be that the Warriors need to play the way they did in the fourth quarter of game three for the rest of the series.
Golden State might have scored 36 points, but their shot selection was still poor and their offensive execution never changed. I'll say this a million times until it happens, the Warriors need to make the game faster. If they keep playing at Cleveland's pace, they will continue to play from behind.
Three games is sufficient to show Cleveland's ability to defend in the half court and the Cavs are content with playing in a slow iso-offense. It's not efficient but it's time consuming. So when Golden State continues to make timely turnovers and giving offensive rebounds, it plays into the Cavs strategy of winning the possession game.
Golden State is essentially a great run-stopping defense that keeps jumping offside to a team that gains two and a half yards per play. If the Warriors don't start taking care of the ball and boxing out they will lose this series.
For the rest of this series the Warriors need to get a little desperate. If they lose game four it's over. No team in Finals history has ever comeback from a 3-1 deficit and Golden State will not be the first if they let Cleveland dictate.
Javier Cortez may be reached at [email protected]

About the Writer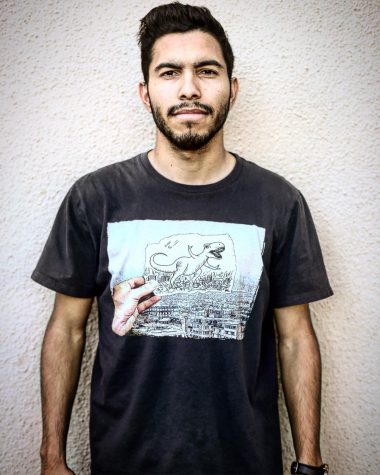 Javier Cortez, Staff Reporter
Javier Cortez is a staff reporter for The Prospector. He is a senior multimedia journalism major, with a minor in English Rhetoric.

Javier was born...