2015 NBA Finals: Game 2 Recap
Has there ever been a more interesting/surprising start to an NBA Finals? I think not. With the series moving back to Cleveland for the next two games, we actually have the possibility of a great series on our hands.
Game two featured a brilliantly executed game plan by the Cavs, LeBron's eye popping numbers and Stephen Curry's horrible shooting night. But there are some other major points that need to be addressed, two to be exact.
Hack-a-Thompson was genius by Kerr
With the Cavs up by 11-points with three minutes left and their offense rolling, Golden State head coach Steve Kerr implemented intentional fouling on Tristan Thompson. Kerr did it twice before Thompson, who went 2-for-4 from the line, was taken out of the game.
It was genius for two reasons. The first being that it took Cleveland out of their offensive flow, and secondly it forced the Cavs to play ultra-small. When the Cavs inserted Iman Shumpert they couldn't defend pick-and-rolls. If Kerr can make the Cavs play with four guards and LeBron then things are going to start looking up for the Warriors. Cleveland looked lost without rim protection, even if it was just one play.
R. Smith turns into quagmire in the second half
You can foul six times in the NBA before being disqualified, and man did J.R. Smith earn those six fouls. The only problem was Smith was not trying to intentionally foul.
J.R. is not a bad defender and he has been pivotal in the Cavs ascending to the top of the defensive efficiency rankings in these playoffs, but there is no denying that he nearly blew game two for Cleveland. He committed four horrible fouls, two of them coming in the last three minutes. It was one of the main factors that helped the Warriors get back into the game. At one point it looked like LeBron wanted to rip his head off.
Record setting night for Curry
It's safe to say it was an off night for Stephen Curry, and one of historical proportions. Curry missed a NBA Finals record 13 3-pointers. If most players continued to shoot long ball after long ball, they would have been met with endless criticism.
But Curry is different, he is arguably the greatest shooter of all-time, so he has license to take almost any shot he wants. No matter how ridiculous it might look. Curry's horrible shooting night had more to do with him being off then bad shot selection. 11 of Curry's 13 misses were contested shots, but shots that Curry has made on countless occasions. More importantly, of the 13 misses only three were bad shots.
One thing is for certain, Curry won't shoot this bad for the rest of this series even if he tries.
Cleveland is dictating the rules of engagement
Cleveland's game plan is plain and simple. They want to slow the game down, limit possessions and make Golden State pay for turning the ball over and allowing offensive rebounds. There is no allusion to what the Cavs are doing, but it's still not easy.
The Warriors were first in the league in pace during the regular season, and they have annihilated teams with transition 3-pointers and dunks. That has not happened yet through two games, and if the Cavs stay deliberate in their slow approach it might not happen all series.
But the Warriors need to find a way to make the game faster. If they keep playing by the Cavs terms, then every game will be close and they will play from behind.
If the Warriors play from behind this series can go six games, possibly seven. But if they pick up the pace and put the Cavs in a deficit then it's a five game series. Cleveland cannot play from behind, simply because their offense is not setup to play faster and score in spurts, unless LeBron finds his shooting touch and J.R. Smith goes off.
Golden State will still win the series
For 93 of the 106 minutes played so far in the NBA Finals, the Cavs have been the better team and their margin of victory is -3.0. Depending on how you look at it. Golden State should be down 2-0 by playing out of rhythm or up 2-0 by their end of game heroics.
Steve Kerr and his coaching staff need to make the right adjustments for the rest of the series in terms of playing faster and forcing the Cavs to play smaller, but at the same time they can still win playing the way the Cavs want them to play.
When teams play against Golden State their margin of error is slim to none. You can't turn the ball over, allow offensive rebounds, or play sloppy defense. The Warriors are so good at the end of games because they can cut a lead down within a matter of possessions.
The Cavs have dominated the first two games, but there is no way they will dominate the vast majority of games three, four and five. Cleveland for the most part has played great considering their depth issues, while Golden State has yet to hit their stride. Which is why I'm still sticking with Golden State in five.
Javier Cortez may be reached at [email protected]
About the Writer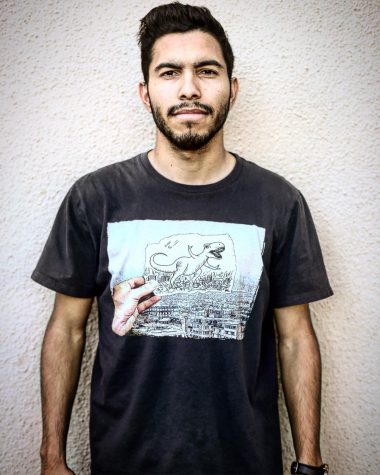 Javier Cortez, Staff Reporter
Javier Cortez is a staff reporter for The Prospector. He is a senior multimedia journalism major, with a minor in English Rhetoric.

Javier was born...