UTEP softball says goodbye to Tahla Wade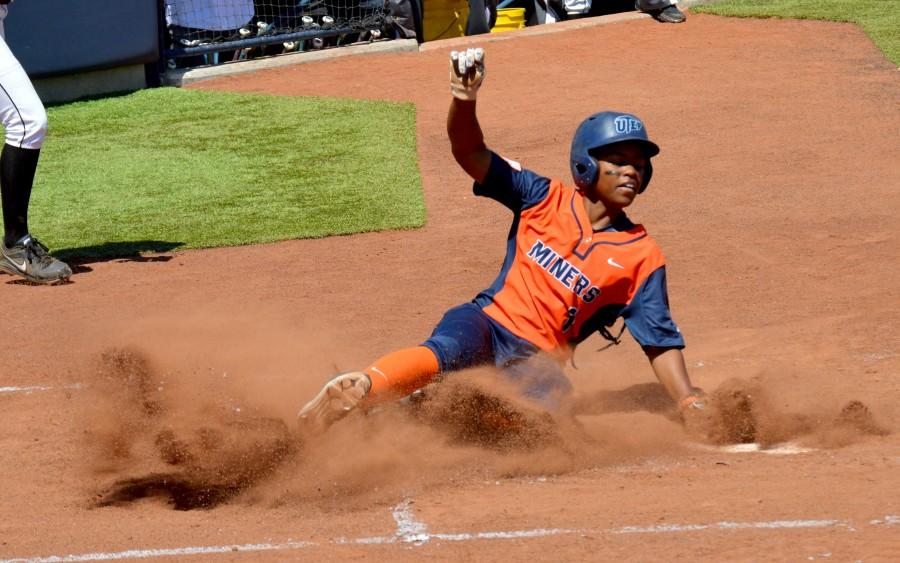 Tahla Wade is a traveler. She travelled from Chicago to El Paso, found that she liked the campus and the local people, at least enough to call UTEP home for four years.
This season she spent a lot of time traveling between first and second base. She led the team in stolen bases, while setting the UTEP single season record with 17.
She is about to graduate and travel back home, only to travel some more. Her family is moving from her hometown of Chicago to St. Louis.
She has traveled a very long way in her career at UTEP and may have learned a few things about herself in the process.
"I think just my will to work hard," said the soft-spoken Wade when asked to what she attributes her dramatic improvement on the field during her four years at UTEP.
She also attributes the teams' vast improvement, as well as much of her own, to head coach Tobin Echo-Hawk and staff.
"It's just awesome to see how far you can come with people giving you the tools that you need," Wade said. "Getting the confidence that you need and knowing that you can really achieve anything as long as you work hard and you put your mind to it."
Wade traveled from left field–where she had played for first three years of her UTEP career–to center field because the team needed her there. Just like every move Wade has made, she made the best of this one.
Echo-Hawk points to Wade's tremendous speed when talking about the transition.
"She's the fastest kid we have and she's done a good job of working on getting better reads," Echo-Hawk said. "That was her struggle last year, but she's done a fantastic job of using her speed and just working with that."
If the move affected Wade at all, it would have been impossible for the casual observer to tell.
Coming into the 2015 season, Wade had a career .288 batting average at UTEP–definitely nothing to be ashamed of. This season, Wade finished with an outstanding .333, placing her third on the team.
Wade posted three triples this season giving her the career record for triples at UTEP with nine.
Echo-Hawk enjoyed the luxury of having a burner like Wade at the top of the batting order.
"It's not just her speed, but if you ever watch her when she's safe at first, she's just one of the most excited people to be out there and excited that she got on for her team," Echo-Hawk said. "It's one of those where not only does she get on and set the table for us, she also has that speed threat so we may steal her and not waste that sacrifice."
As Wade travelled through her time at UTEP, she also found her voice. She is typically very soft spoken, but get her on the softball field and she can crank it up.
"I think, at first, she was a leader by example," Echo-Hawk said. "As the year has progressed she's really come out of her comfort zone and become a little bit more of a vocal… She just has the powerful voice and when she uses it everybody just kind of stops and looks at her and follows her."
Freshman infielder Courtney Clayton was one of those who found herself instinctually following the leadership of the experienced Wade. Clayton says that Wade's example in leadership will help her throughout her college career.
"(She has taught me) to be more of a vocal leader," Clayton said. "That's never been my thing, to talk, and seeing her and how she gets everyone riled up really makes me want to communicate with everyone on the field."
Wade does not know where she will ultimately end up. She does know that there is travelling in her future. She also wants her teammates to know that no matter where she goes, she will be keeping an eye on the Miners' softball team.
Wade sees big things in store for the team—including a Conference USA tournament berth—which the team just missed out on this season.
"I think that this program is going to be a force to be reckoned with," Wade said as her voice began to crack. "We've been overlooked for so long and we're starting to make a name for ourselves."
Wade continues to refer to the team as "us" and "we," reinforcing the fact that she truly believes what she said while fighting back tears.
"Once a Miner, always a Miner."
Jason Green may be reached at [email protected]