Traditional breakfast grows with new location and activities
As the demanding finals week commences across campus, a UTEP tradition will continue to relieve students from grueling due dates and exams, at least for one night. Students will be able to enjoy from an array of activities, free food, entertainment and quiet study spaces as the event expands this year and changes location.
Those who will attend Up All Night: Midnight Breakfast, the bi-annual tradition on campus, will have the opportunity to experience the expansion of the festivities as it moves to the Union Building East on Tuesday, May 12, from 9 p.m. to Wednesday, May 13, 9 a.m. Previously, the event was held at the Natural Gas Conference Center.
The traditional breakfast will continue to be served at midnight on the second floor. This year, new additions include a relaxation room with free yoga and meditation sessions, a stress-free room with free coloring and Play-Doh and a screening of the film Old School.
Jamba Juice, Starbucks, Pizza Hurt and El Cazo inside the Union will remain open until midnight. There will also be free coffee and donut holes from midnight to 9 a.m. and free shirts for the first 100 students.
Tory Johannsen, a senior accounting major, said he will be attending the event since he hasn't made it to any of the previous ones.
"Whether I go with friends or go alone, I hope to network socially," Johannsen said. "Having a good time and making new friends is what it is all about.  You can never have too many friends and acquaintances."
Johannsen said he has heard the environment of Midnight Breakfast is what makes is as popular as it is.
"From what I've heard, it does help with the stress of finals," Johannsen said. "It is good, wholesome fun in a safe environment with other students that have the same goal: to wind down and be care free for at least a couple of hours."
Eduardo Ochoa, a senior criminal justice major, will also be attending. He said the event if a good way for him to take a break from studying for finals.
"It's a great way for me and my friends to do things other than study," Ochoa said. "It's a peaceful experience with absolutely no drama."
Ochoa said the event doesn't necessarily help students during finals week, but the free food does help college students get a decent meal.
Kevin Marshburn, assistant director of housing at UTEP, said the event has changed in many ways from its inception in 1991.
"What's changed the most is the menu and the location," Marshburn said. "It used to be only from eleven to about one o'clock. Now, it's been extended for over a longer period of time. That shows how popular the event has been over the last couple of years. This years additions are very exciting."
Marshburn said some volunteers are the same ones that volunteered at the first one in 1991, that was hosted at the Natural Gas Conference Center because it is close to Kelly Hall, which once was a residency hall with an easy path for students to walk.
 Nicole Aguilar, director at the Office of Student Life, said recent changes around campus prompted the planning committee to change the location.
"Our student demographics have changed and we recognize everyone comes with different methods of studying," Aguilar said. "Students may seek opportunities to take a break and relieve stress during this time. We want to offer additional services and cater to a broader range of students. The Union Building serves as the perfect location to offer a variety of services to our students and they deserve it."
"This event is definitely on its way to become larger than it has been in the past," Aguilar said. "The expansion of this event was done with the hope that more students will be interested in participating in a campus tradition, which they may not have been part of in the past."
Aguilar said the event currently has approximately 30 volunteers, but is still in need of more. To sign up as a volunteer and more information on Up All Night: Midnight Breakfast, contact the Office of Student Life at 915-747-5648 or visit them at Union West, room 102.
Jose Soto may be reached at [email protected]
About the Writer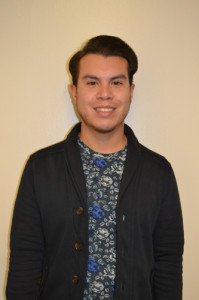 Jose Soto, Staff Reporter
Jose Soto is a multimedia journalism major with a minor in creative writing. He joined The Prospector team in November of 2013 as an entertainment reporter....