Learning never stops, even after graduation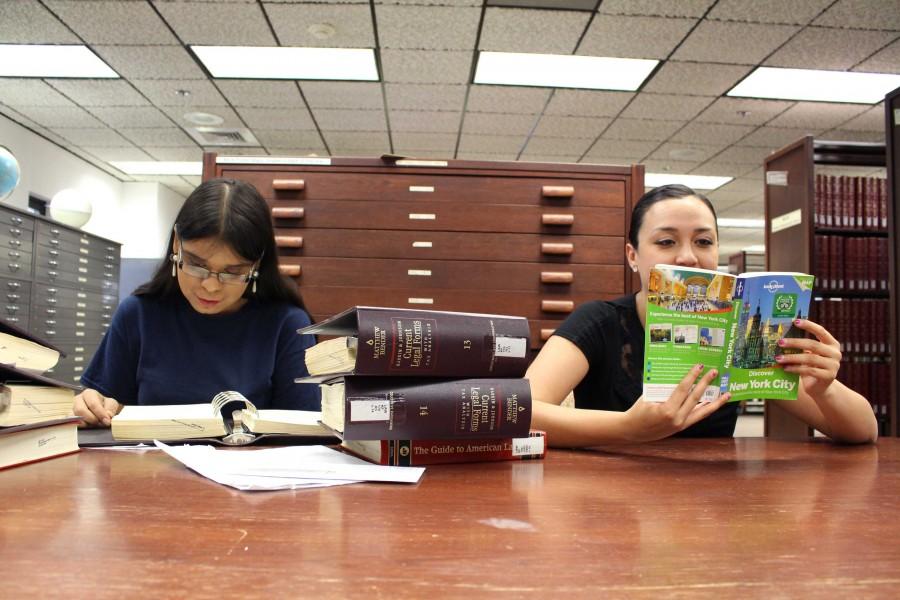 Fernanda Leon, Contributor
May 5, 2015
Graduation day is approaching and many students have been looking forward to this day, the start of their professional life, continuating on to graduate school, or a long vacation after all the years of studying.
Arely Camacho, senior media advertising major, is graduating this semester after being in college for more than four years. Her plans are to take a long vacation during the summer and get to know many different places in the world.
"I plan to travel out of the country for about a month and maybe do an au pair for three or four months," Camacho said.
She's planning to do two stops: first in Mexico and then a summer in Europe.
Camacho will first be in Mexico City, where she will attend a marketing conference. She plans to stay for a week and later move on to Morelia, to visit a friend.
In Europe, she plans on visiting the Netherlands, Belgium, Hungary, and attend a festival for a week.
"I have a friend who studied abroad in Amsterdam and she is going back, so I'm planning to join her on her trip," Camacho said. "I have never been to that part of Europe and I'm really curious about their culture."
"If I get to do an au pair with a family, I expect to learn their lifestyle and make it part of mine," Camacho said. "I like traveling with purpose, like volunteering or working for bed and food. You learn so much by helping the community you are visiting."
For Camacho, traveling is an important part of her life because she believes that travel helps you discover yourself and gives you the chance to meet people from other parts of the world. She also said traveling teaches her to manage her money and it is an activity with which she can get inspiration.
"I love graphic design and I think is really important for anyone in the arts field to travel, there is so much inspiration out there," Camacho said, who also has a minor in graphic design.
For her future plans after graduation and traveling, Camacho is planning to move to Austin with her sister and find a graphic design job and later become an art director at an agency.
"I would also try to become a freelancer. I'm passionate about traveling and I want to make it part of my life, and being a graphic designer gives you the freedom of being wherever you want," Camacho said. "I'm also planning to get a certification for teaching English to non-native speakers, which would also open me many doors in other countries."
On the other hand, many students decide to go to graduate school right after they graduate in order to fulfill their professional goals.
Harry Sanchez, senior art major, is one of many students who will start graduate school right away.
"I was out of school for many years, did not practice art and feel that I am still far behind many of my peers as well as other artists that are at my level of just entering the art world, and there is much more knowledge I have to gain as an artist in many areas," Sanchez said.
Sanchez is planning to earn his master's degree at the University of Cincinnati School of Design, Art, Architecture and Planning in Cincinnati, Ohio.
Sanchez was accepted into the painting and drawing program of the graduate school, but as a student, he is not expected to only focus on those areas.
"Once we are there, we are allowed to and encouraged to make use of all the facilities in all the different studios," Sanchez said. "I can see my work being painting, but I will dip into many different ways of creating art."
For his future as an artist, Sanchez is planning to work with the Art Avenue for the next two years while he's in graduate school.
Sanchez also has a small business, where he bakes cakes and cupcakes. He plans to create edible artwork so he can open a shop one day.
Showcasing his work in different galleries and applying for different grants are many of the activities that Sanchez is planning to do while he's a graduate student. Studying abroad is also another option that Sanchez is contemplating.
"Seeing the way other people live can always keep you grounded and remind you to stay humble," Sanchez said. "That is something I feel will always help when being a professional in any line of work."
"A gallery of a cupcake shop would be pretty funny but not out of the question," Sanchez said.
Sanchez said it is important to start graduate school right away because if he waited it would be harder for him to go back to school.
"One study pretty much said that once Hispanics leave school twice, they do not come back," Sanchez said.  "I am trying to be the exception and show others that you can overcome life's adversity and finish school at any time in your life. It is never too late to finish school, no matter how many times you need to go back."
Fernanda Leon may be reached at [email protected]