In-state tuition for DREAMers at risk
A row of students dressed in cap and gowns stood in protest against a slew of anti-immigration bills introduced into the state legislature this session at an immigration rally on Thursday, April 30.
The event was organized by the Border Network for Human Right in opposistion to SB 1819, SB 3, HB 2912 and HB 11.
Out of the five bills, SB 1819 could potentially affect more than 100 estimated UTEP students if signed by Texas Governor Greg Abott.
SB 1819, would repeal a 2001 law that allows undocumented students to be considered Texas residents, effectively allowing them to pay in-state tuition.
Under the law, anyone who graduated from a public or private high school, received a high school diploma and has maintained Texas residency for the three years preceding the diploma is eligible to pay in-state tuition.
Jacobo Prado, counsel general of Mexico, said Texas is one of the few states that allows for this.
However, SB 1819 would amend existing law by stating that a person not authorized under federal statute to be in the country legally cannot be considered a resident for the purpose of paying in-state tuition.
"Higher education is an institution that should reward individuals based on merit, on accomplishments, on good grades, they shouldn't be forced to be in a position of disenfranchisement or discrimination," said Claudia Loli, a Deferred Action Against Childhood Arrival student and junior political science major.
SB 1819 would also allow an institution of higher education to establish a policy requiring a person to submit specific documentation to verify their authorization under federal statute to be in the country.
At the rally, a big human-sized puppet held by a wooden stick was plastered with the face of Sen. Donna Campbell, R-New Braunfels, who is one of the authors of SB 1819. She is also the chair of the veteran's affairs and military installations committee, a sub-committee on border security, where the bill will be heard.
"She's a big advocate against dreamers," said Oscar Silva, communications affairs and media relations officer for Sen. Jose Rodriguez, D-El Paso. "They truly don't have logic that can be backed up with numbers and figures. Every single one of these bills has received bi-partisan opposition."
According to the Higher Education Coordinating Board, 20,049 students in fiscal year 2012 and 24,770 in fiscal year 2013 qualified for in-state tuition.
In her author's statement for the bill, Campbell said, "Each undocumented student takes away a valuable slot at a public university that is technically reserved for a Texas citizen."
Campbell also cited data based on the Texas Higher Education Coordinating Board's numbers, which state that the cost for providing tuition benefits for undocumented students has grown 68 percent over the past three years.
"If this rate continues, funding for in-state tuition for undocumented students will cost Texas taxpayers $100 million by the year 2020," she wrote. "The recent surge of undocumented aliens coming from Central America, coupled with President Obama's questionable executive orders (such as DACA), will likely exacerbate these costs."
DACA or Deferred Action against Childhood Arrivals allows Dreamers, or undocumented immigrants who entered the country before they were 16, lived in the U.S for at least five years and are under 31, to be considered a low-priority deportee, and allows them benefits such as getting a social security card, a drivers license and work authorization.
"What we have been doing is to tell these kids to take advantage if you are really able to obtain DACA. It is not a regulation program, but it solves the problem temporarily," Prado said. "We are working with lawyers, with organizations, with the community so they can do something. It is not the best scenario, but it is what can be done."
According to UTEP officials, there are about 130 Dreamers enrolled in the university.
"We are closely following the discussion regarding DREAM Act (DACA) students in Texas and will wait to see how it will affect the 130 students to which it applies," UTEP President Diana Natalacio said in an e-mail. "We are committed to providing access and excellence to all students with the talent and motivation to pursue their educational goals, regardless of their background."
According to the Immigration Policy Center as of 2014, 673,417 young people have applied to the program and 553,197 have been approved.
"I myself am a DACA student and I graduated high school magna cum laude and had over $200,000 in scholarships, which I couldn't receive due to my immigration status," Loli said. "UTEP was one of the few schools who took me in and allowed me to continue my education by allowing me to pay in-state tuition. Making me pay out-of-state tuition now is inhumane."
Critics of SB 1819 add that it does not make economic sense.
"They're paying tuition…and they are spending their money here. They contribute to the local economy," Prado said.
The UnDACAmented Research Project by the Immigration Policy Center, surveyed 2,684 DACA-eligible adults and found that 60 percent of DACA beneficiaries had obtained a new job since receiving DACA, and 45 percent had increased their earnings. Due to the wage increase, it allowed for a wider tax base and an increase to the economy.
"As immigrants, we contribute to the economy, we contribute to the schools, we contribute to our community," Loli said.
Maria Esquinca may be reached at [email protected]
About the Contributor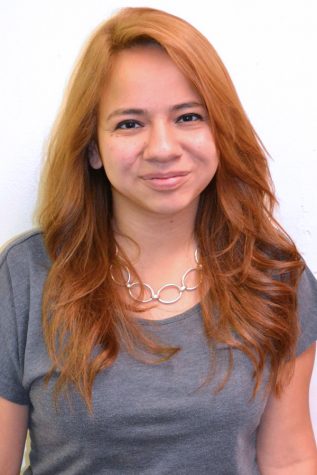 Michaela Roman, Editor-in-Chief
Michaela is a Senior Digital Media Production major at The University of Texas at El Paso. As the Editor-in-Chief, and former Photo Editor of The Prospector,...